Israel-based
OptiTex Ltd. now offers expanded online access to features of its computer-aided
design and manufacturing solutions. For more information, visit
www.optitex.com.
The
American Apparel & Footwear Association (AAFA), Arlington, Va., has released
the fourth edition of the global AAFA Restricted Substances List covering home textiles, apparel
and footwear. The list is available free of charge at AAFA's website, located at
www.apparelandfootwear.org.
Supercritical Fluid Technologies Inc. (SFT), Newark, Del., has introduced the
SFT-250 Supercritical Fluid Extractor (SFE) for performing extractions in supercritical fluid or
for small-scale pilot processing. SFT also now offers the Data Acquisition Package (DAP) as an
option for its SFT Phase Monitor II instrument. The DAP produces real-time image and data capture
directly to a personal computer.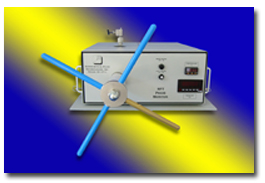 Supercritial Fluid Technologies Inc.'s

SFT-250 Supercritical Fluid Extractor
Pinpoint Laser Systems Inc., Peabody, Mass., has released the Microgage Roll
Alignment kit for use in paper and textile mills; converting, coating, and plastic bag lines;
printing presses; and other roller and web-related applications.
Cognex Corp., Natick, Mass., has released VisionPro™ 5.2 software, featuring
SearchMax™ and Color Extractor™ color tools; a simpler version of PatMax® technology; and muticore
support for PatMax PatInspect™ and image filtering tools. Cognex also has released three new color
vision systems for the In-Sight® Micro product line of compact color vision systems: the
entry-level Micro 1100C, with 640 x 480 resolution; the 1400C, with doubled processor performance
for more demanding applications; and the 1403Cm with two-mexapixel (1600 x 1200) resolution. Cognex
also has introduced In-Sight Explorer version 4.3 software with Color Match and Color Extract
tools.
The
Association of the Nonwoven Fabrics Industry (INDA), Cary, N.C., is accepting
nominations through September 1 for the 2010 Visionary Award, to be presented at the Vision 2010
Consumer Products Conference in New Orleans in January. To nominate a product, e-mail a product
explanation to Visionary Awards Coordinator Michael Jacobsen at
mjacobsen@inda.org. INDA has published a special online
issue of the Journal of Engineered Fibers and Fabrics that focuses on nonwovens and engineered
fabrics modeling. The journal can be accessed free of charge at
www.jeffjournal.org. INDA also has released "Wipes,
Nonwovens Industry Outlook Trends & Forecasts, North America 2008-2013," a report about the
wipes market including all sales of wipes by major retailers and distributors in North America.
Alexandria, Va.-based
Color Marketing Group will offer its annual Color Direction® forecast in a digital
format using Grand Rapids, Mich.-based
X-Rite Inc.'s ColorMunki Design spectrophotometer.
Salt Lake City-based
Silver State Inc. now offers the Sunbrella® Horizons collection of fabrics
including 71 SKUs and 17 patterns.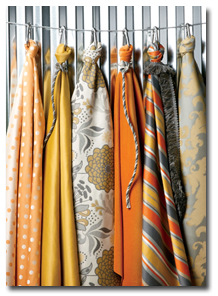 Silver State Inc.'s Sumbrella® Horizons

Metro Retro fabric collection
ASTM International, West Conshohocken, Pa., now offers the sixth edition of "ASTM
Standards on Precision and Bias for Various Applications." To order the online-only publication,
contact (610) 832-9585 or
service@astm.org.
Dalton, Ga.-based
J J/Invision has launched its new website, located at
www.jj-invision.com, combining the J&J Commercial and
Invision Carpet Systems site into one user-friendly, easy-to-use-and-navigate site with information
on all J J/Invision products, processes and services.
Berkeley Heights, N.J.-based
Eldib Engineering & Research Inc. has released a market survey reporting new
and expanded demand for Wilmington, Del.-based
DuPont's Nomex® brand products, including Dupont™ Sontara® spunlaced fabrics,
available commercially using Nomex.
Pendergrass, Ga.-based
TenCate Geosynthetics North America has introduced a brochure dedicated to
high-performance geotextiles for haul roads, including its Mirafi® HP-Series of woven geotextiles,
made with high-tenacity polypropylene yarns. The brochure, a supplement piece to TenCate's
PowerPoint presentation on aggregate road systems, is available at
www.mirafi.com.
York, Pa.-based
Glatfelter has launched a section of its website focusing on sustainability,
located at
www.glatfelter.com/sustainability.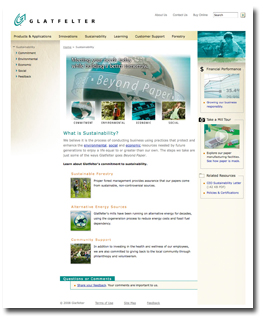 The new sustainability section of Glatfelter's website
Red Bank, N.J.-based
Concept III Textiles has added a "New Fabrics" page to its website, located at
www.conceptiii.com. The new page offers updates on the
company's latest textiles.
Pasadena, Calif.-based
Avery Dennison Corp. now offers "Custom Packaging with Avery Dennison," an online
guide to packaging for apparel and accessories merchandisers. The 44-page resource is available at
www.ibmd.averydennison.com/pkgguide.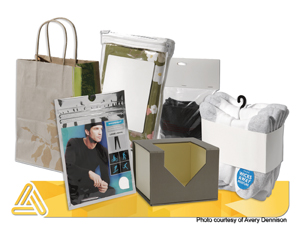 Avery Dennison now offers an

online guide to packaging for apparel

and accessories merchandisers.
Germany-based
KSL Keilmann Sondermaschinen Lorsch GmbH,
KSA GmbH & Co. KG,
KSE GmbH and
Advanced Composites are now united under the umbrella brand
Keilmann Group. The company structure remains the same.
Dallas-based
Celanese Emersion Polymers has updated its website, located at
www.celanese-emulsions.com. The new site includes
an "Ask a Chemist" feature, allowing customers to send emulsion- and formula-related questions
directly to the technical department.
The Dalton, Ga.-based
Carpet & Rug Institute now has a blog, located at
http://carpet-and-rug-institute-blog.com.
Subscription options include e-mail updates or an RSS feed.
Naples, Fla.-based
Industrial Nanotech Inc. has launched an ongoing program to educate heavy
industries about the company's Nansulate® energy-saving projects in process. "Nansulate – Around
the Globe and Around the Clock" can be seen at
www.nansulate.com/nanoblog.
The Brussels-based
International Rayon and Synthetic Fibres Committee has been renamed CIRFS:
European Man-made Fibres Association.
The Boston-based
National Textile Association (NTA) is requesting comments on its Voluntary Product
Environmental Profile (VPEP), available at
www.nationaltextile.org/vpep. Comments and
suggestions should be sent to David Trumbull,
dtrumbull@nationaltextile.org, by July 15, 2009.
England-based
Technical Absorbents Ltd. has redesigned its website, located at
www.techabsorbents.com.
The
Outdoor Retailer 2009 Summer Market – to be held July 21-24, 2009, in Salt Lake
City – presents two new opportunities this year for designers: Project OR, a 48-hour design blitz
contest for student designers; and Design Center, which features swatches and samples of designers'
materials. For more information, visit
www.outdoorretailer.com.
June 2009