Biosafe Inc.
, Pittsburgh, has announced its Biosafe® antimicrobial has met ISO
10993-1 and USP bio-compatibility standards. Biosafe is available either as a powdered additive for
textiles and plastics, or as a masterbatch supplied RTP Co., Winona, Minn.
The Research Triangle Park, N.C.-based
American Association of Textile Chemists & Colorists (AATCC) and Raleigh,
N.C.-based
North Carolina State University's (NCSU)'s College of Textiles Textile Education
Department have partnered to offer an online Textile Fundamentals education course. For more
information, visit
www.aatcc.org or
www.TexED.ncsu.edu.
Canada-based
Victor Group Inc. has launched eHome, a collection of affordable, high-performance
sustainable residential fabric designs.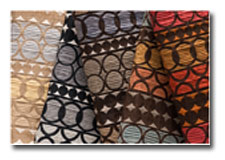 Victor Group's new eHome sustainable fabrics collection
Germany-based
BBE Retail Experts has completed a trend analysis survey in the Netherlands,
Austria, Switzerland, Portugal, Italy, France and Spain, about interest in testing textiles for
harmful substances, and awareness of the Oeko-Tex® Standard 100. A summary of the survey,
commissioned by the Switzerland-based
Oeko-Tex Association, is available online at
www.oeko-tex.com/news.
Birdair Inc., Amherst, N.Y., has added an engineering office to its sales office
in Guadalajara, Mexico.
The
Southern Textile Association has relocated to: 469-C Hospital Dr., Gastonia, N.C.,
28054; (704) 215-4543; fax: (704) 671-2366. The mailing address is unchanged.
Rouse Enterprises LLC, Charlotte, now represents
Basofil Fibers LLC, Enka, N.C. Rouse is focusing on in-rubber applications and
other industrial end-use applications.
Research and Markets Ltd., Ireland, has released the following publications:
"Making the Transition from Traditional to Technical Textile Markets"; "Textiles – Global Strategic
Business Report"; and "Recycling in Textiles."
Switzerland-based
Schoeller Technologies AG's coldblack® ultra-violet-protective textile technology
has been named a 2008 finalist for the Swiss Technology® Award, given by the
Swiss Economic Forum AG.
Kaeser Compressors Inc., Fredericksburg, Va., has released the SmartPipe™ product
catalog and installation guide, and the "Energy Savings in Compressed Air Systems" guide.
New York City-based
WFXOnDemand.com has upgraded its WFX Web Product Data Management (PDM) and Product
Lifecycle Management (PLM) solutions, enabling them to run on both Macintosh and personal
computers.
BASF Polyurethane Systems, Florham Park, N.J., has received the top supplier award
from
Donaldson Co., Minneapolis.
Tri Vantage LLC, Cleveland, now offers the Sunbrella® Renaissance collection of
area rugs and accessories.
Belgium-based
Balta Group's Balta Rugs division has relocated to: Nijverheidslaan 15, 8580
Avelgem, Belgium. Phone: +32 56 65 38 11; fax: +32 56 65 39 00; email:
rugs@baltagroup.com.
Cuyahoga Falls, Ohio-based
Emerald Performance Materials LLC's Emerald Foam Control division has opened a new
sales and technical center in Greer, S.C. The company also has established a toll-free number for
technical support: (866) 688-FOAM.
Chemical Market Associates Inc. (CMAI), Houston, has released the 2009 World
Butadiene Analysis, available in book and CD-ROM format with access to CMAI's Online Capacity and
Supply/Demand databases.
Pure Fiber International Inc., Upland, Calif., has established a Business
Development and Private Label Division for its current bamboo home textile products and hotel bath
and bed linen products.
Fairfield, Calif.-based
ChemSW Inc. has launched TrainingLive, a Web-based environmental, health and
safety program for compliance-based safety requirements training.
ABC Industries Inc., Warsaw, Ind., has received ISO 9001 certification for its
plants in Warsaw and Grand Junction, Colo.
Zimmer Machinery Corp., Spartanburg, now offers parts and service for all Stork
printing machines through a partnership with
Elad Textile Parts, the Netherlands.
Texworld USA, New York City, has introduced the Eco-Textile Labeling Guide,
providing information on the latest organic textile standards and eco-textile certification.