Warren, Mich.-based
Biosan Laboratories Inc. has announced new testing services for plastic and
textile manufacturers. The ASTM E 2180 and JIS Z 2801 test methods determine the efficacy of
built-in antimicrobials in plastics and textiles.
Dalton, Ga.-based
LJ's Products LLC has moved into a new 50,000-square-foot facility located at 2670
Lakeland Rd., Dalton 30721.
RadiciGroup, Italy, has launched a new website dedicated to its Fibres business,
located at
www.radicigroup.com/fibres.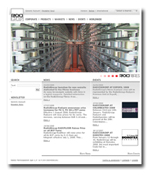 RadiciGroup's new website
China-based
Suzhou Deylon Textile Co. Ltd. is the first company in Asia to be awarded
Oeko-Tex® Standard 1000 certification. The company received certification for its Jiansgu facility.
Grand Rapids, Mich.-based
Summit Training Source Inc. has released on videotape/DVD its new Combustible Dust
Incident Prevention training program, which provides education on the prevention and hazards of
combustible dust, as well as safe work practices and emergency procedures.
Bristol, Va.-based
Universal Fibers Inc. has released a four-minute video explaining its EarthSmart
SM Technology. The "Stewardship Through Innovation" video is available at
www.youtube.com/ watch?v=9atCSKS_9AU.
Knights Apparel Inc. has relocated its Oak Brook, Ill., corporate headquarters to
its existing facility in Spartanburg.
The Brussels-based
International Wool Textile Organisation (IWTO) has established definitions for
"Organic Wool" and "Eco Wool." Details and descriptions of the definitions are published in the
IWTO Blue Book. To obtain a copy, contact
info@iwto.org.
ASTM International, West Conshohocken, Pa., now offers an online edition of the
ASTM Dictionary of Engineering Science and Technology. To order an annual subscription, contact
(610) 832-9585 or
service@astm.org. In other company news, the
ASTM International Directory of Testing Laboratories online search tool offers users direct access
to labs from an ASTM standard at
www.astm.org/lab07.html.
The Germany-based
Hohenstein Institutes will offer a new UV Standard 801 label for awnings and
sunshades. The label displays the product's ultraviolet (UV) protection factor (UPF).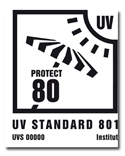 Woodhead Publishing Ltd., England, has published "Military Textiles," edited by
Dr. Eugene Wilusz. The book explores recent research on how military garments can best meet
soldiers' needs.
Alpharetta, Ga.-based
Unimark USA has received Oeko-Tex® Standard 100 certification for its Easy Stretch
Series, Comfort Series and Tuff Text product lines.
Pendergrass, Ga.-based
TenCate Geosynthetics North America has launched a new Industrial Fabrics section
of its website, located at
www.tencate.com.
Cotton Incorporated, Cary, N.C., has released a new DVD focused on "green"
finishing, titled "Sustainability: The Textile Revolution." A hard copy is available by contacting
Michael Luther at
mluther@cottoninc.com or (212) 413-8306. The
company also has released a new educational CD-ROM titled "The Art of Garment Manufacturing," which
gives an overview of modern garment-making techniques. The CD-ROM can be ordered at
www.cottoninc.com.
The
US Department of Commerce has published an updated version of the Trade Finance
Guide: A Quick Reference for U.S. Exporters. Complimentary copies may be obtained from the Trade
Information Center (800) 872-8723, and from the Commercial Service's global network of domestic
Export Assistance Centers and overseas posts; or online at
www.ita.doc.gov/media/Publications/abstract/trade_finance_
guide2008desc.html.
Milton, N.Y.-based
Sono-Tek Corp. has launched a new video page on its website,
www.sonotek.com, with streaming videos showing
SonoTek equipment operating in various applications and industries.
East Walpole, Mass.-based
Hollingsworth & Vose Co. (H&V) has released a new four-page Specialty
Liquid Filtration brochure that explains H&V's diverse process technologies used in a focused
set of markets and applications.