Fiberweb Filtration
, Old Hickory, Tenn., has updated its website, located at
www.fiberwebfiltration.com
.
Frequently updated main pages offer customized content-specific information for air and liquid
filtration markets; and a Resource Gallery offers downloadable brochures, product information and
multimedia presentations; among other features.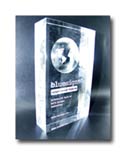 Schoeller's bluesign® Award


Schoeller Textil AG, Switzerland, has become the first company to earn
Switzerland-based bluesign technologies ag's bluesign® Award for system partnership to produce
environmentally sustainable and ethically responsible textile products.
Ametek Measurement & Calibration Technologies, Largo, Fla., has released a
16-page brochure presenting Lloyd Instruments texture analysis instruments, software, probes,
fixtures and grips for a range of texture analyses, packaging and cosmetics applications.



The Association of the Nonwoven Fabrics Industry, Cary, N.C., has published an air
filtration statistical report titled "Air Filtration Industry of North America: Forecasts &
Trends 2007-2012."
Parker Hannifin Corp., SSD Drives Division, Charlotte, has received ISO 9001:2000
certification for its Charlotte facility.
Textiles Intelligence, England, in association with the
International Apparel Federation, the Netherlands, has launched "Global Apparel
Markets," a quarterly publication covering global apparel sector developments, including sourcing
options.
ASTM International, West Conshohocken, Pa., is now accepting papers describing
successes achieved using ASTM standards for its case-study competition, the 2008 ASTM International
Advantage Award. Cash prizes of $15,000, $10,000 and $5,000 will be awarded for first, second and
third prize, respectively. Additional information is available at
www.astm.org/advantageaward.
ERM NC PC, an environmental, health and safety services consultancy, has opened a
new office in Raleigh, N.C., located at 1130 Situs Court, Suite 240, Raleigh 27606; (919) 233-4501.
Cognex Corp., Natick, Mass., has redesigned its website, located at
www.cognex.com, providing an easy-to-use,
intuitive navigation system. The new site offers more than 80 application case studies categorized
according to industry and application, and a section called "Working with Cognex" that lists vision
technology seminars, training programs and trade shows.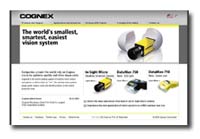 Cognex Corp.'s redesigned website
Kaeser Compressors Inc., Fredericksburg, Va., has released "Designing Your
Compressed Air System," an eight-page guide to the latest industry trends in air system management
and controls; plus a Compressed Air Glossary, Rules of Thumb and Conversion Formulas.
JS Humidifiers Plc, England, is offering textile manufacturers a free, digital
hygrometer for testing humidity in their manufacturing plants. Interested manufacturers may e-mail
info@jshumidifiers.com and provide
name, address and telephone number.
Pantone Inc., Carlstadt, N.J., and
WGSN.com, London, have teamed to enable WGSN
subscribers to purchase online Pantone® Fashion + Home Smart Color Swatch Cards for WGSN's trend
color palettes.
Ultrafabrics LLC, Greensboro, N.C., has received Oeko-Tex Standard 100
certification for its Ultraleather™ polyurethane product line, used as an alternative to vinyl and
leather in aviation; marine; transportation; and contract, medical and residential furnishing
applications.
Arch Chemicals Inc., Norwalk, Conn., has unveiled a new tag line, "Stays Fresh,
Wash Less," for its Purista® performance finish for textiles.
Nilit America Corp., Greensboro, presents its sustainability programs in "
Environmental Responsibility comes Naturally to Nilit®," a brochure produced by a Forest
Stewardship Council-certified printer using recycled paper and vegetable- based inks.
Freudenberg Evolon, Germany, has received the seal of the European Centre for
Allergy Research Foundation, Berlin, certifying Evolon fabric used in mite-proof encasings

as an effective barrier to protect allergy sufferers from dust mite allergens found inside
pillows, mattresses and duvets.
May/June 2008