Material handling equipment supplier

Bushman Equipment Inc.
, Butler, Wis., has launched a new website,
www.bushman.com.

Ioline Corp.
, Woodinville, Wash., has made available its Chinese Control Center — a Chinese-language
interface for use with Ioline 300, 600Ae and SmarTrac™ family plotters. The interface may be
downloaded free of charge at www.ioline.com/tech/wscc_dl_2.html.
Canton, Mass.-based

Interpolymer Corp
. has released a polymer selector guide that details the company's line of Syntran® and
Megatran® polymers, as well as its technologies and capabilities.
An English edition of the China Textile & Garment Enterprise Directory has been made
available by Montreal-based

Business Data International Inc.
The directory includes a listing of more than 4,000 textile and garment enterprises in
China, as well as a listing of Chinese textile associations and institutes.
Effective May 25,

Omnova Solutions Inc.
, Fairlawn, Ohio, has increased by 2.5 cents per wet pound the price of its glyoxal resin
products.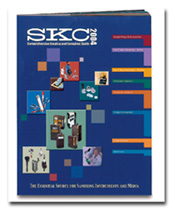 SKC Inc.
, Eighty Four, Pa., has released its 200-page, full-color 2004 SKC Comprehensive Catalog
and Air Sampling Guide — The Essential Source for Sampling Instruments and Media.
The Consumer Guide to Ultrasonic and Correlation Flowmeters, by Walt Boyes and David W.
Spitzer, P.E., now is available from

Copperhill and Pointer Inc.
, Chestnut Ridge, N.Y.




Exair Corp.
, Cincinnati, has released the Air Nozzles and Jets Blowoff Guide — a 16-page technical
guide to efficient use of compressed air.
Effective May 1,

Dow Reichhold Specialty Latex LLC
, Research Triangle Park, N.C., has increased the price of latex products sold in North
America by 5 cents per dry pound.
Effective May 1,

INVISTA™ Inc.
, Wilmington, Del., has increased the price of its nylon 6,6 air bag fibers by 10 to 12
percent.

Cotton Incorporated
, Cary, N.C., has launched Ask Norma, an interactive feature at the Fabric Smart section
of
www.thefabricofourlives.com. Norma Keyes, director
of fiber quality research, will respond to questions asked by visitors to the site.
Baltimore-based global logistics provider

Samuel Shapiro & Co. Inc.
has launched a new website,
www.shapiro.com.
The Filtration and Separation Division of

Parker Hannifin Corp.
, Haverhill, Mass., has made available a new range of fast loop Balston® sample filters,
a complete line of high-efficiency Balston vacuum pump exhaust filters, and redesigned
full-featured coalescing Balston filters.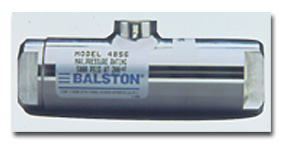 Marietta, Ga.-based

YKK (U.S.A.) Inc.
now offers free of charge its New Zipper Development Kit to those interested in using
zippers in non-standard fastening applications. The kit comes equipped with a fasteners application
guide, material and strength data, and samples showing zipper properties.

Scholl-Then AG
, Switzerland, has redesigned its website,
www.scholl-then.com. Visitors to the site now will find
detailed information about the company's products, structure and contacts.
The

Specialty Graphic Imaging Association (SGIA)
and the

Digital Printing & Imaging Association (DPI)
, both located in Fairfax, Va., have merged their membership benefits. Annual dues now
include membership in both associations. SGIA corporate members may now designate a digital
contact, who will have access to all DPI on-line members-only areas and association events. DPI
members also have full access to all SGIA on-line members-only areas and association events. SGIA
and DPI now offer Global Memberships to businesses with locations in more than one country. SGIA
also has reduced its dues categories from 13 to six.


June 2004