Cleveland-based

Astrup Co.
has made available a new sample card for its Nautolex® Capitano marine fabric. The card
provides swatches of each fabric choice and a complete description of fabric characteristics.
Measuring Up to Your Standards," a new catalog from

AMETEK Lloyd Instruments Ltd.
, England, details the range of grips and fixtures AMETEK offers for use with Lloyd
Instruments™ and Chatillon® systems.

TKF Inc.
, Cincinnati, has received ISO 9001:1994 certification.

New Generation Computing Inc.
, Miami, and Foxfire Technologies Corp., Six Mile, S.C., have introduced Version 6.0 of
Real-Time Shop Floor Control System software. The new version integrates with New Generation
Computing's The Production Management System (TPM), which enables companies to perform payroll
analysis and reporting.
The Howard Leight Fusion™ reusable earplug from

Bacou-Dalloz
, Smithfield, R.I., has a noise reduction rating (NRR) of 27 — offering the highest
protection available in a reusable earplug, according to the company.

Donaldson Industrial Air Filtration Group
, Minneapolis, has updated its website,
www.torit.com, to include the Donaldson Torit® line of
filtration products.
Slate, Nickel and Stone are among the new colors recently added to the SheerWeave® 4800 line
of interior sun control fabrics from

Phifer Wire Products Inc.
, Tuscaloosa, Ala.

Emerson Power Transmission
, Ithaca, N.Y., has released a 24-page catalog featuring Morse brand worm gear products
and the new Raider line of stainless steel C-Face reducers and paint-free washdown motors.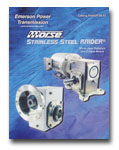 Emerson Power Transmission's new catalog
The

Greenguard Environmental Institute (GEI)
, Atlanta, has awarded Greenguard certification to building insulation products
manufactured by Knauf Fiber Glass, Shelbyville, Ind.

Metlon Corp.
, Cranston, R.I., has updated its website,
www.metlon.com.

Pantone Inc.
, Carlstadt, N.J., has released the PANTONE® View Colour Planner Summer 2004. The planner
includes 14 new shades and the PANTONE TEXTILE Color Chooser 2.0, as well as color trends and
expanded editorial content.

RJR Fabrics
has relocated to: 2203 Dominguez St., Bldg. K-3, Torrance, Calif. 90505; (310) 222-8782;
(800) 422-5426; fax (310) 222-8792.

Rolled Alloys
, Temperance, Mich., has received ISO 9000:2000 and AS 9100 certification for all four of
its US locations.

"Fancy Yarns: Their Manufacture and Applications,"
written by R.H. Gong, Ph.D., and R.M. Wright, is published by Woodhead Publishing Ltd. in
association with The Textile Institute, both based in England. Devoted to the design and
manufacture of fancy yarns, the book describes major yarn types, yarn structures and manufacturing
processes.

NiceWare™ International LLC
, Milwaukee, has released Pocket NiceLabel Version 3.2, an easy-to-create application
generation and printing tool. The latest version offers support for distributed label printing with
one print server (NiceWatch) and several thin clients including Pocket PC/Windows® CE devices.

Hydrotex Partners
, Carrollton, Texas, has purchased a 96,000-square-foot manufacturing facility in Tulsa,
Okla. The new facility doubles the size of Hydrotex's current facilities.
Hong Kong-based

Ricobest Industrial Ltd.
has announced the formation of

Eco Mills LLC
, Portsmouth, N.H. Headed by Dennis Ackroyd, Raymond Fridmann and Dennis Randall, Eco
Mills offers high-quality performance/functional fabric and apparel for distribution in North
America.

Goldenrod Corp.
, Prospect, Conn., reports its line of safety chucks can accommodate a variety of web
winding and unwinding needs. The chucks provide core shaft support and a torque transmission
system.

Faro Technologies Inc.
, Lake Mary, Fla., has released CAM2 Measure® v3.9 software. The updated software enables
operators to consider multiple fitting-and-analysis scenarios, or correct errors, without having to
remeasure the entire job.
The

American Floorcovering Alliance (AFA)
, Dalton, Ga., has redesigned and enhanced its website,
www.americanfloor.org.

February 2003