COMO/VARESE, Italy — November 10, 2023 — MS Printing Solutions & JK Group Pigment Solution reduces CO2 emissions and water consumption in the entire process, it halves printing process steps with chemistry and perfectly manages and reproduces colour charts with an increase in colour yield.
What is this solution made up of?
Digistar Pigment 4K, JK Group newest and patent pending digital pigment ink. A new formula which doesn't require pre- and post-treatment. It reduces digital printing process steps by 50%, water consumption by 100% and energy consumption noticeably*.
A completely reengineered JP7, a digital scanning printing machine designed to print pigment with the goal to radically reduce water and energy consumption thanks to newly integrated innovative Tech solutions, namely: Zero-Wastewater Recirculation System, Ink Recirculation, the Nozzle Shooting System and Easy- Clean, the new carriage plate.
A new dryer designed ad-hoc for this system. It dries and polymerises on the fly; guaranteeing perfect use conditions, the best achievable control and reduction of CO2 emissions during the entire process, thanks to the reduction of space needed for the manufacturing line in the plant.
System Plus Software, the new management software that integrates calibration, printing software and ink for a perfect colour management, assuring a colour yield up to 20% higher, while improving efficiency.
ITMA Asia is the place to find out more about our full range of inks. Our reactive formulas, which stand out for bright colors, excellent washing and rubbing fastnesses – all encapsulated in our eco-responsible BiB (Bag-in-Box), a flexible PE or multilayer plastic bag, sited inside a cardboard. Our disperse formulas, which boast high light fastness, high duration of outdoor exposure and high fastness to rubbing. Our dye-sub formulas, which assure astonishing and vibrant colors, detail accuracy, first-class image quality and unparalleled colour consistency and vibrancy.
ITMA Asia is also a chance to discover our digital printing machines for industrial textile printing. Lario, the first single- pass digital machine in the world; the unique Minilario, one of the world's fastest scanning machine; the reliable JPK Evo, a high-end reliability industrial printing machine designed for long production runs.
ITMA Asia is where to meet the team. We are eager to meet customers and we are looking forward to answering to their questions concerning our products and the change of our organisational business model. Customers increasingly expect premium quality products and services. We aim to deliver a consistent and seamless experience to them.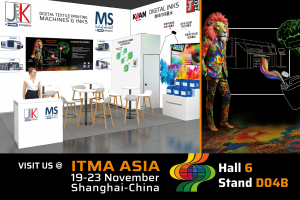 * These data come from a study developed by Next Technology Tecnotessile Società Nazionale di Ricerca
Posted: November 10, 2023
Source: MS Printing Solutions & JK Group