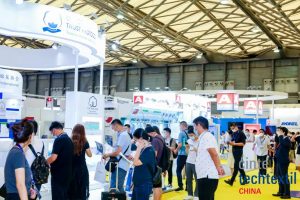 SHANGHAI — November 17, 2023 — With the markets in good health and various innovations gaining traction, Asia's leading technical textiles and nonwovens trade fair will take place from September 19-21, 2024, at the Shanghai New International Expo Centre. In its capacity as a well-established platform for the latest textiles, nonwovens, and equipment, the 18th edition of the fair will offer business opportunities across the industry supply chain. With the previous edition attracting 467 exhibitors from 13 countries and regions across 40,000 square meters, the organizers are looking to build on that success at next year's show.
"In this industry, there are many factors that contribute to market growth, but there is no substitute for the connections made and value added at B2B trade fairs," said Wilmet Shea, general manager of Messe Frankfurt (HK) Ltd. "Well-positioned as the industry's leading regional trade fair, Cinte Techtextil China is the ideal platform to bridge business gaps, and to showcase and source the most innovative products on the market. We are constantly on the lookout for value-adding factors, and preparations are already well underway for our next edition."
Respectively, the global technical textiles and nonwovens markets are expected to expand at a CAGR of 4.7 percent and 8.7 percent between 2023 and 2030. Already the leader for both sectors, APAC is set to experience the highest growth during the forecast period, due to a raft of factors such as sector-specific developments, the implementation of favourable policies, and improving economic conditions.
Trends have an important role to play in market evolution, and one clear example is the rise of e-mobility. Speaking at the previous edition, Jenny Zheng, Strategic sales at J.H. Ziegler Nonwovens and New Materials (Huzhou), said: "The new-energy vehicle industry's rapid development means more opportunities for automotive interior accessories. Recycled and bio-based materials have become more important for sustainability and improved product performance. Technological advancement, customization, and intelligent and high-end development are also future trends."
Though trends may change, Cinte Techtextil China has consistently proven to be a vital point of connection for key industry players. One long-term exhibitor, Steven Liu, Sales Manager of Sanitized (China), attested to this in 2023: "Cinte Techtextil China is a very professional technical textiles platform that attracts both high-quality exhibitors and visitors. The buyer profile has matched with our company's positioning. In addition, this show's organization, logistics, supporting services, and atmosphere are the reasons we keep coming back. It has played a really positive role in our business and product promotion for many years."
With next year's fair expected to again see strong domestic and international participation, the previous edition featured the return of the Taiwan Pavilion, the 40-exhibitor strong European Zone, and seven Chinese regional pavilions. At every edition, multiple fringe events enhance business connections and provide valuable insights to fairgoers. In 2023, key highlights included the 11th China International Nonwovens Conference, the Advanced Technical Textiles Industry Chain Synergistic Innovation Development Forum, various marine textile and rope netting events, and the "Kingsafe Dangs" University Students' Showcase.
Exhibiting at the European Zone, Francesco Forte, chief business development officer of Monosuisse Group, said: "This is our most important fair to expand in the Chinese market. To be here for a few days, with a large number of existing customers present, is highly valuable to us. In addition, Cinte Techtextil China covers multiple application areas, and that is meaningful to us as we have some very diverse product segments."
The fair's product categories cover 12 application areas, which comprehensively span a full range of potential uses in modern technical textiles and nonwovens. These categories also cover the entire industry, from upstream technology and raw materials providers to finished fabrics, chemicals and other solutions. This scope of product groups and application areas ensures that the fair is an effective business platform for the entire industry.
The fair is organized by Messe Frankfurt (HK) Ltd; the Sub-Council of Textile Industry, CCPIT; and the China Nonwovens & Industrial Textiles Association (CNITA).
Posted: November 17, 2023
Source: Messe Frankfurt (HK) Ltd