BARCELONA — October 25, 2023 — In a revolutionary leap for textile manufacturers, TVE ESCALE thrilled to introduce the state-of-the-art Hydra Machine, a groundbreaking solution designed to transform the pre-treatment and bleaching processes for woven fabrics.
Traditionally, textile pre-treatment and bleaching have relied on continuous lines, but the Hydra Machine has redefined the landscape. This patented semi-continuous process machine is meticulously engineered to deliver extraordinary results, with a specific focus on:
Efficient Pre-Treatment: The Hydra Machine streamlines the pre-treatment process for woven fabrics. It's capable of autonomously and automatically executing various techniques to achieve optimal results, all while minimizing resource consumption.
Superior Bleaching: With unparalleled precision, Hydra ensures that the bleaching process meets the highest industry standards, resulting in fabrics that are not only brilliantly white but also eco-friendly.
Water and Energy Savings: The Hydra Machine is a game-changer in resource conservation. It slashes water usage by up to 50%, a reduction of steam consumption by up to 35% and the electricity consumption is reduced by more than 30% in comparison to the continuous lines, setting new industry standards for sustainability.
Cost-Efficiency: While traditional continuous lines may boast higher production volumes, they often come with significantly higher costs. In stark contrast, Hydra offers remarkable cost savings, with machinery and infrastructure expenses reduced by over three times.
Scalability: For high-volume manufacturers, the Hydra Machine is fully scalable. Manufacturers can easily expand their production capacity by adding more units, ensuring a seamless and efficient workflow.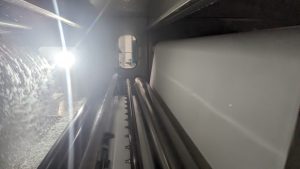 An astonishing fact is that the total water consumption for desizing, scouring, and bleaching is reduced to a mere 5-6 liters per kilogram with the Hydra process.
TVE ESCALE believes that Hydra sets the new industry standard for pre-treatment and bleaching of woven fabrics. By adopting this state-of-the-art technology, manufacturers can unlock enhanced production efficiency, reduced costs, and minimal environmental impact; all while achieving extraordinary results in pre-treatment and bleaching processes
Posted: October 25, 2023
Source: TVE ESCALE