MUMBAI — (October 12, 2023) — India ITME Society, organizer ITME Africa & Middle East 2023 hosted a Preview & Curtain Raiser program on October 11, 2023 at the brand-new facility ITME Center, Nariman Point, Mumbai. This networking presentation was to showcase a glimpse of the upcoming international exhibition ITME Africa & M.E 2023 from November 30 to December 2, 2023, in Nairobi, Kenya.  This is the second event of the series hosted for global audience; The first event was hosted in Nairobi, Kenya on 3rd October in the presence of Senior Kenyan Govt. Officials & Embassy participation.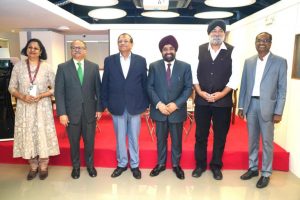 The highlights & topics at this Mumbai edition's Curtain Raiser & Preview covered by eminent Dignitaries & Speakers, included Strength of Indian Textile & How Africa can collaborate with India to lead the Textile Industry by Industry expert & experienced Textile professionalMr. Updeep Singh. Africa a land of Opportunities for India & how Exhibition can be a gateway for bilateral trade for the Textile Industry promotion by Mr. Balvinder Singh Sawhney, Asst. Secretary General, FICCI, Views on Technical Textiles & the future by Mr. Pramod Khosla, Chairman & Managing Director, Khosla Profil Pvt. Ltd. Increase in business Engagement between India and Africa since 2020 in Textile Segment by Mr. Avinash Mayekar, Managing Director, Suvin.
ITME Africa & Middle East 2023 promises to offer an unique and valuable experience for all participants. Whether it is to gain insights, network with industry leaders, Business interactions or Joint Ventures, this event will provide  ample networking opportunities, and direct connect with professionals and peers.
Apart from the 3-day Exhibition, ITME Africa & Middle shall also host multiple concurrent programs such as panel discussions and interactive sessions on Technical & Financial topics that will enhance knowledge and skills. These interactive & focused sessions by renowned Speakers & Industry stalwarts shall bring best opportunity to listen, interact & learn from experts doing groundbreaking work in the textile & textile engineering industry:
Investment & Technology Joint Venture :
Kenya as a business destination Gateway to Middle East, EU & US Markets.
Africa- The Next Big Destination for Textile Manufacturing.
Financial Solutions for Investments & Technology upgradation :
Funding for; Investment & Sourcing capital goods from India
Start-ups, Entrepreneurs in Textile Segment
Domestic Financial Schemes for Kenyan Textile Industry
Kenya – A Success story Textile Business & Investment.
Technical & Technological Seminar
Good Practices of cultivating quality cotton fibre | Importance of Physical properties of cotton in textile industry by Cotton Expert.
Technological advancement for cotton ginning & high production by Ginning Expert.
Ideas & Best Practices for spinning profits in Textile Industry by Spinning Specialist.
Panel Discussion
Textile Technology empowering complete textile value chain of African continent & M.E.
(Participating Countries – India, Italy, China, Switzerland)
Many Government organization & Associations from Kenya have joined hands with India ITME Society to host this Textile Technology & Engineering event to bring prosperity to the whole of African Continent & explore potential of Kenya as a new business destination along with other 23 exhibiting countries – Austria, Benin, China, Egypt, Ethiopia, Germany, Ghana, Italy, Jordan, Kenya, Nigeria, Rwanda, South Africa, Spain, Sri Lanka, Taiwan, Togo, Turkey, Tunisia, Uganda, Unites States of America & Zambia apart from India
Addressing the media, Ketan Sanghvi, chairman, India ITME Society, said: "ITME Africa & Middle East 2023 is an important milestone in enhancing bilateral trade relations and promoting industrial cooperation between Kenya and India. This partnership aims to leverage the business potential of both the countries and build on the innovation, economic growth and sustainability goals of their respective textile technology and engineering industries. With as many as 23 countries taking part in the India ITME Society exhibition in Kenya, Africa is sure to derive the immense benefits of investing in future partnerships and building successful business ventures in the entire African region."
In the press conference Updeep Singh, Textile Industry Expert "India possesses a robust textile engineering foundation and boasts the world's second-largest textile industry, featuring manufacturing facilities. With this being the focus, the efforts of the ITME society by hosting their quadrennial event ITME Africa & Middle East 2023 in Nairobi Kenya will attract more attention towards the Kenyan textile industry and also showcase the business potential of the country, globally. This will increase visibility and business inquiries and widen opportunities for India's exports in Textiles and Machinery businesses leveraging an untapped customer base of the African continent." He also added "Now, with the addition of the African Union in the G20 Summit conducted in New Delhi, the trade volumes with India is expected to rise in the Continent and Textile machinery companies should capitalize on this."
Pramod Khosla, Chairman & Managing Director, Khosla Profil Pvt. Ltd. brought attention to the fact that there is tremendous scope in infrastructure development in most of African Countries which can be a great opportunity for Geo textile and also for many other Technical Textiles segment such as Indutech, Packtech, Buildtech Protech etc. "India ITME society has taken the right steps to promote trade relations between India and Africa that will help the textile industry and allied ventures by generating demand and boosting production in the African Continent.
Balvinder Singh Sawhney, Asst. Secretary General, FICCI emphasised that exhibition provides less riskier & cost competitive platform to explore new ventures & new shows especially for Small Medium Businesses. His three ''E's" mantra to industry is "Explore & Expand with Exhibition".
Posted: October 12, 2023
Source: India ITME Society