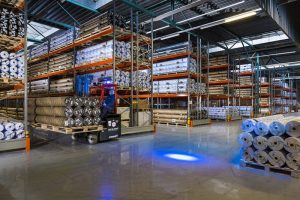 MOORDRECHT/WADDINXVEEN, The Netherlands — February 22, 2023 — Texo Trade Services (TTS) has opened a second site. Covering an area of approx. 3,000 square meters this additional warehouse will store 30 to 40 percent of its inventory. That is why TTS has broadened its partnership with Van Noort, the full-service logistics company in Waddinxveen.
New premises outgrown after three years
The second site is in Waddinxveen, five kilometers from the 6,000-square-foot TTS headquarters and warehouse in Moordrecht. TTS will be using the additional warehouse for unloading containers, bulk storage and pallet shipments. This expansion represents an almost doubling of the current warehousing capacity. TTS's Managing Director, Floris Jan van den Heuvel, saidi: "The key for our customers is that we offer constant quality, availability and fast delivery. Four years ago, to ensure all this and our continued growth, we opened our new, fully energy-neutral headquarters and warehouse here in Moordrecht. However, our rapid growth means yet again that our premises are too small! So, of course, to add another 3,000 square meters to our total capacity, we turned again to our trusted partner, Van Noort."
No brakes on growth thanks to expansion
TTS and Van Noort have been working together closely in areas of storage, transport and machinery relocations since 2015. Van Noort also took care of TTS's 2019 move to its new site in Moordrecht. The partnership has now intensified with the addition of an extra storage site. Managing Director, Fred van Noort, noted: "Shortage of storage can hamper the growth of successful companies such as TTS. We are proud to be able to help TTS in setting up this second site. By placing their products with us, not only do they have the required storage capacity but their logistics and facilities are also in good hands. We are there when orders are delivered or picked up and TTS always has its specialist equipment at its disposal when it needs it. We look forward to the successful expansion of our partnership."
Global customer base
Besides having two Dutch branches in Moordrecht and Waddinxveen, TTS also has branches in Germany, France, England and Italy and agencies worldwide. From these offices, it serves customers in 60 countries.
Posted: February 22, 2023
Source: Texo Trade Services (TTS)