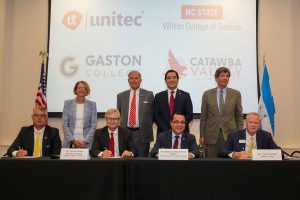 WASHINGTON — August 22, 2022 — North Carolina educational institutions are joining forces with a key Honduran university to educate and train thousands of students for the next generation textile workforce to meet a rising tide of nearshoring and onshoring in Honduras, Central America and the United States.
With backing from the U.S. Department of State, North Carolina State University, Gaston College, and Catawba Valley Community College signed a Memorandum of Understanding (MOU) with Honduran-based Central American Technological University (UNITEC) today at a signing ceremony at Gaston College in Dallas, N.C.
High-level U.S. and Honduran government officials, including: Jose W. Fernandez, Under Secretary of State for Economic Growth, Energy and the Environment; Jennifer Knight, Deputy Assistant Secretary for Textiles, Consumer Goods and Materials at the U.S. Department of Commerce; and Hector Zelaya, private secretary to Honduran President Xiomara Castro, participated in a roundtable discussion with textile executives and educational leaders as well as today's MOU signing ceremony.
The U.S. Department of State issued a statement of public support today for the MOU and the unique collaboration between the U.S. and Honduran institutions.
The groundbreaking initiative will launch a series of educational workforce development programs, ranging from training and certificate programs to undergraduate and graduate degrees, in textile-related areas of study.
The partnership comes at a defining moment for the U.S., Honduras and Central America, which are seeing historical levels of investment in textile and apparel production stemming from a global supply chain crisis that has driven a significant shift in sourcing out of Asia to the U.S. and the region. Nearly $1 billion of historic textile and apparel investment is anticipated in the U.S. and Central America this year alone. And this partnership also creates an educational pathway to economic opportunity in Honduras and the region that not only creates a skilled and resilient workforce but can also help to address the root causes of irregular migration.
Current growth projections indicate a need for more than 10,000 new skilled workers in the textile industry in Honduras alone over the next five years. In order to meet these needs, educational programming is needed at all levels.
The U.S. and this region are inextricably linked through a textile and apparel co-production chain under the U.S.-Central America-Dominican Republic Free Trade Agreement (CAFTA-DR) that has generated $12.6 billion in annual two-way trade in the sector and supports 1 million workers in the U.S. and the region.
North Carolina plays a central role in this co-production chain. It is the second largest state for textile employment nationally with over 36,000 workers, and the state's $2.7 billion in textile-related exports leads the nation. The Northern Triangle, including Honduras, is a major export destination for U.S. yarns and fabrics that come back as finished items under the U.S.-CAFTA-DR trade agreement.
In addition to participating in the signing ceremony and the earlier industry roundtable, Under Secretary Fernandez, Deputy Assistant Secretary Knight and Secretary Zelaya toured two of Gildan's yarn-spinning facilities in Salisbury, N.C., a leading apparel manufacturer that has invested over $700 million since 2013 across its network of yarn-spinning facilities in the United States.
"The MOU signed today is a win on so many levels. Firstly, it is a win for U.S. textile manufacturers who operate in both the U.S. and Central America as they build more resilient and economically and environmentally sustainable supply chains. Secondly, it's a win for the Wilson College of Textiles and NC State in advancing its land-grant mission to support economic prosperity and provide transformative opportunities for people of all ages in North Carolina and beyond in collaboration with our community college partners and now UNITEC in Honduras," said David Hinks, Dean of the Wilson College of Textiles, North Carolina State University. "Together we will train the next generation of textile workers, leaders and academics in this critical production chain. These workforce programs will have a ripple effect throughout Central America, the region and the United States, spurring job growth and more investment, and not just in textiles and apparel. Hundreds of our industry partners that work with our college closely are looking to re-engineer their supply chains out of China to the United States and Central America. This new partnership will provide a near seamless educational and training pathway to building an even stronger textile and apparel co-production chain between the U.S. and CAFTA-DR countries, which collectively supports 1.1 million workers."
"This is an incredible opportunity to build a partnership and bridge between U.S. educational institutions and UNITEC. Through this collaboration, we will develop education and workforce training programs that will support the vibrant textile and apparel co-production chain between Honduras and the United States," said Dr. John Hauser, President of Gaston College. "The time is now to invest in the future of the textile and apparel industries, and Gaston College and Catawba Valley Community College look forward to playing a key role in training textile operators to support the impressive growth and investment in this critical sector."
"By signing this academic MOU, we bring education and industry together between two economies with a strong history of success in the textile industry. This is a great example of creating valuable partnerships aimed at developing the workforce to be more competitive to operate in a global market," said Dr. Marlon Brevé-Reyes, UNITEC Rector.
Under Secretary Fernandez said, "The United States is very supportive of the academic partnership announced here today which will lead to increased opportunities in co-production and will benefit both the United States and Central America. Investment in workforce and adherence to strong labor standards and good labor practices are essential to creating sustainable and resilient supply chains."
"President Xiomara Castro welcomes today's announcement and is actively engaged in creating a good investment climate in Honduras. The MOU signed today will help provide economic opportunities to textile workers in our country and strengthen our ties," said Secretary Zelaya.
"As we work to create more sustainable and resilient global supply chains, this sector is in a window of opportunity," said Deputy Assistant Secretary Knight. "The innovations that U.S. and Central American textile and apparel companies create to reduce environmental impact and increase transparency across their supply chains can set them apart from global competitors, and today's workforce development initiative is a key element in turning this vision into reality."
National Council of Textile Organizations (NCTO) President and CEO Kim Glas stated, "This partnership demonstrates the critical need for education and training programs for the next generation of academics and textile employees to meet head-on the global sourcing shift that has been driving production out of Asia to Honduras, the entire CAFTA-DR region and the United States. Collaboration on this scale will support our critical co-production chain in the CAFTA-DR region and further enhance investments for the years to come. U.S. and Honduran government support for this private sector collaboration is crucial. We sincerely appreciate the statement of support issued by the State Department, as well as the participation in today's events by Under Secretary Fernandez, Deputy Assistant Secretary Knight and Secretary Zelaya. It's important these efforts are supported and funded in order to help expand growth opportunities in the U.S. and Central American textile and apparel production efforts. This is an exciting time for our industry."
Posted: August 22, 2022
Source: National Council of Textile Organizations (NCTO)