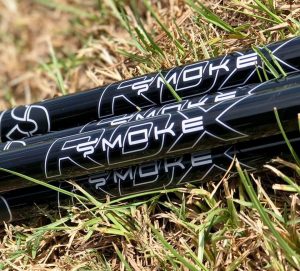 STAMFORD, Conn. — September 14, 2020 — True Temper Sports, leading designers and manufacturers of golf shafts, has chosen to partner with Hexcel on its latest product line, the HZRDUS Smoke Black RDX. The HZRDUS Smoke Black RDX is the first golf shaft to use Hexcel's new HexTow® HM54 carbon fiber, which is ideal for recreational applications.
HZRDUS has emerged as one of the most dominant shafts at all levels of golf over the past 50 years, and the RDX is the next evolution in the HZRDUS line. By partnering with Hexcel to incorporate HexTow HM54, True Temper has taken its designs to the next level. HZRDUS Smoke Black RDX is the first golf shaft to use HexTow HM54 high modulus carbon fiber and combines it with high tensile strength HexTow IM2C carbon fiber to provide the ideal blend of stiffness and stability desired by engineers to build into the HZRDUS shafts.
Tom Haulik, sales director, Global Fibers at Hexcel, said: "True Temper has a heritage of being the worldwide leader in the manufacturing of golf shafts, so we are very excited to see our new HexTow HM54 fibers used in their latest HZRDUS shaft. HexTow HM54 is the perfect application for a high-performance golf shaft such as HZRDUS Smoke RDX."
Don Brown, Vice President of Innovation and Product Creation at True Temper, said, "Being able to work with the world's largest supplier of intermediate and high modulus fibers only makes our product line better. We are pleased to work closely with Hexcel on the use of one the world's best carbon fibers in our product."
True Temper Sports is the number 1 shaft in golf. It has been used to win more professional golf tournaments than any other shaft manufacturer. True Temper Sports offer shafts under the True Temper, Project X, ACCRA, Aerotech, and Grafalloy brands.
Posted September 14, 2020
Source: Hexcel Corp.