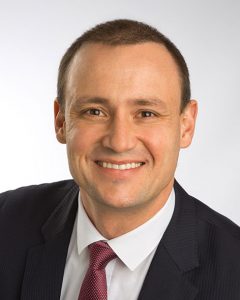 Lenzing's Dr. Florian Heubrandner On REFIBRA™ Technology, Future Plans
TW Special Report
Recently, Austria– based Lenzing Group announced the "industry's first successful production of TENCEL™ branded lyocell fibers using post-consumer cotton waste" using its REFIBRA™ Technology. According to Lenzing, "REFIBRA technology
features the upcycling of a substantial proportion of preconsumer cotton scraps from garment production and mixing with virgin wood pulp, to produce new TENCEL Lyocell fibers." In September 2019, Lenzing announced the first phase of REFIBRA technology upgrade, by increasing the composition of pulp made from upcycled cotton scraps collected from garment manufacturing process to up to 30 percent. In the second phase, among the 30 percent of recycled raw material content, Lenzing will incorporate up to 10 percent of post-consumer cotton waste into the mixture of recycled materials alongside pre-consumer cotton waste."
The process of making regenerated cellulose fibers has a long, if not sordid, history. The concept of chemically breaking down wood feed stocks to their basic polymer building blocks — cellulose — and extruding those polymers to form a new fiber is not a new idea. Unfortunately, the technology of the day included a messy chemical discharge. That process was reinvented as a closed loop system, known as the lyocell process, which negates the discharge problem.
According to Lenzing, "The underlying idea of the lyocell process is to dissolve and process the pulp in a closed loop without any chemical derivatization. Similar to LENZING Viscose and Lenzing's modal fibers, the basic raw material is dissolving wood pulp from sustainable forestry. In contrast to the viscose process an organic solvent called N-methylmorpholine-N-oxide (NMMO) is used to directly dissolve the pulp without any chemical change. For this reason, it is considerably simpler than viscose production. The technology developed by Lenzing enables more than 99 percent of the solvent to be recovered in a closed chemical loop and then fed back into the production process."
In his role of overseeing Lenzing's global textile business, Dr. Florian Heubrandner, vice president, global business management textiles, Lenzing AG, is focused on scaling-up new textile innovations, expanding the business into innovative fashion segments, and creating long-term strategic partnerships across the textile value chain. He holds a masters degree in business administration from the University of Graz, Austria, and a doctorate in marketing from the University of Frankfurt, Germany.
Recently, Textile World editors spoke with Dr. Heubrandner about recent updates to the REFIBRA technology and its contribution to the circular economy concept.
TW: Welcome, Dr. Heubrandner. Lenzing has been quite active in the sustainability narrative, but what drove Lenzing to upgrade the REFIBRA technology?
Heubrandner: With more than 80 years of experience in sustainable fiber production, Lenzing has always been in the forefront of developing eco-friendly alternatives for the market and improving the eco-footprint of our product portfolio. In 2017, we launched a new generation of fibers under REFIBRA technology, which followed the "Reduce, Reuse and Recycle" practice. At that time, we already had a vision to upgrade the technology and eventually build the recycling process towards the use of post-consumer waste.
With increased public awareness of circular economy and the recent demand for sustainable solutions, we have been continuously innovating our recycling technologies. As a result of ongoing research, in September 2019, the first phase of the REFIBRA technology upgrade saw an increase in the composition of recycled pulp to up to 30 percent. Given the recency of this achievement, we are incredibly proud to launch a second upgrade in which up to 10 percent of the 30 percent recycled raw material content can be made up of post-consumer cotton waste.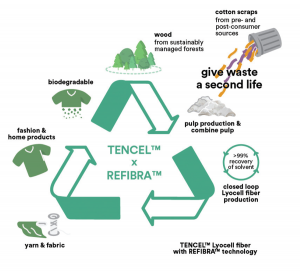 TW: Does this technology have an impact on the LENZING Modal and Micro Modal fiber products?
Heubrandner: Currently, our REFIBRA technology is focused on Lyocell products. However, we are open to ideas and will continue to evaluate the scalability of this technology for other product lines. Simultaneously, we are also actively looking for different ways to enhance the sustainability of our varied offerings, including LENZING Modal and Micro Modal fibers.
TW: Can you address the textile circular economy and how Lenzing plans to impact the limited amounts of textile product recycling?
Heubrandner: In 2019, we saw fast fashion giants such as H&M and Zara launching circular economy initiatives. As proven by the visible increase in this type of action from industry players, we believe that the recycling of textile products is becoming more mainstream. Meanwhile, many smaller brands are still largely focusing on one-off sustainable campaigns, such as recycling programs and sustainable capsule collections. While these efforts are encouraging, they are not enough to sustain long-term momentum.
What the industry needs is a fundamental transformation — shifting from a linear production model to a model that focuses on "reuse" across supply chains. Lenzing is facilitating this by bringing circularity to raw materials — the origin of clothing production. If a brand is interested in using TENCEL branded lyocell fibers with REFIBRA technology, our team will provide support and information on certified intermediaries. This can help brands make sure that environmentally friendly processes are adopted at every stage of their supply chain.
Transparency is also an important element in circular economy as it allows brands to track and ensure that their production lines are clean. For this reason, we incorporated fiber identification in the REFIBRA technology, making the fibers identifiable in yarns, fabrics and final garments, enabling retailers to confirm their sustainable origin.
TW: How is Lenzing partnering the REFIBRA technology with industry participants?
Heubrandner: We have been partnering with leading industry players who share the same vision and commitment towards circular economy, both on the technical side and consumer education.
From fashion brands such as Reformation, Zara, and Mara Hoffman, to leading sustainable sportswear brand, Patagonia, and bedsheets retailer, Hoot, TENCEL Lyocell fibers with REFIBRA technology are adopted by various sectors of the textile industry.
In addition to supplying eco-fibers, we also collaborate with our partners to raise consumer awareness on circular economy. One of our partners, a Netherlands-based denim brand Kings of Indigo (KOI), is a leading figure in the industry advocating for recycling and circular economy. Together with the TENCEL brand, KOI introduced the "From Wood to Wardrobe" campaign in 2019, which helped customers understand how wood pulp is transformed into cellulosic fibers using a closed-loop production process. A pop-up store was also set up in Amsterdam, selling products made from TENCEL Lyocell fiber, bringing the eco-vision to life.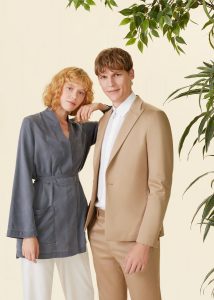 TW: How will consumers understand the REFIBRA technology based products?
Heubrandner: In 2019, we launched the #Makeitfeelright consumer campaign with the aim to increase awareness of eco-friendly fibers among consumer. Practical tips on how to identify sustainable components in clothing and understand the environmental credentials of textile materials were shared and promoted to consumers on the campaign platform. We also collaborated with influencers to amplify the impact and expand the #makeitfeelright community.
In parallel, we also worked closely with our partners to drive consumer education. We are now able to directly reach consumers through various co-branding partnerships and co-marketing campaigns with retail brands. With more brand exposure and ongoing consumer education, the TENCEL brand will become more available and accessible to consumers across different regions.
TW: In your role of "creating long-term strategic partnerships across the textile value chain" what future plans can you share?
Heubrandner: New launches for 2020 are in the works. We are looking into exciting new technology which could further improve the environmental credentials and transparency of TENCEL branded fibers.
While we continue to promote sustainability and circularity in textile and fashion, we will work closely with brands, retailers, and value chain partners on the development of innovative and sustainable offerings.
January/February 2020