Eqodry USA, Elon, N.C., recently launched a line of thermally reticulated smart foam products to the U.S. market. Eqodry® — pronounced E-Co-Dri — allows water to pass through for zero water retention and fast drying times, which makes it suitable for outdoor furniture and marine applications where moisture can shorten the foam's lifespan.
Dalton, Ga.-based Shaw Industries Group Inc. reports its Adairsville, Ga., carpet tile manufacturing and recycling facility has achieved the USGBC's LEED Silver designation.
TenCate Protective Fabrics, Union City, Ga., reports its family of products for the Fire Service market now is OEKO-TEX® Standard 100 certified.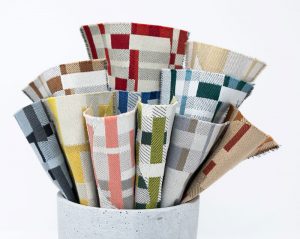 Duvaltex, Québec, Canada, has migrated its True, Victor and Teknit brands to the Duvaltex name. Its Guilford of Maine brand will remain independent.
Biobased Xorel, a textile sourced from sugar cane developed by New York City-based Carnegie Fabrics LLC, is the first textile product to achieve Living Product Challenge Certification.
The Paris-based French Textile Equipment Manufacturers' Association (UCMTF) has introduced a new modernized logo, which features the blue, red and white colors of
the French Flag.
The Industrial Fabrics Association international (IFAI), Roseville, Minn., is taking entries for the 2020 Student Design Competition. Students may submit entries in advanced textiles or fabric structures categories before May 15, 2020. A first-place winner in each category will be awarded a prize pack valued at more than $6,000, which includes a trip to IFAI Expo 2020, the 100th anniversary of the show. Visit ifai.com/student-design-challenge for more information.
Germany-based Hohenstein Institute has developed a new method using dynamic image analysis for quantifying microfiber shedding from textiles. The research, published in an article by lead researcher Jasmin Haap, took four years. The resulting analytical method quantifies fiber count, length, diameter and shape; and can also offer insight on cellulosic and non-cellulosic fibers. Such analysis now is available exclusively through Hohenstein.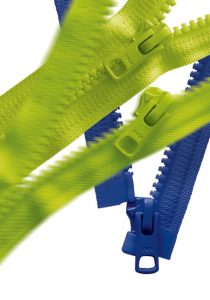 The QuickFree® zipper engineered by Japan-based YKK Group was recognized in the "Personal" category of the 2019 GOOD DESIGN® Awards presented by The Chicago Athenaeum. The zipper features improved operability and a unique release function aimed to promote a sense of independence, accomplishment and security in small children.
The Felix Schoeller Group, Germany, is celebrating its 125th anniversary. Today, the family-owned company employs approximately 3,600 employees at 12 facilities where it produces specialty papers including digital printing papers and décor papers.
Americhem, Cuyahoga Falls, Ohio, has released its 2021 Color Trends. The palette, based on a theme of "Self Care," features four color stories — Adventures That Spark You, It's The Little Things, Treat Yourself and Hitting The Reset Button. To access the full color trends presentation, contact an Americhem representative at Americhem.com/
contact.
AKAS Tex, Bensalem, Pa., now is a licensed provider of Cotton Incorporated's TransDRY™ finishing technology. The patented high-tech application manages moisture in natural fabrics to wick it away from the body.
Messe Frankfurt Hong Kong has announced three textile fairs scheduled to take place March 11-12, 2020, at the National Exhibition and Convention Center in Shanghai, will be postponed because of the Novel Coronavirus outbreak. The impacted fairs are Intertextile Shanghai Apparel Fabrics – Spring Edition, Yarn Expo Spring, and Intertextile Shanghai Home Textiles – Spring Edition.
January/February 2020