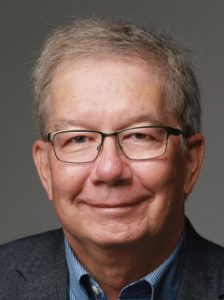 By Stephen M. Warner, Contributing Editor
Freudenberg Performance Materials is a global manufacturer of technical textiles with manufacturing facilities in 13 countries and annual sales close to $1 billion.
At the recent Techtextil 2019 show in Frankfurt, Textile World sat down with Freudenberg Performance Materials CEO Dr. Frank Heislitz to discuss the activities of his company, as well as his views on the influencing factors occurring in the technical textiles industry.
Textile World: It's now been a little more than a year since you were selected as CEO of Freudenberg Performance Materials. Have things gone as you expected? What have you found to be the most challenging CEO issues?
Dr. Frank Heislitz: It has been both for me — and the industry as well— a demanding year. I don't think anyone anticipated the raw material price increases we've experienced over the past year, especially during the second part of 2018. The cost driver was oil prices, but there were also some chemical shortages in the supply chain like PTA [purified terephthalic acid].
TW: Do you see the raw material prices coming down?
Heislitz: They've come down a little right now. I think they may stay on the high level but below the peak they reached in the last six months. In looking at the average in 2018, I see the prices overall higher this year.
Another challenge for me in terms of scheduling — and was one of my key objectives — was to communicate internally with all the 25 sites within the company in person. I visited almost all of the locations around the world in the last year and gave "townhall" presentations about our performance and direction. There was a lot of interaction with our employees.
TW: What did you learn from these visits?
Heislitz: I learned we had highly engaged people in the company. That makes me very proud to work for this company. There were some very good ideas and feedback that came from the employee meetings.
TW: What are the strengths of Freudenberg Performance Materials?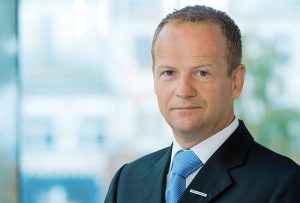 Heislitz: One of the key strengths is that we are so diverse. In Performance Materials, which is itself part of the larger Freudenberg Group, we develop and manufacture wovens, nonwovens, knits, foams and composites. We are serving many major end markets such as construction, medical and automotive. Thus, we benefit from this diversity. One end-product market may be down, but others will be ok. One geographic region may be experiencing an economic slowdown, but another may be growing. This type of product and geographic diversity gives us a stability. We are a family-owned company, so we are looking for endurance and we are willing to invest in long-term research.
TW: Can you give an example of long-term endurance?
Heislitz: Sure. An example where we have a lot of endurance is in the area of continuous new mobility. Take our gas diffusion layers development for fuel-cell for the automotive industry. We started the development more than 18 years ago. There wasn't a market for it at that time, but we looked at the future. When we started the work, it was a huge investment. It was clear back then it would take a while for the market to develop for the products. Just in the last couple of years have we started to see some traction in the marketplace.
You can also apply these needs of long-term endurance developments in areas that are now becoming increasingly important such as safety, energy density, and making products lighter and more efficient. Sometimes you have the vision but must wait for the market to arrive. Freudenberg has the diversity and resources internally to investigate new opportunities.
While much of the market focus has been on electric vehicles, there is a new demand for more efficient fuel cells too. Gas diffusion layers create greater efficiency, making sure there is the right distribution of hydrogen when it comes together with oxygen. The combination produces heat and energy. Gas diffusion layers act like a separator, ensuring the end distribution of the gas is fairly uniform. The result? Better performance. So, this type of new technology in the automotive industry is not about safety, nor is it replacing anything. It's about efficiency. What's new is the market has now arrived a point for the technology to be used. And, since last year we have total in-house production. While we were originally thinking of this technology for automotive, there are other vehicle markets we hadn't considered when we were developing the technology; for example, fuel-cell technology is being used for forklift vehicles. Fork-lift batteries are being replaced by fuel-cell systems.
To be successful, we always must look for new ideas that build the pillars for our company like medical and healthcare products — areas where we have invested a lot of time and resources. It is always about understanding market trends. Take healthcare: Look at us as a society. We are getting older and along with an aging population more and more people suffer from chronic diseases like diabetes. Freudenberg has been developing smart textiles for the health industry.
TW: What's driving the sustainability demand? Techtextil's theme is sustainability. You see it used everywhere on the show floor. Recycled fibers, circular economy … they seem to be the "catchwords" of 2019.
Heislitz: Consumers are driving the demand for more sustainability. You can look at movements going on today such as "Friday for Future," a movement across Europe that was founded by one schoolgirl in Sweden demanding climate change action, saying you adults, you politicians don't care about our future. It is a strong movement. Even my own daughter is now asking me what Freudenberg is doing in sustainability. Society is more educated and socially more mobile and engaged through Internet platforms.
When we started in 1991 recycling PET bottles, they have been considered as waste and were inexpensive to obtain. Now you have auctions for purchasing used PET bottles. The cost advantage is not so much anymore.
In general, virgin fiber is easier to process; however, I think Freudenberg has the competence to process recycled materials such as our recycled polyester fiber that goes into automotive carpets, insulation material and as backing material for bitumen membranes for roofing.
TW: Can you give us your quick impressions of market conditions in North America, Europe and Asia? I hear at this show a lot about "a pause." Can you talk about this?
Heislitz: Pause is not just about the political situation in Europe, nor just about the textile industry; it's about the global uncertainty. It's of course the discussions about Brexit, about North-Korea, China, what's going on in Turkey, the European parliamentary elections, the status of major trade deals. People are taking a wait and see on many segments of the industry.
In Europe, we are waiting for clarity of the Brexit situation with the United Kingdom. The unclarity does not help us at all. The GDP [gross domestic product] at about 1.5 percent is also slower in Europe than Asia and North America. Also, I would not want to see any additional duties or tariffs since Europe is an export driven region. We don't need anything more to slow down the economy. Construction and automotive segments are still very solid. Currently, I don't see any big troubles in the major end-markets but a lot of unclear certainties regarding the near future.
TW: Ok, let's talk about Asia; there's a slowdown in China.
Heislitz: I lived in China between 2008 and 2011. At that time, they still had double-digit growth but even then, people were worried because the economy was slowing a little bit. GDP is now about 6.5 percent. Everybody is nervous that it's not double-digit but maybe it is more sustainable now at 6.5-7 percent. The basis has changed. There is still a lot of opportunity for all of us. The past growth has been driven by exports. Even so, there is still a huge demand in the domestic economy.
TW: How is the automotive industry in Asia?
Heislitz: We have seen a slowdown in the first quarter.
TW: Any potential new Asian markets outside of China?
Heislitz: Good question.
We still believe in China. What they are doing in China, they are doing for the global market. The product quality demand is going up for those made in China and are now comparable to European, U.S. and Japanese products.
TW: How about market conditions in North America?
Heislitz: Overall, the economy is doing well at 2.6 percent GDP. I am a little bit concerned because OEM [original equipment manufacturers] production numbers seem out of order. Production numbers are not increasing like I would like to see. New cars have better technology, so I am surprised there is not greater turnover by the U.S. car buyers.
My bigger concern if you talk about the overall North American situation is about the labor market. The unemployment rate in America is very low. I think for all industries it will be difficult to find qualified workers. In North America, the medical market is a key focus for our company.
TW: The nonwovens associations got together at the recent IDEA®19 trade show organized by the Association of the Nonwoven Fabrics Industry (INDA), and it seems the organizations are intent to separate nonwovens from the textile sector, probably because of trade-related issues. Is this drive coming from the nonwovens industry itself?
Heislitz: Certainly not from our company. That's why we changed our name to performance materials. We have knits, wovens, nonwovens, foams and composites.
TW: Do you consider nonwovens a textile?
FH: I would say yes. We had a big discussion about this when we changed our name to Freudenberg Performance Materials.
---
Editor's note: Stephen M. Warner is the publisher of BeaverLake6 Report, beaverlake6.com, an online newsletter covering the activities and trends of the global technical textile markets.
---
July/August 2019