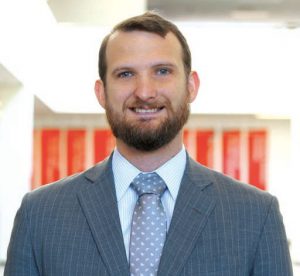 TW Special Report
In February of 2018, The Sewn Products Equipment & Suppliers of the Americas (SPESA) Board of Directors named Michael McDonald SPESA executive director. McDonald worked alongside then president, Benton Gardner, and managing director, Dave Gardner, until their retirement at the end of last year. McDonald then assumed full management of SPESA at the beginning of January 2019 as president.
McDonald has lots of experience in the textile industry. He served as an adjunct professor, teaching assistant and guest lecturer at North Carolina State University (NC State) while studying for his doctoral degree in Textile Technology Management, and also served as an advisor on the Textile Apparel Technology Management Student Advisory Board. In addition, McDonald was manager of Government Relations for the D.C.-based American Apparel & Footwear Association (AAFA). He was staff liaison for AAFA's Product Safety Council, Government Contracts Committee, Brand Protection Committee, Financial Management Committee, and Labeling and Transportation Mailing Lists. McDonald also oversaw an array of issues as lead lobbyist including product safety, intellectual property, military contracting, domestic sourcing, environment & chemical management, corporate tax reform, transportation & infrastructure, patent reform, labor, state chemical regulations, international trade, and internet sales tax.
TW: Congratulations on your new position, what are your initial impressions of your new role at SPESA?
Michael McDonald: First, thank you for this opportunity. I couldn't be more excited to join SPESA and am honored that Dave and Benton Gardner, alongside the board of directors, brought me on to lead SPESA into its next chapter.
Every day of my short tenure has brought with it a better understanding of the pivotal role SPESA plays and the opportunities that our members have through SPESA to better their businesses and better the industry.
I've dedicated my education and career to understanding the challenges and opportunities of the sewn products industry, and I'm eager to explore these further with my team, the board, and members.
TW: Can you highlight the mission of SPESA and the largest issues facing the sewn products industry today?
McDonald: We want our members to grow and thrive. We want them to be educated and prepared for inevitable industry change. We want them to be connected. And we want them to have a voice. Our mission is to make those things a reality.
SPESA provides resources, education, and networking opportunities specific to suppliers in the sewn products industry.
Some of the major issues for SPESA members right now include understanding new and growing markets and dealing with the uncertainty surrounding the tariff discussions between the United States and China.
But one of the biggest challenges facing the industry today — and one that I'm particularly passionate about — is that of workforce development. Many companies face hurdles when it comes to finding niche talent, and our industry is no different. For instance, we represent members struggling to sell equipment because they have no one to maintain it or fix it. This is due, in some regard, to a generational gap in talent. During the 1980s and '90s, as the industry began to move overseas, we saw a substantial decline in job opportunities. Even as the industry has seen a resurgence in the last decade, those positions remain unfilled, leaving suppliers — our members — without the proper talent they need. One of my goals is to fill some of these job gaps by helping the next generation understand that there are viable jobs and that our industry is thriving.
TW: In the same context, what is your perception of the current health of the industry and the changes it is facing?
McDonald: This industry has deep roots, both domestically and globally. That established groundwork positions the industry for success, especially as we're seeing more domestic manufacturers reemerge. What I love is that this new resurgence is accompanied by a significant change in industry mentality. Over the past decade, we've seen our members embrace innovation and change, giving traditionally forward-thinking industries like IT and electronics a run for their money.
TW: How will your background as manager of Government Relations for the American Apparel & Footwear Association (AAFA) influence your leadership of SPESA?
McDonald: I've always believed that understanding our industry starts by understanding the intersection between Main Street, Wall Street, and K Street. It allows you to answer questions like how will the supply chain be impacted by business decisions at the top, or through policy changes made on Capitol Hill?
As a lobbyist, I operated at this intersection, which gave me a unique perspective to the intricate challenges the industry faced every day. I've been able to translate that expertise to my new role with SPESA. One example is the current conversations on tariffs. Everyone in the industry is impacted by the increased tariffs on China, including SPESA members. Non-automatic sewing machines from China, for instance, are now hit with a 10 percent tariff increase, whereas automatic sewing machines are not. Guiding SPESA members through that quagmire of tariff classifications and codes was something
I wouldn't have been able to do without the experience I gained at AAFA.
TW: Many TW readers are used to seeing a SPESA booth at major industry events, but please expand on the upcoming events that are central to SPESA's mission.
McDonald: SPESA embodies the global perspective of the industry with members from all over the world who recognize the potential in the North, Central, and South American markets. It has always been important for SPESA to be involved in the industry as a whole, which means having a presence at global events and a seat at the table during international association meetings. This will not change under my leadership. Our team was in Medellín, Colombia, for Colombiatex 2019, we will be hosting our Advancements in Manufacturing Technologies Conference alongside Techtextil North America 2019 in Raleigh, N.C., and we will be there to support our members at many more global events this year.
TW: Having completed your first Annual Executive Conference as a SPESA leader, what were your impressions?
McDonald: First and foremost, I have very big shoes to fill. Having attended several industry events in my career, I can confidently say the annual SPESA Executive Conference puts on the best programs and offers the best networking opportunities. Dare I say it is also the most fun conference I've attended. Dave and Benton played a huge role in, not only organizing great events, but in establishing SPESA as a leader in the industry. I am grateful to follow in their footsteps. A big part of their legacy was identifying the biggest trends, forecasting industry changes, and sharing these insights during the annual conference.
TW: What are your goals and expectations at the upcoming Advancements in Manufacturing Technologies Conference in Raleigh?
McDonald: The main goal is to enable attendees to have a meaningful and in-depth conversation about the major trends impacting the sewn products industry today. We will be expanding on the topics and trends discussed during our Executive Conference, such as automation, on-demand manufacturing and software connectivity. We're trying something new this year and introducing an open-forum platform that will hopefully provoke a thoughtful dialogue among both speakers and attendees. Plus, by partnering with Techtextil North America, we are able to include a larger segment of the industry and give our attendees a two-for-one deal to attend both events.
TW: Automation is a huge topic in manufacturing in general, but how is automation currently impacting the sewn products industry, and how do you see it affecting the industry in the future?
McDonald: That is a great question — you should come to the 2019 Advancements in Manufacturing Technologies Conference to find out! As you stated, automation is an important issue for manufacturers across every industry segment. Manufacturers will likely have to navigate re-educating their workforce and restructuring their supply chains as new technologies are implemented, while at the same time, manage increasing demands and expectations from their customers. The sewn products industry specifically has several unique challenges and opportunities ahead for automation. Currently we are seeing automation develop at much different rates across the manufacturing process. Printing and cutting, for example, are already able to be highly automated, and are currently in the phase of improving efficiency and reducing costs. Sewing, on the other hand, is still in the early stages of developing the automation capabilities necessary to meet the growing demands of production flexibility.
Another issue facing automation is equipment connectivity. Even if you have a factory full of completely automated equipment, if all of the equipment is not speaking the same language at the same speed it results in bottlenecks and reduced efficiency. Many SPESA members are working collaboratively to solve this issue.
This also ties back to what I mentioned previously about workforce development. We sometimes joke about whether robots are coming to take our jobs, but the truth is, even as companies introduce new and innovative technology, they still need skilled workers who are able to understand and operate that technology. Automation can be a great tool for our industry when implemented correctly.
TW: Where do you see the industry, say five years out?
McDonald: For much of the late 1980s and well into the 2000s you saw an industry that was chasing the cheapest needle. During my time at AAFA, companies started understanding they couldn't get much cheaper. In order to improve, they had to focus more on their supply chains and the equipment they were using. This started the era of innovation that we see in the industry today. Over the last several years, we have seen the leaders in the industry take up this mantle of innovation and blaze a trail for the rest of the industry.
The next five years will be huge in determining the direction the industry is heading. We have already seen companies like Nike and Adidas begin to implement in-store manufacturing that can go from design to finished good in a matter of hours, rather than months. I see this trend of microfactories and "manufacturing close to market" continue to grow.
I see consumers wanting to be more involved in the process, whether that is designing their own custom products of their favorite brands or seeking more transparency in the supply chain of the products they buy. All of these trends are pointing toward the equipment, technology, and software providers of the sewn products industry continuing to grow their impact on the entire supply chain by connecting the end consumer directly to the manufacturing floor in a way that hasn't been possible before.
---
Editor's Note: Anyone interested in attending the Advancements in Manufacturing Technologies Conference may register online at www.spesaadvancements.eventbrite.com
---
January/February 2019