The economy of the last several decades can be described in a single word: global. With the development of the European Union and enhanced trade agreements around the world, the market can be easily described as moving in the direction of international coordination. Rooted in the history of Royal Ten Cate NV as an international company, TenCate Protective Fabrics of North America has recognized this trend and strategically focused a portion of its efforts on growing its global business development.
Supported by still rapidly growing success in the domestic market, TenCate Protective Fabrics confidently introduces its proven products along with specialized products to the global market through representatives and sales offices in the Americas, Europe, the Middle East and the Asia Pacific region.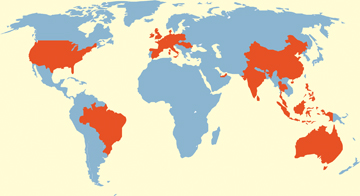 TenCate Protective Fabrics serves a global market with manufacturing facilities, sales offices and representatives in the Americas, Europe and Asia.
TenCate's Team
While promoting the advantages of TenCate products, the international business development team also places priority on learning about the various international environments and the specific needs for protective materials in each territory. With a deep understanding of the motivations and true needs of the end-users in a particular region, TenCate Protective Fabrics works to provide specific innovative solutions that address the environmental conditions and cultural preferences for the region. A solution may sometimes be a current offering of the company or, in other cases, an adaptive solution suited to the particular requirement.
Tailoring Comfort And Protection And Performance
Australian Fire Service brigades presented an interesting challenge with regards to desired attributes in an outer shell to address high temperatures of the environment and a need for optimal flexibility. After discussions with end-users and turnout manufacturers in the region, TenCate developed Gemini® XTL to satisfy this demanding requirement. The fabric is a lighter-weight alternative turnout fabric for markets that face hot and/or humid conditions that make comfort a more serious issue Firefighting brigades in Australia and New Zealand now have an outer shell specifically engineered to ensure their protection and comfort while they safeguard their communities.
In developing regions, there have been a number of requests for an antistatic fabric to combat local risks in daily activities. End-users in those areas displayed a great deal of interest in TenCate Tecasafe® Plus; however, they expressed the need for an antistatic component. Internal conversations then led the way to the introduction of TenCate Tecasafe Plus StaticSHIELD, which was geared toward the new end-users and furthered the mission of creating a global brand.
Living Up to the Standard
International expansion brings new opportunities every day to exercise inventive problem-solving as TenCate Protective Fabrics advances into unfamiliar markets and grows with emerging markets. For example, as a country or region develops a unique set of standards, TenCate responds by dedicating resources to certify its own product line to the specifications in support of the individualized safety standard. These activities result in an internationally certified product line equipped to protect end-users around the world. Additionally, as a well-known market leader, TenCate Protective Fabrics is looked upon by companies in new safety markets as a source of the most up-to-date information and resources in personal safety.
The support of in-house research on test methods, investigation of new technologies and innovation of creative solutions make international growth possible at TenCate Protective Fabrics. "Teamwork is a crucial component to international growth," said Chris Corner, senior director of international business development. "Without the strong network of finance, technical, operations, human resources, customer service and marketing departments, efforts aimed at international development would fall short."
Leading The Way
As the world is constantly developing and the flame-resistant fabric community is becoming stronger through global initiatives and enhanced communication, TenCate Protective Fabrics is demonstrating leadership and commitment to innovation through facilitating adaptive growth and promoting its specialized products on an international forum.
September/October 2014