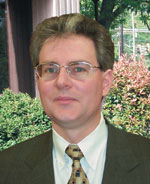 By James M. Borneman
It is with great pleasure that Textile Industries presents its 2001 Innovation Award to Milliken & Company, Spartanburg, S.C., for its commitment to textile research. In addition, Textile Industries is pleased to provide special recognition to Mr. Jerry A. Cogan for his leadership and unique achievements during his tenure are president of Milliken Research Corporation.
This year's TI Innovation Award celebrates two unique institutions. Milliken & Company and Cogan are two dominant forces in textile innovation that, in many ways, share the same voice.
Investing in textile research is not new for Milliken & Company. Founded in 1865, Milliken established the Deering Milliken Research Trust in 1945. The renovated house pictured in the coverage that follows was the location of the humble beginnings of a commitment unsurpassed in the textile community. Today, Milliken Research Corporation continues that commitment to innovation and, by all accounts, is the largest textile research center in the world.
Interestingly, if you speak about Milliken Research, its successes through the years and its culture, all conversations lead to Jerry Cogan. Cogan joined Milliken & Company in 1961 as a chemical engineer and within two years was managing the then new chemical business. In 1964, he became president of Milliken Research, a position of leadership and example he sustained for 36 year until his retirement last year.
In 1994, when Cogan received the American Chemical Society's Earle B. Barnes Award for Leadership in Chemical Research Management, a journalist wrote, "New products and processes are Cogan's objectives. According to a colleague, what truly sets Cogan apart is his attitude toward research management. 'He believes in a hands-off style, and he has minimized administrative burdens.' Under Cogan's management, researchers are stimulated by great freedom in the choice of their projects and in the conduct of their work, as well as by the informal and unstructured environment Cogan created."
This mindset is embedded in the Milliken culture. Many members of today's Milliken leadership developed under the watchful eye of Jerry Cogan.
Milliken's focus and commitment to education, research, people and ideas is overwhelming in an era of immediate gratification and the disposable society. The company is an example of a dynamic business that thrives through innovation and invention with support throughout the organization.
Special thanks go to Richard Mansfield, TI technical editor, and nonwovens/polypropylene specialist, for suggesting this year's honorees. And to Mr. Roger Milliken, Dr. Thomas J. Malone and Mr. Richard Dillard for providing the access that made these stories possible.
June 2001