ITMA Asia + CITME 2012 Exhibitor Preview: Lindauer Dornier GmbH
LINDAU, Germany - April 13, 2012 - Precisely timed to the 12th five-year plan (2011 - 2015) the Lindauer DORNIER GmbH presents itself at the ITMA Asia + CITME 2012, which takes place from 12. - 16.06.2012 in Shanghai, with two main focuses. Scientific developments,customized solutions and industrialization of the textile industry for excellent products is one focus and the development of technical textiles and applicable technologies the other one.

The DORNIER system family of rapier and air-jet weaving machines offers any solution required for the production of technical textiles as well as top quality clothing fabrics. The low-strain weft insertion makes it possible to insert extremely sensitive filling threads that are taken up contactless and without guiding elements, passed on and held securely by the positively controlled rapier head until interlacing in the open shed. With both weaving machines a high or low warp density may be set up thus enabling our customers to weave fabrics with very high densities like for example aramide or conveyer belt fabrics as well as fabrics with very low densities like for example open weave or composite fabrics.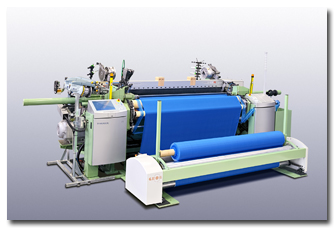 Advertisement