U.T.I.T. Wagner
Italy
Hall 2, Booth C131
U.T.I.T. WAGNER will attend the ITMA 2011 exhibition, that will take place in Barcelona (Spain) from September 22nd to 29th , 2011.
U.T.I.T. WAGNER, with its sixty year activity, was the first European company to design and built integral material handling systems in the field of staple fibre spinning. U.T.I.T. WAGNER offers tailor made solutions which range from the automatic transfer of textile material through the different steps of spinning to the checking of the final product, from conditioning to palletizing, storing and delivery of yarn. The company has developed original solutions which allow to enhance and optimize the flow of material through the mill; this has gained U.T.I.T. a prominent position in the spinning industry.
BOBBIN TRANSPORT SYSTEM
Bobbin transport system is certainly the area in spinning mill which investments in automation are more easily justified. This is due to labor saving, but also thanks to the substantial contribution that automation gives in reducing the risks of poor quality. The Roving bobbin is one of the most delicate intermediate products to handle. Automatic bobbin transport means eliminating:
All need to handle the bobbin or touch the textile product.
The need for intermediate storage areas where the bobbins can accidentally age, get dirty and deteriorate themselves.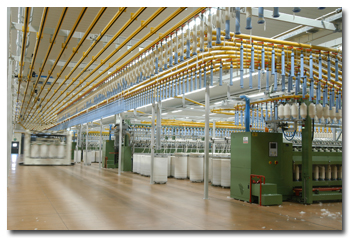 CONE HANDLING SYSTEM
Installing package handling system means a considerable turning point in automating spinning mill process.Automatic collecting and packing system permits to break production rhythm and customize, according with needs, the final packed units flow. Automation directly interfaces to production line and provides package handling and packaging process fully independently.
Main advantages of an automatic cone handling system are:
Labor rationalization and saving, Cones not manually handled , Production reliability and continuity
Spaces optimization (in spinning and storing), Production and packing separation, Production final Feed-back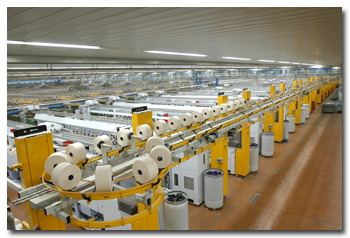 Advertisement