Toyota Industries
Japan
Hall 3, Booth D112
The New Generation Electronic Shedding Motion Is Now Available
Toyota provides total weaving solutions with our original technology. The Electronic Shedding Motion (E-shed) was originally developed and produced by Toyota to provide the best solution for customers wanting to weave value-added fabric with low cost over the past decade.
Now, a new generation Electronic Shedding motion for the Toyota Air Jet Loom JAT710 is available, having evolved from the fundamental technologies perfected as the world's only E-shed.* Through our unwavering commitment to customer satisfaction, we have created a more advanced weaving solution, combining higher speed operation and energy savings with a wide range of new and improved features.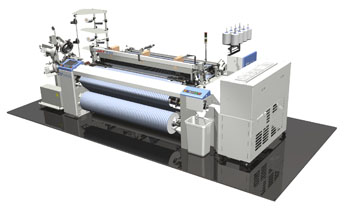 The new Electronic Shedding Motion has these superb features:
High Speed Operation
Maximum speed: 1,000 rpm
A newly developed liquid-cooled drive system enhances the ability to achieve high speed operation for even up to 16 frames. And further optimization of the drive mechanism reduces frame acceleration which reduces impact to the frames.
Further Improved Operability
With E-shed, the dwell and cross timing of each frame can be individually set by electronic control which can prevent slack warp ends and maintain clear shed-opening to achieve high running efficiency even with intricate fabric designs. Furthermore, a newly developed ICS II (Initital Condition Setting II) provides the most suitable settings for dwell and cross timing according to the type of fabric. A movable control box for the new E-shed is located above the driving part for easy access and space reduction.
Energy Saving
The liquid-cooled drive system, the newly designed servo amplifier and the optimized drive mechanism achieve and energy savings of 10 to 20 percent** compared to the existing E-shed machine.
* Toyota is the world's only manufacturer producing the E-shed weaving machine on a large commercial basis.
** Depending on fabric design and load of the frame movement.
Advertisement