The Fong's Group
Hong Kong
Hall 4, Booth C121
The FONG'S group, with more than 4,700 employees and serving over 7,000 customers worldwide, is known as one of the big players in the textile machinery industry. Having had a reshape of the organization in the past years, the Hong Kong based company now covers profound knowledge and experience of the continuous as well as the discontinuous finishing processes with the well-known brands FONG'S, GOLLER, THEN and XORELLA in their portfolio.
One stop - green innovation

Covering the leading companies of both the continuous as well as the discontinuous processing Fong's uniquely offers a "one stop"- strategy to their customers: with only one supplier, one agent and one contact customers now can gain a wide knowledge and vast informations of the entire production chain in the field of wet processing.
It goes without saying that the focus of all the group members is set on "green innovations": Products, which are not only saving our resources like water and energy, they also provide a huge potential to save money with short setup times and improved washing techniques. In hall 4, booth C121, Fong's, Then, Goller and Xorella in Hall 1, booth A104 will show their latest innovations in this field.
This year is the 60th anniversary of ITMA and the R&E (Research & Education) Pavilion has been first set up to provide research institutes and universities. The Hong Kong University of Science and Technology (HKUST) and Fong's will jointly display in Hall 5, booth D164 with their cooperation of the water reuse treatment for the dyeing industry.
It once again demonstrated Fong's "green innovation" and sincerely provide "one stop " complete solution in the range of "Pre-treatment, dyeing and after-treatment.
ITMA BARCELONA 2011 PRODUCT PREVIEW
THEN - LOTUS
The first choice for sensitive fabrics: LOTUS
LOTUS stands for "long-tube sensitive", indicating the major benefits of this new type. As the worlds' first and only long tube machine with AIRFLOW technology, the LOTUS operates with liquor ratios down to 1:2, saving water, energy and chemicals.
The other advantage of this new type is the versatility of fabrics to be processed. Nearly 50% Spandex, spacer fabrics, anti-ballistics, parachutes, all kinds of automotive textiles or even functional sportswear are no restriction for this new generation.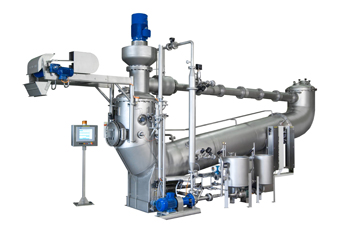 Advertisement