Stäubli Group
Switzerland
Hall 3, Booths D148/150 and A166 (Stäubli)
Hall 3, Booth A166 (DEIMO)
Stäubli will show a selection of the most modern textile machinery and products, including carpet weaving machines by Group member Schönherr. Most machines will be demonstrated in operation, performing a variety of applications.
Stäubli Group member DEIMO will present state-of-the-art electronic control solutions mainly for textile machinery.
New products and highlights presented by Stäubli at ITMA 2011
Type SX Jacquard weaving machine
Stäubli will demonstrate the SX with 2688 hooks with a Stäubli harness on an air-jet weaving machine producing apparel fabrics at very high speed. Introduced a year ago, the SX Jacquard machine has gained wide and enthusiastic approval by customers. This extremely versatile machine for broad use in modern Jacquard weaving mills meets the highest demands. Productivity of the SX surpasses that of other models, the machine is more compact, and it offers higher performance - meaning high loads and high speed. Its virtually vibration-free drive mechanism is extremely reliable and energy efficient. The machine consumes fewer wearing parts and requires a minimum of maintenance. The SX is available in two sizes, with 1408 or 2688 hooks, adaptable to rapier, air jet, and projectile weft-insertion systems. Over 100 SX machines are in daily use in weaving mills around the world.
SX V Jacquard machine for velvet
Stäubli will disclose the new type SX V Jacquard machine for the production of velvet fabrics. It is equipped with 2688 hooks driven by the M6.2 three-position module. The SX V can be adapted to any type of new or existing velvet weaving machine.
Jacquard machines with independent drive
The principle of running a Jacquard machine with no mechanical link to the weaving machine was introduced by Stäubli more than ten years ago, with the Unival 100. Since then, Stäubli has refined this solution and applied the principle to its complete range of Jacquard machines, which are individually driven and with no cardan shaft to the weaving machine.
The principle offers considerable advantages, including fewer parts and easier adaptation to the weaving machine.The well known Unival 100 Jacquard machine with single-end control is superbly suited to the production of technical fabrics. New, smaller configurations with fewer actuators have been developed particularly for this application. The two new models can be equipped with up to 512 or 1024 actuators, complementing the previous range with configurations between 2048 and 15360 actuators. Of particular interest to technical weavers, the new configurations facilitate production of narrower fabrics, from simple fabrics to sophisticated textiles such as multi-layers.
All Unival 100 models are easy to program using the JC6U colour touch-screen controller, allowing the setting and archiving of shed parameters such as shed angle adjustment, opening profile, and crossing phase difference. A small version of the single-end-control Unival 100 jacquard machine with a demonstration harness of 384 ends will be shown.
Jacquard machines for narrow fabric weaving
The introduction of the Univalette represents a significant step forward in name selvedge technology. This new electronic Jacquard machine is used for applying names and lettering to fabrics. As the name suggests, the Univalette adopts the technology of its big brother, the UNIVAL 100, for controlling the shed. The new machine is available in two configurations, with either 64 or 96 actuators for the movement of a corresponding number of warp threads. Using the JC6U control unit, shed parameters are freely programmable to achieve optimum performance and perfect synchronization with the weaving machine. The positioning of the UNIVALETTE Jacquard head on the weaving machine can be easily adjusted to suit the desired shed geometry. It can be used in combination with the positively controlled CS1 selvedge let-off motion device, available as an option. The CS1 precisely controls warp yarn tension in the selvedge area to achieve perfect fabric quality.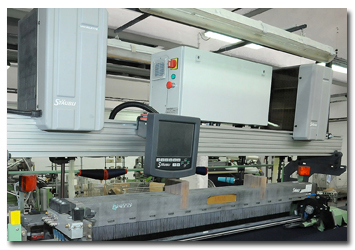 Advertisement