Sarex
"Excellence in all Things - technical competence, international quality with consistency and respect to environment - centered around absolute customer delight" has been the core business strategy over the years for Sarex - an ISO 9001:2008 and ISO 14001:2004 certified company, which is an Indian multinational and one of the renowned export houses of specialty textile chemicals. To meet the ever-evolving, technological and marketing demands of new century, Sarex has set a new, state-of-art manufacturing facility at Tarapur, Mumbai (India).

Sarex is a Government recognized star export house, exporting their products to more than 40 countries worldwide. Apart from America, Mexico, Europe, Asia and Middle East, Sarex exports to South American countries like Argentina, Brazil, Peru, Colombia, Guatemala, Honduras, etc. The products can be offered as is and in a concentrated form which can be diluted at customer's end to make ready- to- use formulations.

Through constant up-gradation of technology and equipments, it has been Sarex's continued endeavor, striving to achieve customers' delight by consistently supplying quality products at most reasonable prices, in time as a part of their culture of quick response to customer needs.

Sarex has recently established a state-of-the art Technical Service Laboratory (T.S.L.) which is accredited by M & S (Marks & Spencer) being the only Indian Textile Chemical Manufacturer. The laboratory has many other equipments apart from the following:


Elmatear Tear Strength Tester
Martindale Abrasion Tester
Wascator
Precision Tumble drier
Verivide Colour matching Cabinet
Gyrowash. etc.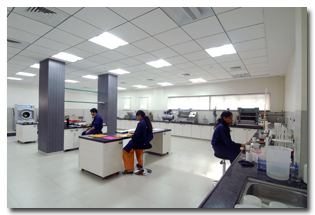 Advertisement