Santoni
Italy
Hall 3, Booth A218-224


Santoni's Innovations To Face The Challenges Of The Times And To Satisfy Our Users Is Santoni's Business
As ITMA has kept its standing every 4 years in Europe as The Most Complete World Showcase for Textile machines, the SANTONI Company will present, in a unified booth with the whole LONATI GROUP to which it belongs, some very innovative machine models. Some of which have never yet been seen and others that are very new and so have not yet been presented on such a complete World Stage as is the traditional ITMA Show.
The great economic and trading changes that have been taking place in recent years on the world's markets have never deterred SANTONI from investing generously in its R&D Department in all its traditional versatile sectors of Knitting machines. On the contrary, these investments in R&D have proceeded at Santoni with even greater determination, audacity and creativity and with the desire to keep Santoni leading the way both technically and commercially in its respective knitting fields.
Of the range of machines Santoni is presenting at this ITMA 2011, we will focus in this advance PREVIEW on 5 NEW MODELS in particular (in each of Santoni's different knitting sectors) and give a very brief description of their respective HIGHLIGHTS. But the best way to delve deeper into their detailed technical and economic advantages is by visiting our Santoni booth in Barcelona and seeing these models LIVE, with a full explanation and a reply to any of your queries being provided on the spot by one of our experts.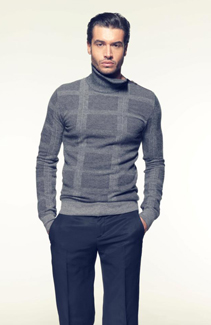 1) IN CIRCULAR KNITWEAR: THE M E C M O R C O M P A C T (world première)
Our world-renowned Mecmor open panel circular knitting machine, recognised as the most complete knitwear machine in circular motion, has now been redesigned into a new physically smaller model called the COMPACT. This latest machine has most of the advantages of the larger model, but now with the addition of some very important new features such as, for example, the enhancement of the production by having the feeds no longer divided into those specialised in knit stitches and those in transfer stitches. Here each feed is completely integral and can do either according to the required selection.
Santoni has always considered that circular knitwear production is a necessary compliment to flatbed knitting and a well-equipped knitting mill should have both types, especially as the circular system has of course an incomparably huge productivity in the finer gauges. With this new smaller model, called the Mecmor COMPACT, with its remarkably high productivity and fine quality of fabric, we have made circular knitwear production more accessible due to its compact space dimensions, its latest electronic management, and also due to its investment cost for rapid depreciation whilst keeping all the circular advantages of fine stitch quality and the highest productivity, especially in the finer gauges.The Mecmor Compact shown at Barcelona has: diameter..33". x 18gg .
2) IN SEAMLESS KNITWEAR: THE S M 6 R I B 2 (ITMA première)
With our recently extended new range of seamless circular machines we are highlighting this very new model that was shown for the first time in Shanghaitex last June, and is now being shown for the first time on the ITMA World Stage.
The SM6 RIB 2 is a double knit electronic circular knitting machine with 6 feeds. This machine is specifically designed for producing fine quality, high production casual or sport knitwear in a variety of fashionable styles. It has the possibility of using natural, synthetics and manmade fibre yarns as well as bare and covered elastomer. It also has the speciality to produce casual or leisurewear with true rib borders. Its very high productivity in 6 feeds, with the possibility of making all sorts of rib combinations in a complete range of yarns, gives this machine its extremely attractive performance to face a very important need in seamless knitwear. The two SM6 RIB 2 machines being shown at Barcelona have: diameter .. 18" x 14gg; and diameter 20" x 14gg.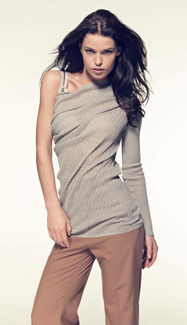 3 ) IN LARGE DIAMETER KNITTING for the highest gauged fabrics THE A T L A S single jersey 80gg and single jersey 90gg (both, world premières)
With Santoni's special and diversely patented system of combining a sinkerless knitting operation and a special underjack as well as other cylinder design developments, Santoni is showing its first ultra fine gauge large diameter machines in the single jersey Atlas series at the unprecedented gauges of 80gg and 90gg. The general demand and challenge for ever finer gauges in circular knitted fabrics have been faced and developed by Santoni with our own special patented systems that have already proven their performance in the Atlas single jersey 50gg and 60gg range and we are now presenting a further advance up to 80gg and 90gg with some important new evolutions. Also keeping in mind that our special Atlas line technology with its reduced friction between the parts has allowed for a distinct reduction in energy consumption.The ATLAS 80gg shown here at Barcelona is Openwidth and has: diameter 30" x 80gg, width 220.
The ATLAS 90gg shown here at Barcelona is Openwidth and has : diameter 30" x 90gg, width 220
4) IN THE CIRCULAR KNITTING OF SOCKS THE S T R O N G dial needle Sangiacomo sock knitting machine (world première)
This new Sock knitting machine with single feed presents as its most vital features of having both selectable needles in the dial and a new hollow-shaft motor. Because of this selection of needles in the dial it can make socks that combine products of high quality made on double and single cylinder machines like plain fabric, rib and Links-Links, with patterns of 4 colours plus the ground . The other conspicuous feature, that of the integrated hollow-shaft motor fitted directly onto the cylinder has the great and very actual advantage of reducing electricity consumption.
Dinema electronics for very user friendly systems of programming of designs and styles and, if required, also of data collection.
It has a true rib elastic welt and if required it can be fitted with the classic needle-to-needle linking system of toe closure on the machine itself
It is offered in 2 diameters : 3.3/4" and 4"
This is a sock knitting machine with superbly advanced technical ability and yet capable of making versatile fine quality articles produced in both a smooth and economic way.
The STRONG Sangiacomo single cylinder dial needle sock knitting machine shown in Barcelona has: 200 needles, diameter 3.3/4", needle 48gg.
5) IN SEAMLESS WARP KNITTING THE SWD6/2 J and SWD4/2 J compact seamless warp models (both, ITMA premières)
Launched officially as the first seamless warp compact machine in our private in-house show at Santoni Days in Italy and then exhibited in China in the last 2 years, this is the first time we are showing our warp knitting compact line on the ITMA World Stage - with these 2 models exhibiting the next important evolutions.
Our whole approach of making a small warp knitter with the utmost reliability of performance and rendering it accessible and easy to manage in every way by designing this line from its concept with linear motors, vital control of the oscillation bars, singularly interchangeable Ceramic Piezos, new Push and Pull System to avoid peaks and troughs, dampening of the machine's vibrations and our special CAD textile system and various other specific features, has now led us to incorporate further important improvements:
in the Software that manages the machine that was already Fully Electronic in every way and using the Touch Screen system.
in the NOVA graphic software that has also been improved to make the whole system even more user friendly and the machine is now able to be completely run from a remote control with also a simplified diagnostic feature of the utmost efficiency.
amongst these latest innovations the machine can use whilst on Jacquard the beams of up to 30" x 42" to lessen the down-time when changing yarn, and also the beams are motorised to allow the direct feeding of the yarn.
All of these important improvements are aimed at maintaining and up-dating our original technical target of a small, accessible and formidably automatic and versatile Warp knitting machine for Seamless garments with the most advantageous performance.
The SWD6/2J shown in Barcelona is a 6 bar machine, 44", 24gg
The SWD4/2J shown in Barcelona is a 4 bar machine, 44", 24gg
Advertisement