Picanol
Belgium

Picanol celebrates its 75th anniversary at ITMA Barcelona with the introduction of two new products.
On 22/9/2011, the very first day of the ITMA Barcelona exhibition which is held from 22 till 29 September, it will exactly be 75 years since Picanol was founded in Ypres (Belgium). The company name refers to the Spanish engineer Jaimé Picañol. His ideas shaped products that brought with them important technological advantages. Since its foundation in 1936, the Picanol Group has evolved from a very small player in the world to the technological leader among the modern weaving machine manufacturers. To put its rich history in the spotlight Picanol already launched a blog site (
http://75yearsofpicanolgroup.blogspot.com/
) and during ITMA a photo book will be published.
In these 75 years of history, Picanol always followed its policy of innovation and constant focus on product quality, processes and people. Also the organisation & products were continuously adapted to the changing requirements of the market. So investing in research & development as well as state of the art production facilities has always been part of the Picanol nature. As Picanol wants to be a partner for its customers, our service network has followed our growing customer base and is able to bring support to Picanol customers around the world.
Picanol wants to make sure its customers can stay ahead thanks to innovative technology and optimum service. Picanol customers should be "winners".
Underlining its technological leadership, Picanol will reveal to the textile world two main new developments during the upcoming ITMA exhibition, the OMNIplus Summum in airjet technology and the positive gripper on OptiMax in rapier technology.
The OMNIplus Summum will gradually replace the OMP800 over the course of next year and will be the new platform for further developments in the airjet segment. The main highlights of this machine are the new insertion system and the Picanol BlueBox system, the new electronic platform for Picanol machines.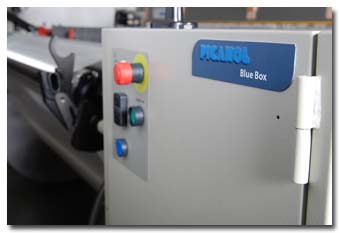 On OptiMax, Picanol will introduce a guided positive gripper execution. Although available in all widths (up to 540 cm), it especially opens new perspectives in technical segments such as Coating fabrics, Primary & secondary carpet backing, Geogrids etc.
Overview of the machines on display at the Picanol booth at ITMA Barcelona
More details on Picanol as a company, the machines on display as well the features shown can also be found on the website
www.picanol.be/fittowin
Airjet
Advertisement