Lindauer Dornier GmbH
Germany
Hall 3, Booth D167

With the motto DORNIER weave-by-wire® at ITMA 2011
The Lindauer DORNIER GmbH, as family company producing solely in Germany, focuses on innovation and sustainability.
Our motto at the ITMA 2011: DORNIER weave-by-wire®.
New developments are shown in all three application areas domestic textiles, clothing and technical textiles.
In the same way as the CAN bus was introduced in 1990, DORNIER maintains its pioneering role and introduces the FT control on the market, a completely new innovative system supporting reliable real-time transfers of largest data volumes.
The complete communication structure with control and process levels is based on Fast-Ethernet-Technology. This system is also integrated in the safety concept for the new A380 Airbus. This clearly emphasizesthe high importance DORNIER gives to safety and reliability in data transfers. The new control is a sustainable innovation carrier and also guarantees long-term reliabil-ity for future developments in electronics and drive technology.
It succeeds in optimizing utilization of machine functions at high performance and therefore increasing the effect on reducing energy consumption. This allows precise control and monitoring of machine parameters critical for quality.
This gives the weaver more reliability "on board the weaving machine". The following DORNIER highlights at the exhibition are based on this innovative electronic technology.
For the application area clothing fabrics:
High quality Jacquard fabrics on a type AWS 8/J G air-jet weaving machine with 190 cm nominal width
DORNIER's new, pioneering and patented drive concept SyncroDrive® is one of the significant components of the new DORNIER system family of rapier and air-jet weaving machines. The significance of DORNIER weave-by-wire® will certainly be very clear on this Jacquard machine. An electric control circuit to the separate drive of the Jacquard machine replaces the cardan connection between weaving and Jacquard machines. Realization of dynamic close of shed adjustment while the machine is running meeting the demands from sophisticated weavers will be shown on a 190 cm wide air-jet weaving machine at 900 rpm. An African damask and a fashionable shirt material with tucked selvedge will be woven with on-the-fly pattern changes.
Separate starts for the Jacquard and weaving machines then merging at a rendezvous point allows a soft start which halves the peak current and ensures high speed stability without peak forces. This reduces wear on all components in the shedding area such as the harness and thus reduces machine standstills and warp end breaks.
This drastic reduction in mechanical loads means weaving machines with this drive concept run 6 - 10% faster, and with explicit approval from the shedding motion manufacturer. This is profitable for the customer with regard to higher productivity and longer service life.
DORNIER's new and patented drive concept ® has already been in practical use for 2 years.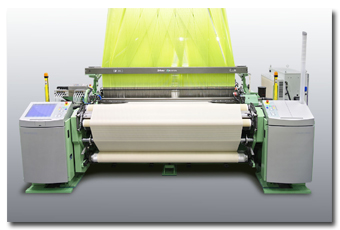 For the application area domestic textiles:

Curtain fabrics with embroidery unit on a type AWS 4/S12 C air-jet weaving machine with 360 cm nominal width
The FT control is also the origin for utilizing linear drives that DORNIER uses to con-trol additional pattern axes on the new ORW air-jet weaving machine presented.This innovative compact system with programmable linear offsets in the tenth of a millimeter range allows exact positioning as well as precise and reproducible settings.
With DORNIER's Open Reed Weave Technology (ORW), the reed is opened up-wards which creates a filling pattern with the warp ends. This opens up completely new pattern options for all application areas. To be precise, as embroidery filling pat-tern for clothing and furnishing fabrics or selective, partial reinforcements inserted in technical fabrics.
DORNIER's development team were awarded the Innovation Prize 2011 at the Techtextil for this technology.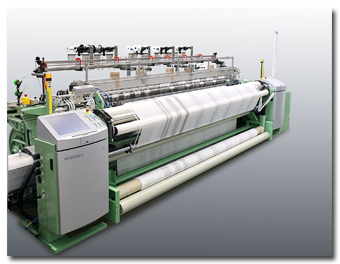 For the application area technical fabrics:
Filter fabric on a type PTS 4/S20 C rapier weaving machine with 220 cm nominal width
DORNIER's high-precision air-jet and rapier weaving machines adapted to customer-specific requirements can fulfill the highest demands for current and future developments in complex technical textiles.
DORNIER demonstrates their "customized solutions" with a rapier weaving machine. The machine design known for its sturdiness with high reed impact forces, multi-beam weaving and weaving stiff monofilament with various diameters will be shown on a rapier weaving machine producing a heavy filter fabric. Six warp axes and more can be activated on demand. Production reliability and fault-free weaving are of decisive importance in this context.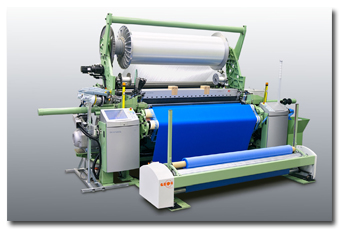 For the application area clothing fabrics:
Women's outer clothing fabrics on a type PTS 8/S20 C rapier weaving machine with 190 cm nominal width
The heart of the rapier weaving machine is the proven DORNIER filling insertion with positive central transfer. Filling threads are taken up reliably and precisely, passed on and held securely until interlacing in the open shed. Using the highly dynamic back-rest roll unit (DWG) allows optimum thread tension compensation even for complex styles requiring a high number of shafts. Flexible pic-à-pic insertion of very thin to coarsest filling yarns will be demonstrated using an Alta Moda clothing fabric.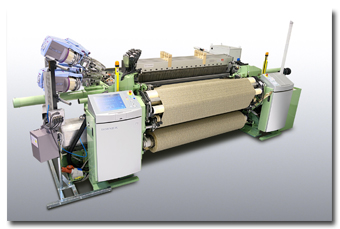 Product islands and stand design
The product islands present various exhibits from the areas domestic textiles, cloth-ing and technical textiles as well as different technologies such as EasyLeno or dreb-fabrics. Finished products from composites, geotextiles, upholstery fabrics on up to very fashionable clothing fabrics can be seen.
DORNIER also provides information with patterns on the product islands on a Ser-voTerry® terry air-jet weaving machine regarding variable pile heights, pleats and precise transitions between 3, 4 and 7 filling interlaces that leave no wishes open.
This year's exhibition stand also has a textile design. Three-dimensional light struc-tures symbolizing a fabric surface frame the brightly lit DORNIER logo. This was real-ized using a light-technical special fabric ETTLIN lux® from the ETTLIN company, produced on DORNIER EasyLeno weaving machines. This innovative technology creates light effects with an exceptional depth effect. This comes from the interaction between the patented ETTLIN lux® special fabric and LED light sources.
Further DORNIER weaving machines at the ITMA in Barcelona
Further DORNIER weaving machines are exhibited on the Bonas, JTS S.r.l., MEI International, Stäubli and Vaupel stands. Some of these machines are also fitted with DORNIER's new SyncroDrive® drive concept.
Experience DORNIER's weave-by-wire®, the pioneering technology made in Germany in Hall 3, Stand H3-D167.


Advertisement