Icomatex
Spain
Hall 6, Booth A101
The flexible systems from ICOMATEX, allows the customers to adapt the production lines to their exact needs. Still keeping all the manufacturing in Europe, ICOMATEX are maintaining a high quality standard of materials used and with the latest in technologies. We will be presenting our latest technology at ITMA Barcelona.
Flexible energy source with the new Dual-Heat system
ICOMATEX have developed a new heating system called DUAL-HEAT. With an unreliable supply of gas, in some countries, the DUAL-HEAT system combines gas and thermal oil, to ensure the customer that there will always be a heating system available if the gas supply should become unstable. This system also gives the customer the full flexibility to use the most adequate source of heating depending on the fabrics, to maintain the highest possible quality of the finished product. Companies can now use thermal oil or gas depending on the fabric quality, so the difficult choice between what heating source to use is no longer a dilemma.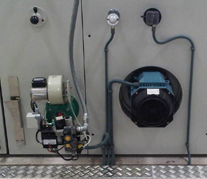 Advertisement