INDEX 2014 Exhibitor Preview: Gnuess Kunststofftechnik GmbH
PROCESSING TECHNOLOGYStrong and consistent growth in the Gneuss business section "Processing Technology" with highly efficient MRS extruder
Since the last Index exhibition, the the Multi Rotation System extruder has established itself as one of the key technologies for processing PET reclaim without pre-drying. About 40 of these special extruders have been sold for sheet, fiber and repelletizing applications in Europe, Asia, North and South America. The extremely high devolatilizing and decontamination performance of this technology has convinced more and more processors. Thanks to the patented combination of single screw extruder with a multiple screw section, the extruder is particularly rugged, as well as easy to operate and maintain.
One major advantage of the MRS Extruder is that it permits the processing of PET without pre-drying but by using a simple water ring vacuum system to process the PET to a high quality product. This is achieved by means of its unique and patented processing section. Based on a conventional single screw extruder, the Multi Rotation Section (MRS) is a drum containing eight satellite single screws, driven by a ring gear and pinion transmission. The "barrels" cut into the drum are approximately 30 % open and provide optimum exposure of the melt.
Thanks to this design, the devolatilizing performance is approx. fifty times greater than that of a conventional single screw extruder — and this at a vacuum of only 25 to 40 mbar. By avoiding the need for a high vacuum system and pre-drying, the MRS is an extremely economically efficient alternative to conventional technologies. Further arguments in its favor are the simple and rugged design, small footprint and flexibility. These are advantages which convince not only PET processors.
Advertisement
Even fiber coated with spin oils and other contaminants and with high residual moisture level can be fed directly into the extruder without any pre-treatment. Bicomponent (core/sheath etc.) staple fiber can for example be manufactured using the same input material and two different vacuum levels on two MRS extruders to deliver two melts with differing viscosities to the spinning beam.
All model sizes, from the MRS 35 for 35 kg/h to the MRS 200 for 2000 kg/h, have now been built and are in successful operation in various applications world-wide. These are not only PET processing applications, but there are also some references in polyamide and polyolefin processing.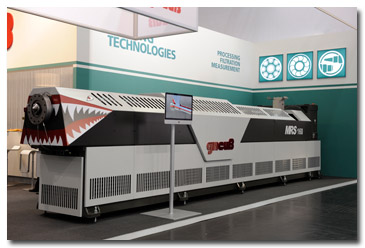 Gneuss Multi Rotation System Extruder MRS 130
FILTRATION TECHNOLOGYMany innovative new developments among the Rotary Filtration Systems — unmatched performance with major economic advantages
Gneuss will introduce a large number of innovative new developments in their range of Rotary Filtration Systems at the Index. Four new screen changer models are the result of a long term development initiative. These new models offer the advantages of the proven high performance rotary screen changers, tailored individually for special applications.
With its fully- automatic, process constant operation and its unique and patented segmental back flushing system, the RSF
genius
offers unmatched performance with regard to product quality and efficiency. The new
RSFgenius M
is a variant which is now available for the processing of highly contaminated materials. The innovative synchronisation of the drive and back flushing systems of the RSF
genius
Rotary Filtration System enables a major increase of the screen area exchange rate and represents a further optimisation of this unique back flushing system.
The successful SFX
magnus
range has been extended by the addition of the
SFXmagnus R
version. This system for the first time enables the SFX
magnus
to be offered with the option of an integrated self-cleaning (back flushing) system. This system comes with the possibility of simply switching off the back flushing system if it is not needed, increasing the versatility of this system.
The Rotary Filter
KR
is a completely new addition to the Gneuss range of screen changers. This discontinuous screen changer is based on the proven Gneuss Rotary Filtration System and is characterised by its impressive ruggedness and compactness.
MEASUREMENT TECHNOLOGYOptimum Solutions for High Pressure Overload Cut out Systems for Extrusion Lines — Simple and Reliable
The performance level "c" specified according to the EN 1114-1 standard is achieved by several pressure transducers available on the market. Most of these pressure sensors however only achieve the standard with regard to electrical faults. Mechanical faults or human error are however much more common. These are difficult or impossible to cover with only one sensor. The Gneuss safety system EPM constantly compares the values from
two
sensors and therefore provides a higher level of safety. With a small investment, the machine operators and the extrusion line can be safely protected against high pressures.
Posted January 14, 2014

Source: Gnuess