IFAI Anticipates Record-Breaking Expo In Orlando
Specialty fabrics industry professionals will convene for programs, exhibits and networking at IFAI Specialty Fabrics Expo 2013.
The Roseville, Minn.-based Industrial Fabrics Association International (IFAI) will bring the IFAI Specialty Fabrics Expo 2013 to the Orange County Convention Center (OCCC) in Orlando, Fla., Wednesday, October 23 through Friday, October 25. The expo, said to be the largest specialty fabrics event in the Americas and held in conjunction with IFAI's Advanced Textiles Conference & Trade Show, will feature more than 400 exhibits covering more than 100,000 square feet (ft2) of exhibition space at the OCCC, and will colocate with the 2013 SGIA Expo.

The 2012 edition of the show - formerly called IFAI Expo Americas - was the largest trade show in IFAI's 100-year history, hosting some 5,500 attendees from 49 countries, with 409 suppliers from 23 countries exhibiting their products and services at the Boston Convention & Exhibition Center. IFAI expects numbers at the 2013 expo to be greater than last year's numbers, and as of Textile World's press time, the organization had more than 385 exhibitors from 22 countries signed up for the 2013 edition, and projected 6,000 to 7,000 registered participants.

"People will be talking about the IFAI Specialty Fabrics Expo and Advanced Textiles Conference & Trade Show in Orlando for years to come," said IFAI President Mary Hennessy. "On the heels of our Centennial show in Boston, we are set for another record-breaking year. Exhibit sales and attendee pre-registration numbers are soaring, as people are buzzing about the possibilities of the two dynamic shows together."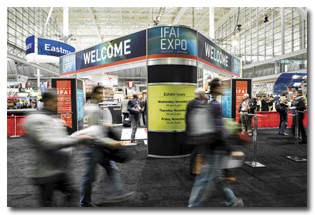 The Orange County Convention Center in Orlando will host some 7,000 attendees at the IFAI Specialty Fabrics Expo 2013 in October.
IFAI Specialty Fabrics Education
As part of the Expo's education program, IFAI will present three Business Power Programs with industry-specific roundtables - "Survive and Thrive Strategies," "Winning Sales and Services Strategies" and "Work Smart Strategies" - on Wednesday, Thursday and Friday mornings, respectively. Bonus programs will be offered each afternoon, including "Growing into Graphics - When to Make the Leap to Buy Equipment"; "Advanced Asset Protection, Business Succession & Exit Planning Strategies"; and "Finding, Training and Retaining a Skilled Workforce to Insure Competitiveness."
IFAI also will present a variety of specialty education seminars, including two continuing education sessions offered free of charge to architects, landscape architects and students in those fields: "Incorporating Fabric into Design" on Wednesday, and "Green Roofs for Designers" on Thursday; and two trade-specific sessions offered at no charge to full IFAI Specialty Fabrics Expo 2013 and Advanced Textiles Conference & Trade Show registrants: "Exporting to Mexico, Central American and the Andean Countries" on Wednesday and "Trade Agreements - The Impacts on Our Industry and How You Can Influence the Outcomes" on Thursday. In addition, on both Thursday and Friday, "ObamaCare - What Does it Mean for Your Company?" will be offered at no charge to full registrants.
On Thursday, the American Association of Textile Chemists and Colorists, Research Triangle Park, N.C., will sponsor a bonus education session titled "Functional Finishings and Coatings for Performance Textiles," which also is offered at no charge to full registrants.
Advanced Textiles Conference
The 2013 Advanced Textiles Conference will be held October 22-23 and will include technical presentations offering business insights into cutting-edge research and developments and their application-based uses. Tuesday's program will include two afternoon tracks held concurrently: "Advanced Modifications of Textile Surfaces"; and "Advanced Textiles Fundamentals." Wednesday's program will include a morning track, "Smart Textiles," and an afternoon track, "New Developments in Advanced Textiles."
The Advanced Textiles Conference also will include two keynote luncheons. On Tuesday, Dina C. Dunn, owner of marketing and design firm Blink LLC, and Denine P. Woodrow, owner and manager of business services company DP Woodrow and Co. LLC, will discuss "The Power of Ingredient Brands: How to Effectively Push and Pull Ingredient Brands through the Supply Chain." On Wednesday, Brooks R. Kimmel, technical training manager at Abacus Technology Corp. and a member of the National Aeronautics and Space Administration's (NASA's) Speakers Bureau, will discuss "Advanced Textiles Used by NASA."
Advertisement
Expo Highlights
Special events include the Industrial Fabrics Foundation (IFF) golf tournament and a sunset gator tour on Tuesday; a welcome reception on Wednesday; and the IFAI annual meeting on Thursday.
Winners of the IFAI International Achievement Awards (IAA) competition will be presented during a special event on Thursday held prior to the IFAI annual meeting. IFAI received 236 entries from 96 companies in 13 countries for the IAA competition, which recognizes design excellence within the specialty fabrics market.
The ShowStoppers awards competition will return after its debut at the 2012 Expo. The competition is open to all Specialty Fabrics Expo and Advanced Textiles Conference & Trade Show exhibitors and recognizes product innovation in six categories: fabrics, fibers and films; chemicals, coatings and compounds; hardware, findings and accessories; equipment and tools; services to manufacturers; and end products. Entries will be on view in a special ShowStoppers display booth on the show floor. Award winners will be selected by expo attendees and announced on October 24.
Other show floor highlights include a fabric sourcing center offering samples of exhibitor materials organized into application types; a 1,000-ft2 aerospace display featuring specialty fabrics used in air and space applications; and a welding workshop held on Wednesday, Thursday and Friday.
The U.S. Department of Commerce has designated IFAI Specialty Fabrics Expo 2013 and the Advanced Textiles Conference & Trade Show as participants in the International Buyer Program (IBP), which promotes U.S. exhibitions worldwide via U.S. Commercial Service offices and diplomatic missions.
2013 SGIA Expo
The 2013 SGIA Expo - organized by the Specialty Graphic Imaging Association (SGIA), Fairfax, Va. - will present the full spectrum of specialty printing and imaging technologies and applications in more than 219,000 ft2 of floor space at the OCCC. Organizers report the SGIA Expo and IFAI Specialty Fabrics Expo will be complementary, especially for those involved with printing graphics on flexible materials.
---
For more information about IFAI Specialty Fabrics Expo 2013 and the 2013 SGIA Expo, visit ifaiexpo.com; sgia.com/expo.
---
September/October 2013