The Color Book/Set Of 3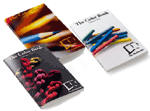 Price: $98.00
Category: Books: Apparel & Design
Volume I: Great time-saving design tool listing more than 1,300 color names for you to pick and choose from, arranged by hue.

Volume II: The highly-requested sequel edition which continues the lists of color names, with hundreds of new, creative & time-saving color names.

Volume III: This third edition of The Color Book lists more than 1,180 new color names, and once again, categorizes the names by hue.

Excellent for designers, sales managers, merchandisers, mills, color card makers & catalog companies. It is a terrific timesaving tool when naming your colors each season.