Synthetic Fibres: Nylon, Polyester, Acrylic, Polyolefin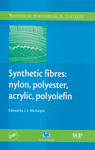 Price: $239.95
Category: Books: Fiber Spinning
A new work in the series which already includes books on wool, cotton, silk and luxury fibers, regenerated cellulose, bast and other plant and high performance fibers, this book examines fibers generated entirely from chemicals.

Authors examine nylon, polyester, acrylic and polyolefin fiber, which have a wide range of applications, including clothing, soft furnishing, flooring and geotextiles.

Synthetic Fibers discusses chemical intermediates; polymerization techniques; production techniques; dyeing, and physical, chemical and structural properties.