Six Sigma And Beyond, Seven Volume Set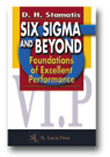 Price: $798.00
Category: Books: General Reference
The seven volumes of Six Sigma and Beyond give readers an in-depth look at how to successfully achieve the minimum amount of non-conformances in their organization. Implementing this program will uncover potential improvements and bring all resources together to identify, measure, analyze, improve, and control the process.

These volumes provide the statistical techniques to go beyond theory to real-world applications and take quality improvement to the next level. The author discusses the foundations of quality and progressively moves into the Six Sigma methodology, closing the series with an implementation strategy that will help improve the process and the financial status of any organization.

Includes a glossary of both basic and advanced techniques that can be applied in any organization at any level.