High-performance Fibres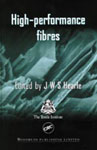 Price: $269.95
Category: Books: Fiber Spinning
Until 100 years ago, natural fibers such as cotton, wool and silk were commonly used in engineering applications. The introduction of manufactured fibers such as rayon, acetate, nylon, and polyester offered superior technical properties for industrial applications. A similar replacement of natural and regenerated fibers by synthetic fibers occurred in most technical textiles.

High Performance Fibres covers the development of second- and third-generation high-performance fibers. The book discusses the aramid copolymer, melt-spun fully aromatic polyester, and Russian fibers. It describes gel-spinning and an alternative method of solid-state processing and features polymeric and inorganic high-performance, high-tenacity fibers. The book goes on to describe the new generation of fibers with thermal or chemical resistance.

High-performance fibers are used increasingly for a wide range of applications including geotextiles and geomembranes for construction and civil engineering, as well as specialist fibers within composite materials where their ability to fulfill demanding roles makes them an effective choice for the engineer and materials scientist.