Fancy Yarns: Their Manufacture And Application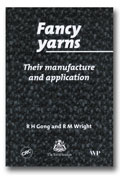 Price: $239.95
Category: Books: Fiber Spinning
This is the first book devoted to the design and manufacture of complex yarns. It describes the major yarn types, structures, and manufacturing processes. It provides a detailed analysis of all types of fancy yarns, not only in terms of the technical requirements for production, but also in relation to their impact on fabric and garment design and the marketing effort required to place them within the market.

The text is well illustrated with diagrams, drawings, and both black and white and color photographs of yarn structures and the equipment used to create them. It contains close-ups of the yarns with an analysis showing how appearance and texture can be varied by changing the feedstock or machine settings.

Fancy Yarns: Their Manufacture and Application is a perfect resource for industrial textile technologists including spinners, knitters and weavers, fabric and garment manufacturers, students of textile technology and design and curators and conservationists of textile and costume collections.