Elementary Statistical Quality Control, 2nd Edition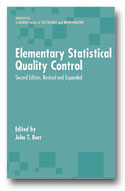 Price: $99.95
Category: Books: General Reference
Maintaining the reader-friendly features of its popular predecessor, the Second Edition illustrates fundamental principles and practices in statistical quality control for improved quality, reliability, and productivity in the management of production processes and industrial and business operations.

Presenting key concepts of statistical quality control in a simple and straightforward manner, this reference will provide a solid foundation in statistical quality control theory, background, and applications.

Elementary Statistical Quality Control, Second Edition, is ideal for statisticians; industrial engineers, inspectors, and technicians; and upper-level undergraduate and graduate students taking courses in quality control, statistics, and business administration.