Diccionario Textil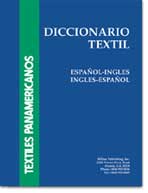 Price: $125.00
Category: Books: General Reference
Diccionario Textil can save countless hours researching English and/or Spanish textile terms. Constant advancement in the textile industry makes this textile dictionary a valuable resource tool.

This publication contains a complete list of textile technology terms, including machinery, supplies, fibers, yarns, fabrics, weaving, knitting, dyeing and finishing operations, sewing, garment manufacturing, and much more.

Definitions are especially important in the case of technical terms having different meanings according to the particular industry, field or phrase to which they refer. Phrases or combinations of words are listed to facilitate the work of consulting the dictionary and to fix exactly the particular form the combination must take to comply with the usage of the textile and allied industries.

El Diccionario Textil promete ahorrar innumerables horas investigando términos textiles en inglés y/o español. Adelantos constantes en la industria textil hacen de este recientemente actualizado diccionario textil una herramienta valiosa.

El Diccionario Textil contiene una lista completa de términos de tecnología textil que incluyen maquinaria, materiales, fibras, hilados, telas, tejeduría, tejido, tintura y acabado, costura, manufactura de ropa y mucho más.

Frases o combinaciones de palabras son listadas para facilitar el trabajo de consultar el diccionario y corregir exactamente la forma particular que la combinación deba tomar para cumplir con el uso de la industria textil e industrias aliadas. Muchas de las palabras usadas en frases no son términos textiles por sí mismos pero asumen significado textil cuando son combinados.