Texworld USA: A Sourcing Spectacle
Biannual expo links textile suppliers and buyers, providing a single sourcing destination for the North American marketplace.
TW Special Report
Textile and apparel suppliers and buyers will gather July 22-24, 2014, at the Javits Convention Center in New York City for the 17th edition of Texworld USA. Produced by Atlanta-based Messe Frankfurt Inc. — the U.S. subsidiary of international exhibition organizer Messe Frankfurt GmbH — in partnership with Austria-based cellulosic fiber manufacturer Lenzing AG, Texworld USA integrates Lenzing's Innovation Asia fabrics trade fair, and is held biannually in January and July.

Touted by Messe Frankfurt as the largest apparel fabrics show in North America, Texworld USA presents an international business platform for apparel fabric buyers, R&D and product development specialists, designers, manufacturers, retailers, wholesalers, merchandisers, trading companies and sourcing professionals.

Product groups to be presented include cotton, denim, embroidery, fibers, functional fabrics, knits, lace, linen, prints, silk, silky aspects, wool and findings/trims. End-user groups include activewear, childrens/infantwear, juniorwear, ladieswear, bridal/ special occasion/cocktail, menswear, sportswear and swimwear/lingerie.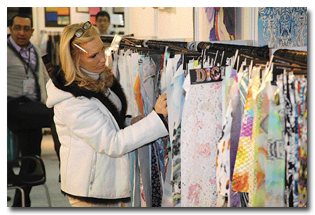 Texworld USA, the International Apparel Sourcing Show and Home Textiles Sourcing Expo will offer attendees access to apparel, textiles and home soft goods resources.
Three Colocated Shows
The International Apparel Sourcing Show and the Home Textiles Sourcing Expo, produced by Messe Frankfurt in partnership with The Sub-Council of Textile Industry, China Council for the Promotion of International Trade (CCPIT-TEX), will return to the Javits Center for their colocation with the summer edition of Texworld USA.
The International Apparel Sourcing Show is focused on sourcing finished apparel, contract manufacturing and private label development. In addition to these groups, product groups include childrenswear, womenswear, menswear and activewear; knits, wovens, denim/jeans, collections, suiting and contemporary; and intimates/lingerie and loungewear/sleepwear.
The Home Textiles Sourcing Expo is the only U.S. event focused solely on the sourcing of fabrics and finished soft goods for home applications, according to Messe Frankfurt. Product groups include fabrics and/or components including cotton, dobby weaves, eco-friendly materials, fire-resistant materials, Jacquard weaves, knits, lace, leather, linen, outdoor fabrics, pile fabrics, polyester, prints/printers, silk, silk look, synthetics, trims, vinyl, wool and man-made cellulosics; and finished products including bath, bedding, floor coverings, outdoor, tabletop, upholstery, wall coverings and window coverings.
Great Expectations
The July 2013 edition of Texworld USA was the largest to date, with 438 exhibitors from 15 countries, representing a 33.5-percent jump over the July 2012 edition; and a total of 5,292 attendees from more than 50 countries for all three shows combined. Messe Frankfurt is expecting the shows this year will draw a combined 680 exhibitors and more than 6,200 attendees.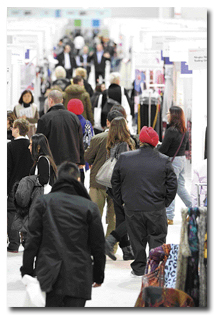 Texworld USA organizers expect record attendance at the July 2014 edition at the Javits Convention Center in New York City.
Show Highlights
Lenzing will present a Lenzing Innovation pavilion spotlighting companies whose fabric collections feature Lenzing fibers. The July 2013 Lenzing Innovation pavilion featured 31 companies.
Lenzing also is organizing seminars and panel discussions at Texworld USA, the International Apparel Sourcing Show and the Home Textiles Sourcing Expo that will be open to attendees of all three shows on a first-come, first-serve basis. Some of the seminars and panel discussions include "Engaging with Color in Autumn/Winter 2015/2016,"presented by Laurie Pressman, Pantone Color Institute; "Innovation in Bedding for 2015," by Brian Ashley, Field and Stream Bedding; "The What, Where, and How of Garment Production," by Anne Gillespie of Textile Exchange, Sam Moore and Dina Dunn of Oeko-Tex, Sandra Marquadt of Global Organic Textile Standard, and Avedis Seferian of Worldwide Responsible Accredited Production; "Preferred Fibers, Making the Right Fiber Choices," by Tricia Carey of Lenzing Innovation, Pete Szantos of DuPont Sorona, and Karla Magruder of Fabrikology International; and "How Not to Start a Fashion Brand," by Mercedes Gonzales, Global Purchasing Companies. Details about the educational program will be available on the Texworld USA website prior to the show.
In addition to the complimentary seminar program, there also will be a fee-based sustainability seminar/workshop titled "Material Snapshots: A Sustainability Workshop," presented by Anne Gillespie of Textile Exchange.
Texworld Art Directors Gregory Lamaud and Louis Gerin have been named the official trend partners of Texworld USA. Lamaud and Gerin, who also direct the trends for Texworld Paris, will organize a Trend Forum featuring Fall/Winter 2015-2016 fabrics and trends; and will create the Trend Book, which is complimentary for attendees. Creative consultant Mark Woodman has been named the trend partner for the Home Textiles Sourcing Expo.
Manufacture New York, a fashion incubator for emerging designers, has again partnered with Texworld USA and will provide attendees with domestic textile sourcing options to help start up their brands. Representatives from MAKER'S ROW, an online marketplace that connects U.S. suppliers and manufacturers, and TRADEGOOD, a business-to-business sourcing community created to connect apparel and footwear buyers with suppliers across more than 100 countries, will be present at the show.
"Texworld USA, the International Apparel Sourcing Show and Home Textiles Sourcing Expo continue to be an ideal platform for fabric sourcing professionals in the USA," said Dennis Smith, president, Messe Frankfurt Inc. "The shows provide access to textiles, home soft goods and apparel manufacturing resources in one convenient location. The event brings companies to New York City from around the globe, providing U.S. buyers the ability to experience the newest trends from around the world in our trend area and network with potential new suppliers in their own backyard. Our shows continue to attract new and innovative suppliers as well as renowned designers proving that these shows are an important part of the apparel and home textiles industries."
The exhibit hall for all three shows will be open July 22 and 23 from 10 a.m. until 6 p.m., and on July 24 from 10 a.m. until 4 p.m.
---
For more information about Texworld USA, the International Apparel Sourcing Show and the Home Textiles Sourcing Expo, visit texworldusa.com; apparelsourcingshow.com; and hometextilessourcing.com.
---
May/June 2014
Advertisement