Colombia: A Promising Market
Colombian textile manufacturers are hiring workers and installing new equipment, and Colombia/U.S. trade is improving as well.
Janet Bealer Rodie, Managing Editor
Since the United States-Colombia Trade Promotion Agreement (CTPA) went into effect in May 2012, bilateral trade between the two countries has been increasing. U.S. textile companies that export to Colombia report that most of their products go into goods to be consumed in that market. And there appears to be increased interest by U.S. brands and retailers in finding Colombian sources for apparel and textiles.

U.S. textile/apparel exports to Colombia slumped after 2006, when they totaled US$203.6 million, to a low of $110.1 million in 2009. Exports then began to recover and were back up to $161 million by 2012. In 2013, they rose to $200.9 million, even as the Colombian peso lost value vis-à-vis the U.S. dollar.

U.S. imports of Colombian textiles and apparel fell after a 2004 peak of $636.3 million down to $247.5 million in 2009. According to a May 2012 analysis by International Trade Administration Office of Textiles and Apparel Business & Industry Specialist Laurie Mease and International Trade Specialist Richard Stetson, possible reasons for that drop include the end of global textile/apparel quotas in 2005, the global recession, and uncertainties under the Andean Trade Promotion and Drug Eradication Act (ATPDEA), to which Colombia was a signatory prior to CTPA's enactment. Since 2009, imports have fluctuated, settling at $267.1 million in 2013, compared to $248.5 million in 2012.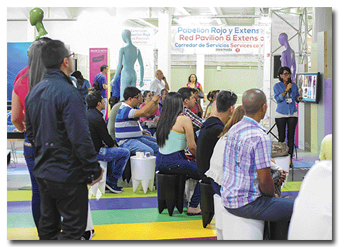 In Colombiatex's Textile and Supply Forum, Martha Cálad (right), director of Inexmoda Fashion and Economic Laboratory, presented Spring/Summer 2014 color and fashion trends.
Industry Growth
Like the U.S., Colombia has faced growing imports of textiles and apparel from Asia. In the interest of protecting its domestic industry, the country has set a hefty tariff on garments and home textiles imported from any country with which it does not have a free trade agreement.
This policy has benefitted the local industry, which added 200,000 employees and increased investments in new machinery in 2013. However, other factors also have contributed to the industry's growth, according to Carlos Eduardo Botero, president of the Medellín, Colombia-based Institute for Export and Fashion (Inexmoda). "The Colombian economy at the end of 2013 went very well," he said. "Plus, there is speculation around the world that the recession is ending. The U.S. market is getting better, so that means more consumption, and why not Colombian products? Plus, the peso is weak against the U.S. dollar, which is good for exports."
At Colombiatex 2014, The Numbers Were Telling
At the most recent Colombiatex de las Americas, an annual three-day textile trade show produced and organized by Inexmoda and held in Medellín, there was a very festive air and much cause for optimism. Presented under the theme "Trascender Límites" ("Beyond Limits"), the 2014 edition generated business opportunities totaling $266.9 million — a huge 75-percent increase compared to those generated at Colombiatex 2013, and well over twice as much as in 2012. Inexmoda reported that 500 exhibitors, of whom 55 percent were from Colombia and 45 percent from 20 other countries, were present, compared to 475 exibitors in 2013 and 416 in 2012, in 9,600 square meters of exhibit space in three buildings at Medellín's Plaza Mayor.
A central outdoor plazoleta, or small plaza, provided a place where people gathered to socialize and watch special high-energy Fash.Mob fashion events that were staged several times each day to connect business and industry with the creative impulse and the consumer. Just outside the entry gates, the Metropolitan Theatre hosted the Knowledge Pavilion featuring 25 free lectures covering topics related to production, logistics, distribution, new technologies and the Pacific Alliance — a new trade bloc comprising Colombia, Chile, Mexico and Peru; which has a combined gross domestic product of more than $2 billion, and within which Colombia annually exports textiles and apparel worth more than $200 million.
Colombiatex and its Knowledge Pavilion attracted 26,149 visitors, including 9,168 Colombian buyers and 1,760 international buyers from 41 countries, with more than 200 buyers representing U.S. brands and retailers. Many of the international buyers attended under the auspices of Proexport, Colombia's export, investment and tourism promotion agency.
Colombiatex is regarded by many as the most important show of its kind in Latin America. Inexmoda's Fashion System for Colombia informs the character of the show, where there is a melding of the fashion experience with the exhibition of all the components for manufacturing apparel and home textiles — including fibers, yarns and fabrics; buttons, zippers, tapes and other auxiliary components; dyes and chemicals; machinery; technologies for design, apparel fit, costing, shop control and such; and other aspects. In addition to the lectures in the Knowledge Pavilion, there are within the show itself twice-daily trend presentations, plus fashion shows and special presentations by various exhibitors.
Colombia's textile/apparel sector excels in the areas of lingerie, swimwear and denim. Hosiery and home textiles such as towels also offer opportunities for differentiation.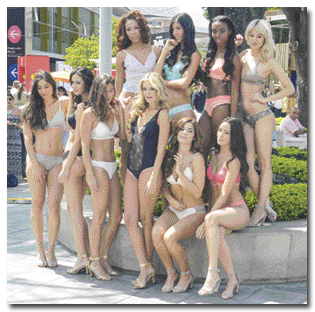 Lingerie, one area in which Colombia's textile/apparel industry excels, was on view during one installment of Fash.Mob, a series of high-energy fashion events joining industry and creativity.
At Colombiatex 2014, a special Denim Review area had denim fabrics, finishes and more on display along with demonstrations related to jeans manufacturing and finishing. To be sure, denim was found throughout the show, and exhibitors included Colombian and other South American manufacturers as well as Indian, Pakistani and Turkish denim producers. To celebrate denim's popularity and innovations, and its establishment as a basic wardrobe necessity, everyone was encouraged to wear denim on the second day of the show, Denim Day. Festivities continued through the evening, with a big outdoor party offering more food, drink, music and fashion.
Listen To The Consumer
Inexmoda's Fashion System focuses on understanding the consumer, taking cues from what is observed on the street globally and adapting it to the local market. This year's trends comprise five styles: traditional; neotraditional; contemporary; vanguard; and exhibitionist.
"We work very hard to let people know the importance of the consumer," Botero said. "The first part of the supply chain needs to understand this as well as the rest of the chain."
U.S. Exhibitors
Most of the U.S. exhibitors were grouped in two pavilions, and included yarn and fabric suppliers as well as technology providers.
Cotton USA Sourcing's pavilion hosted Alamac American Knits LLC, Lumberton, N.C.; Buhler Quality Yarns Corp., Jefferson, Ga.; Frontier Spinning Mills Inc., Sanford, N.C.; Hamrick Mills Inc., Gaffney, S.C.; King America Textile Group, Chicago; Parkdale Mills Inc., Gastonia, N.C.; and Zagis USA, Lafayette, La. The pavilion also provided an enclosed area for presentations, including denim, color, silhouette and texture trend presentations given by Cary, N.C.-based Cotton Incorporated; as well as information about Cotton LEADS™, a joint program organized by Cotton Incorporated, Memphis, Tenn.-based National Cotton Council of America and Cotton Australia to promote the use of responsibly produced cotton.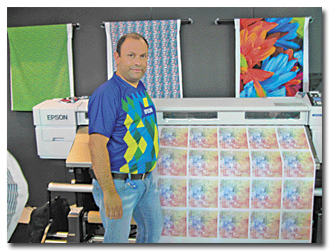 Carlos Amaya, Epson's large format printer manager for Colombia, presents Epson's dye sublimation technology and the Epson SureColor® F7070 printer, which works only with Epson printer heads and transfers high-definition images onto polyester fabric.
The Cotton USA Sourcing program, offered by Cotton Council International (CCI), Washington, in conjunction with Cotton Incorporated, serves as a liaison between its members and potential customers in export markets in Mexico, Central America and the Andean region, according to Vaughn Jordan, CCI's director, International Program and Mexico & CBI.
Jordan has seen a significant jump in U.S. cotton product exports to Colombia since CTPA went into effect. "Our yarn exports are up from 10 million pounds in 2011-12 to 30 million pounds in 2012-13. And here, it's different than in Central America and Mexico, where yarn goes there, is made into garments and comes back to the U.S.," she said, referring to the fact that most U.S. yarn exported to Colombia goes into domestically consumed products. "CTPA gave us that duty advantage that allowed us to compete here. Indian yarn is our biggest competitor in this market, and we've taken market share from both India and Mexico," she added.
"Fabric has been slower to move from the U.S. to Colombia, but we're working now to get more fabric into that market," she continued, noting that retailers and brands generally prefer to source from Central America, where labor costs are lower. However, she said, "I think Colombia has the ability to do smaller runs and more fashion than you can get out of some of the other countries."
One exhibitor in the fabric area was first-time exhibitor King America. Robert Mazur, senior account executive, reported good leads from the hospitality sector in Colombia, as well as leads from Mexico and meetings with possible distributors for the local market. The company provides finishing services for fabrics produced by other U.S. manufacturers and does business mostly with industrial service uniform manufacturers.
Several U.S. exhibitors remarked on the number of U.S. brands and retailers among the buyers attending Colombiatex. Others noted that they had visited with smaller Colombian manufacturers and saw good potential to work with niche players. Some also reported that they had visited with manufacturers who had come from Mexico and other Latin American countries in search of suppliers.
Raleigh-based Sewn Products & Equipment Suppliers of the Americas (SPESA) hosted a pavilion that featured products and services from companies including automation solutions provider Gerber Technology, Tolland, Conn.; costing systems developer Methods Workshop, Lake Worth, Fla.; technology solutions provider [TC]2, Cary, N.C.; and shop floor control systems provider CGS, New York City.
SPESA Managing Director Dave Gardner said that thanks to CTPA, there seems to be renewed interest by Colombian manufacturers to deal longer-term with brand owners. "I feel good about business here. Denim is still very strong. Women's fashion is also very strong." However, he added, "Now, we're looking at a shorter chain and shorter runs, and that's tough for some of them to accept. They've got to do short-cycle manufacturing and go to lean, short, rapid response. There are still thousands of small companies here that don't understand the export market, but they don't need to — they've got a good domestic market here."
U.S. Presenters At The Knowledge Pavilion
[TC]2's President and CEO Michael T. Fralix, Ph.D., Vice President of Business Development Will Duncan and Latin America Industry Services Manager Arturo Rodriguez gave lectures at the Knowledge Pavilion, and underlined the importance of updating business models and thinking into the future. Duncan and Rodriguez presented "The Colombian Sewing Plant of the Future," stressing the need to provide client-focused service, and fast sampling and quick costing quotes; and to implement flexible, lean manufacturing systems. Duncan also spoke about how social media have revolutionized the way products are being developed, marketed and sold to consumers.
In his presentation titled "Shopping Is Fun Again," Fralix discussed 3-D body scanning technologies and the use of online avatars that enable consumers to virtually try on garments. He also talked about how digital printing and cutting technologies are shortening the manufacturing process and making it more flexible; and provided a futuristic view of what the manufacturing process might look like in years to come, as the point of actually manufacturing a product moves ever closer to, and even beyond, the point of purchase by the consumer.
Don Howard, executive director of New York City-based Alvanon Inc.'s AlvaInsight sizing and fit consultancy, gave a presentation titled "Technical Fit and Aesthetic Fit: Best Practices for Achieving Both," in which he discussed the main differences between the two aspects of fit and the importance of realizing both when designing and producing apparel. Alvanon also had a booth at the show and showed its range of apparel fit solutions.
Market Holds Potential
While Colombia is not a major U.S. trading partner among Western Hemisphere countries, interest in that market from U.S. exporters and importers alike is growing. The country's textile industry is investing in machinery and equipment as well as growing its workforce; the work it produces is recognized for its high quality; and its domestic market supports Colombia's many small manufacturers. U.S. textile and technology exporters are selling their products to manufacturers of all sizes, and U.S. brands and retailers in increasing numbers are scouting the country in search of reliable, full-package supply chains now that CTPA is in force. One can anticipate that bilateral textile/apparel trade between the two countries will continue to grow.
May/June 2014
Advertisement