Biomedical Textiles: A Fast-growing Market
Biomedical Structures Co-founder John Gray discusses the biomedical textiles market and how his company helps its customers to develop solutions for specific applications.
Stephen M. Warner, Contributing Editor
Biomedical textiles is a fast-growing market segment in the technical textiles industry. Since the mid-1960s, the medical field has been using biomedical textile products for vascular grafts and heart valve sewing cuffs. The current wave of uses is coming as a result of new fibers and new construction methods of the textile materials. Innovative applications are found both inside and outside the human body. Biomedical textiles can eliminate the need for invasive surgical procedures, prevent infections and help speed a patient's healing. Textile World explores this market segment of technical textiles with John Gray, a co-founder of Biomedical Structures LLC (BMS), Warwick, R.I.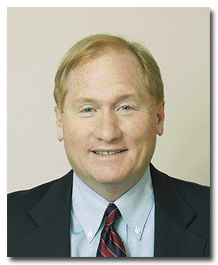 John Gray, co-founder, Biomedical Structures LLC
Textile World: The science of biomedical textiles seems relatively new.
Gray
: While the amount of textile-based component and device applications has increased considerably over the last decade, the concept of surgical textiles has been with us for some time. Sutures, from a variety of materials, have been used for centuries, while other soft-tissue support structures have been in use for decades. Given the present availability of a wide variety of resorbable and non-resorbable fibers and fiber deniers, novel textile-based surgical applications have been growing strongly.
TW: What is the difference between "medical textiles" and "biomedical textiles"? Can the market segment be defined?
Gray
: The term "medical textiles" can be considered to be the umbrella that covers all textile structures in the medical space, from surgical gowns and external wound dressings to textile structures that are intended for surgical implantation. In our view, "biomedical textiles" is a subcategory of medical textiles that narrows the field down to those applications that are intended for active tissue contact, tissue regeneration or surgical implantation.
TW: How big is the marketplace currently?
Gray
: The size of the market served by biomedical products is far from determined. At Biomedical Structures, we continue to be impressed with the imagination and innovation of our customers' product development and engineering groups who have incorporated fibers and textile structures into their problem-solving processes. Given the fiber and structure options that are presently available to us, with full expectation that these options will continue to expand, our market, the biomedical textiles sector, and its potential, will continue to be fueled, in great part, by the marriage of fiber and textile structures to anatomy and by talented device engineers who have recognized this technology's clinical value. While new medical devices continue to embrace textile structures as an alternative to other materials, a new class of performance fibers is also being incorporated into a growing list of new and existing device designs.
TW: What types of fibers and fabrics are being used in these applications?
Gray
: Non-resorbable fibers include polyethylene terephthalate (PET) and high-tenacity PET, polyethylene (PE), polypropylene (PP), polyether ether ketone (PEEK) and nylons. Resorbable fibers include polyglycolic acid (PGA), polylactic co-glycolic acid (PLGA) (90:10) and poly-l-lactic acid (PLLA). We also build a wide variety of structures from our customers' proprietary resorbable, nonresorbable and metallic fibers. BMS offers four textile technology platforms: braiding; weaving; knitting; and nonwovens. All of these platforms are expandable based on the requirements of the application. For example, a standard 16-carrier PET braided suture can be re-engineered to include any fiber, a wide range of fiber deniers and perhaps a blend of dissimilar materials. A knit structure can be designed to be strong and porous for hernia applications or lightweight and less porous for cardiovascular applications. Woven structures can incorporate high-strength PE fibers for orthopedic applications or resorbable fibers for tendon repair.
By customer request, BMS has built highly specialized custom textile processes for unique textile structures.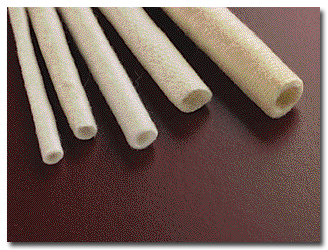 BMS's BIOFELT®, a nonwoven scaffold designed to promote natural cell adhesion and regeneration, is custom-engineered for specific applications.
TW: Where does innovation come from in your industry? What drives the design or need of a new biomedical textile application?
Gray
: BMS has the ability to service customers from the entire size spectrum of OEM medical device manufactures. Our customers are constantly engaged in a continuous cycle of product improvement and the discovery of novel approaches to complex surgical problems. While innovation clearly rests within the engineering skillsets of our customers, BMS plays an important role in guiding a customer concept through alternative textile and fiber possibilities. From early prototypes, through product and specification development, validation and recurring production, BMS's development, operations and quality assurance teams work as technical and manufacturing partners with our customers' engineering groups.
TW: What are market influencers in your industry? What are the challenges that face the industry?
Gray
: BMS is a contract developer and manufacturer of textile- and fibrous-based components for a wide variety of domestic and international customers in the cardiovascular, orthopedic, tissue engineering, cosmetic surgery, general surgery and veterinary medicine space. Our customers are constantly challenged by competitors and the regulatory pathway as they sort out which device approaches to pursue, flowing these device and component designs down to BMS. Understanding that our success is clearly determined by our customers' success, BMS purposefully builds its capabilities ahead of and in concert with our customer and market requirements.
TW: Tell us briefly about Biomedical Structures.
Gray
: Biomedical Structures was organized as a Rhode Island LLC in January of 2003, by four partners who realized that their backgrounds in material science and textile engineering could be adapted to an underserved segment in the medical device contract development/manufacturing space. In its early days, BMS was rightly described as a bootstrapping startup. However, as we demonstrated our passion for adaptive textile engineering and superior customer service, we gained the confidence of a number of key customers who helped to guide our present business model. BMS has grown steadily since its inception by investing in world-class facilities, equipment, processes and people.
TW: In looking at BMS's history, it seems you have been very active in the acquisition of and merger with other biomedical textile companies. What's your strategy?
Gray
: In March of 2011, BMS acquired Rhode Island-based Concordia Medical, which brought to us a number of new programs, trained personnel and additional manufacturing space. Concordia, like BMS, specialized in biomedical textile structures and operated on a similar contract development/manufacturing platform.
In February 2013, BMS merged with Modified Polymer Components of Sunnyvale, Calif. Given that our customers continue to require more value-added technologies and secondary processes from BMS, we will continue to explore all avenues that broaden our ability to serve them.
TW: What's the next great step for biomedical textiles?
Gray
: Anyone who has observed the medical textile space over the last decade will have to conclude that while human anatomy is finite, the number of applications that are textile-based or have textile components is seemingly boundless. New performance fibers that will bring increased strength, drug delivery and controlled resorption are rapidly being developed. Microdenier as well as electrospun fibers have begun to find a foothold in the marketplace, allowing for smaller, lighter and more specialized devices. These new fiber technologies, along with advances in modern textile processing systems, will continue to expand the application possibilities within the biomedical/biosurgical textile marketplace.
---
Editor's note: Stephen M. Warner, Arden Hills, Minn., is publisher of BeaverLake6 Report, beaverlake6.com, a Web-based newsletter reporting on trends, data and issues that he feels influence the technical textiles industry. He also is former president and CEO of Industrial Fabrics Association International.
---
May/June 2014
Advertisement