Spectral At The Core
Denim North America's Spring 2015 "Hang Out on Clouds" collection includes Spectrum Core, a fabric whose prismatic warp colors are revealed as the indigo overdye is washed or bleached out.
Janet Bealer Rodie, Managing Editor
Denim North America, Columbus, Ga., has released "Hang Out on Clouds," its Spring 2015 collection of denim fabric concepts. As with its Fall 2014 "Cabin in the Woods" collection, the new collection tells a story, illustrated by photographs showing activities that relate to its theme.

"We like to have a story along with the products in order to romance the items on the line. It's become much more than just showing a swatch of fabric to our customers," explained Peter Ross, the company's creative director. "Not only do we show a finished garment to our customers — showing our fabric with a premium wash with a current trend-right fit — but the story behind the line gets the customer involved and adds a little more excitement.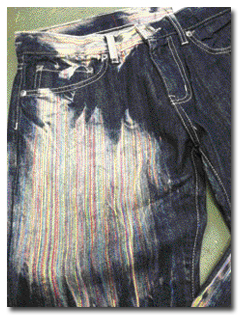 Bleach splatters remove the indigo dye to reveal Spectrum Core's multicolored warp in the jeans shown above.
"'Cabin in the Woods' was derived from a sporting look trend we identified that has only gotten bigger," Ross said. "For Spring '15, it's a little more abstract. 'Hang Out on Clouds' comes from the idea that we live in a very different world — times are tough all over, and you can escape from all that and do all the things you love to do in your jeans. Some people surf the internet, some ride bikes, some do yoga, and so on, in order to escape from the harsh realities."
Among the newest collection's offerings is Spectrum Core, which features a multicolored, indigo-overdyed warp yarn. Other offerings include buttery soft fabrics, tie-dyed or bleach-resist looks, an orange-scented scratch & sniff finish, gold or red fill yarn, chip-off surface color, bleach or dye splatters, herringbones, slubs, and many of the customary denim fabric looks.
Spectrum Core fabrics are in particular demand for sampling, Ross said. Available in rigid cotton and stretch cotton/spandex styles and in various weights, it features an almost space-dyed-looking warp overdyed with classic indigo and further processed to give a variety of looks. In its unwashed iteration, it looks like a traditional raw denim fabric, but with repeated washings, the indigo fades, revealing the prismatic color array at the core.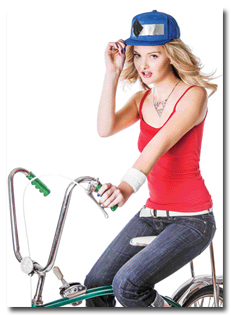 Ross also noted that Denim North America is further developing its stretch denims. "Our power stretch is a 98/2 cotton/spandex fabric that offers between 40- and 50-percent stretch with excellent recovery," he said. "The lightest-weight products go from 8 1/2 ounces up into the 10-ounce range. The lighter weights tend to be big hitters this season."
Denim North America produces all of its fabric in Columbus, and its customers include many of the major U.S. premium jeans brands and retailers. The company is pitching the possibility for a brand or retailer to offer a versatile group of products featuring different washes on Spectrum Core base fabrics. "The washes would create different aesthetics utilizing this same fabric — for example, one raw, with no wash; one with a basic hand sand; one hand sand with a tint; one bleach splatter; and one crazy wash," Ross said. "The product offers a lot of diverse looks when you put it through the laundry."
---
For more information about Denim North America's Spectrum Core fabrics, contact Linsey Hinkle Flitcroft +706-565-3358; lflitcroft@denimna.com
---
March/April 2014
Advertisement