March/April 2014
Radici Fil S.p.A.
, Italy, has received UNI EN ISO 14001:2004 certification for its environmental management systems and BS OHSAS 18001:2007 certification for its occupational health and safety management systems.
Dystar
, Singapore, has published its 2012 Sustainability Report, which may be downloaded at dystar.com.
Wichita, Kan.-based
Invista
has added a new carpet search tool, Find Carpets with Antron®, to its Antron website, located at antron.net.
Clariant
International Ltd.
, Switzerland, has released ColorForward™ Interiors 2015, Forecasting Trends and Colors for Fibers and Textiles.
The Global Organic Textile Standard (GOTS
)
International Working Group
has released Version 4.0 of the GOTS standard for the processing of textiles containing at least 70-percent or 95-percent certified organic natural fibers.
Glen Raven, N.C.-based
Glen Raven Inc.
has launched a new website for its GlenGuard® brand, located at glenguard.com, in conjunction with the introduction of its new tagline, "Get Into Your Comfort Zone."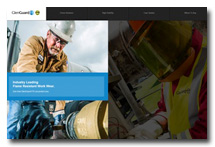 The new GlenGuard® website
Johnston, S.C.-based
Riegel
, the Consumer Products Division of
Mount Vernon Mills Inc.
, has introduced RieZerv™, a white table linen that features fiber that has been optically brightened prior to the spinning and weaving process.
Fremont, Calif.-based
JLA Pets
has selected Wakefield, Mass.-based
Sciessent LLC
's Agion Active® antimicrobial, antiodor technology for use in a new line of pet beds.
Milliken
& Company
, Spartanburg, has introduced two new floorcovering collections featuring a looped stitch: the Inis Mór collection of modular carpet tiles, inspired by the structure of Irish fisherman's sweaters; and the Landscape collection of broadloom carpet inspired by Earth's landscapes.
Coral Gables, Fla.-based
Radiation Shield Technologies (RST)
has developed the Demron-P Bra featuring RST's Demron™ radiation-blocking fabric.
The
United States Trade Representative
, Washington, has together with the European Union issued a joint report on potential opportunities for small and medium-sized enterprises under a Transatlantic Trade and Investment Partnership (T-TIP) agreement. The report may be downloaded at ustr.gov/sites/default/files/TTIP-Opportunities-for-SMEs.pdf.
Peachtree City, Ga.-based
Sigvaris
North America
has launched an educational campaign during March, which is Deep Vein Thrombosis (DVT) Awareness Month, to increase awareness in the United States of DVT and to promote use of its graduated compression stockings to prevent DVT.
Laconia, N.H.-based
Madeira
USA Ltd.
has updated and improved the functionality of its ecommerce website, madeiramart.com.
Minneapolis-based
AmeriPride
Services Inc.
has announced it is the largest commercial laundry organization worldwide to earn Clean Green certification from the Textile Rental Services Association (TRSA). AmeriPride also has received the Best in Show award from Greater Twin Cities United Way for its 2013 campaign.
Chicago-based
Videojet Technologies Inc.
has launched the CLARiSUITE™ WebServer software solution, designed to improve manufacturing operational flexibility. The company also has updated its website, located at videojet.com.
St. Cloud, Fla.-based
DPInnovations Inc.
has launched web2fabric, a web-based service that enables designers to have their designs, illustrations or photographs printed on fabric using their digital fabric print service provider of choice.
New Oxford, Pa.-based
Yazoo Mills Inc.
has implemented Aston, Pa.-based
Vanguard Systems Inc.
's Document Management Software throughout its organization. Yazoo Mills also has announced that its customers now will be able to call and order cores via its Stock Core Program for same day shipment up until 4 p.m. EST.
Ann Arbor, Mich.-based
CIMdata Inc.
is partnering with Bloomington, Minn.-based
Sopheon Corp.
to conduct research on enterprise innovation management (EIM). The companies will conduct a survey and also will produce a Webcast discussing the research and initial survey results. CIMdata has published a research paper on EIM and product lifecycle management titled "Driving Innovation from the Top Floor to the Shop Floor."
March/April 2014
Advertisement