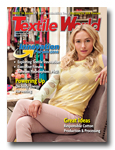 July/August 2014
On the Cover:
Actress/model/activist Hayden Panettiere models a sweater from French fashion brand Carven and jeans from Los Angeles-based Current/Elliott. Photograph courtesy of Cotton Incorporated
Features
Responsible Cotton Production & Textile Processing
Cotton conference raises awareness of options.
Big Success For INDEX™ 14
EDANA celebrated the 30th anniversary of INDEX™ in Geneva with a record number of exhibitors and visitors.
ZhejiangTex 2014: Technology Collection
Collection of machinery shows in China's Zhejiang Province highlights knitting, sewing and printing technologies.
Nonwovens: A Dynamic, Ever-changing Industry
Behnam Pourdeyhimi, Ph.D., discusses the work being done at North Carolina State University's Nonwovens Institute and NWI's contributions to the industry.
Exploring Textile Innovations
This year, Textile World will launch the Textile World Innovation Forum 2014 - a two-day, high-level conference offering industry professionals unique insights into diverse textile manufacturing areas.
Textile News
USFIA Releases First U.S. Fashion Industry Benchmarking Study
Delta Apparel Moves Some N.C. Production To Honduras
PerformanceScrubs.com Moves Cullman Operations To Florence, Ala.
Surya To Open Facility In Cartersville, Ga., Add 200 Jobs
Gildan Expands Mocksville Plant, Acquires Doris Inc.
PCCA Sells ACG, Denimatrix To AmTex
Richelieu Expands In Hildebran, N.C.
From The Editor
Business & Financial
Yarn Market
Quality Fabric Of The Month
Comfort & Safety In The Extreme
Carhartt's Extremes® Arctic outerwear featuring Mount Vernon FR's AMTEX™ PLUS canvas with Carhartt's Wind Shield™ technology offers several functional details for equipment storage.
Nonwovens / Technical Textiles
Powering Up Textiles
New technological developments are providing opportunities for on-body energy harvesting integration into textiles.
Freudenberg Marks 40 Years Of Medical Innovations
Jacob Holm Acquires DuPont™ Sontara® Business
Fiber World
Unifi Expands REPREVE® Recycling Center
Shaw Expands Evergreen Recycling Program
Dyeing Printing & Finishing
Alexium Debuts BACTRON™ And OMNITRON™ Treatments
Archroma Acquires Stake In M. Dohmen
Knitting / Apparel
T-ChIP™ ... The Newest Sustainable Monitor
Green is growing, and T-ChIP™ is one way for textile companies to check and provide information.
Alvanon Launches Virtual AlvaForms
Cone Denim Unveils CONETOUCH™ Denim
Supplier Notes
Matalan Implements Lectra's Modaris®
Batson Represents Cormatex In U.S.
New Products
James Heal Debuts Maxi-Martindale
People
Bulletin Board