Carpet Recovery
The improving economic climate is driving some major investments and innovations in the U.S. carpet and rug industry.
Janet Bealer Rodie, Managing Editor
The year 2013 signaled an impressive turnaround in the U.S. floorcovering industry, and Textile World over the year published numerous news stories about expansions, acquisitions and new plant construction in the North Georgia region that is the seat of that industry — as well as other stories about supplier-related developments. Evidence of the improved economic climate and recovery following the global financial crisis and the Great Recession of the last decade is seen in the improved housing and office construction markets on which the floorcovering industry depends for its own economic health.

Looking just at the carpet and rug sector, four companies — Dalton, Ga.-based Engineered Floors LLC and Shaw Industries Inc.; Calhoun-Ga.-based Mohawk Industries Inc.; and Dubai-based Mattex — in 2013 alone announced plant and equipment investments totaling $780 million along with the generation of more than 3,200 new jobs in Georgia. Other carpet manufacturers also invested in plant and equipment and capacity expansions, and acquired assets and operations, although these investments were much smaller in comparison to those made by the four companies named above. This activity contrasts with an earlier 40-percent contraction in the industry.


Advertisement
Company Investments

Engineered Floors
, a producer of polyester residential carpet, opened its first plant in Calhoun in 2009 after two years of planning by retired Shaw Industries CEO Robert E. Shaw, who envisioned a vertical operation in one location.
"We started by building a greenfield plant for the reason that we've over the years had yarn plants in one location, then dyeing, tufting, and everything else in other locations, and distribution in yet another," Shaw said. "We combined the operations in one location so we could take chip in one door and ship carpet out another."
The company has expanded the Calhoun plant several times, added a second, larger plant in Dalton in 2012, acquired Chatsworth, Ga.-based Dream Weaver Carpet Industries Inc. and Calhoun-based Bentley Dye Services Inc., and last spring announced it would invest $450 million over four years to build another carpet manufacturing/distribution facility between Dalton and Calhoun and a synthetic backing plant in Murray County, Ga. Engineered Floors currently employs some 1,600 associates, and when all the announced projects are completed, it expects to employ well over 3,000 associates.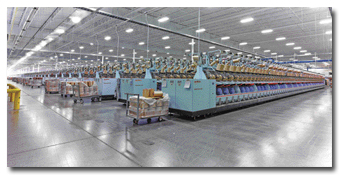 Engineered Floors' Dalton plant opened in 2012. Shown here is the plant's factory floor, which is equipped with Volkmann CC two-for-one twisting and cabling machines.
With some 100 carpet manufacturing and distribution facilities just in the United States and 23,000 associates worldwide in all flooring sectors,
Shaw Industries
is the largest carpet manufacturer in the country and has a significant share in the hard flooring market. During the economic downturn and recession, it closed some plants and reduced its workforce to align itself with demand, but with the current economic recovery, it is building and converting plants and hiring more associates. Domestic investments include $85 million to open a carpet tile plant in Adairsville, Ga., $55 million to streamline its distribution network, and $45 million to expand capacity in its Dalton extrusion facility. It also recently opened a carpet plant in China to service the Asian market.
"The year 2013 was the first year of strong recovery since the Great Recession," said Randy Merritt, president, Shaw Industries. "This more positive environment has enabled Shaw to generate growth and continue to increase investments. Shaw hired almost 3,000 associates in 2013, with 700 of these being new jobs." He noted that significant future plant expansions and construction projects are also planned.
"In our carpet business, the largest turnaround in growth has been in residential," Merritt mentioned. "Shaw anticipates that the economy will continue to improve, driven by recovery of the housing market and the strengthening of the automotive and other manufactured goods markets. As such, Shaw announced many expansions during the past year, and focused its investments on efficient operations, innovative products, and shifts in customer demand within our product mix."
Mohawk Industries
operates 42 carpet and rug manufacturing facilities in the U.S., and globally employs a workforce of 32,000 people in all flooring sectors. Its carpet and rug sales in 2012 represented 40 percent of total sales that year. Recent investments include $180 million announced in 2012 to expand its Summerville, Ga., facility and develop its Continuum Process™ for recycling polyethylene terephthalate (PET) containers into PET fiber for residential carpet yarn, creating 500 jobs; and another $85 million last year to convert two yarn spinning plants in Dalton and Rome, Ga., to bulk continuous filament (BCF) production, saving 230 jobs and creating 420 additional jobs. The Summerville expansion is expected to be completed by 2016, and the two plant conversions are expected to be completed by the second half of 2014.
Tom Lape, Mohawk's president of market development, residential and commercial flooring, sees further market improvement in 2014. "While we can all find certain challenges on the horizon from a consumer demand perspective, the fact remains that there is still more structural pent-up demand for replacement flooring today than at any point in the prior 50 years," he said, adding that the number of households has increased as more and more members of the so-called "boomerang generation" have bought their own homes. "We believe the substantial deferment of floorcovering projects since this cycle began five years ago will be a dividend that the floorcovering industry enjoys for the next several years," he said.
Mattex
, which produces carpet backing in Saudi Arabia and Dubai and has had a distribution facility in Calhoun since 2007, is investing $60 million to set up a U.S. headquarters and fully integrated extrusion, beaming and weaving plant in Eton, Ga., where it will employ 200 workers to produce polypropylene- and polyester-based carpet backing for broadloom carpet and carpet tile, respectively. Construction on the facility has begun, and it is expected to be operational in mid-2014, said Barclay Payne, general manager, Mattex USA. The plant will supply its backing products to carpet manufacturers throughout the United States and in Canada, and the company is hoping to penetrate the Mexican market as well.
Trends And Innovations
A shift in demand from staple-fiber to filament-based carpet yarn has led to some plant conversion projects, including the Mohawk projects mentioned above.
"The biggest change in the industry during the past 30 years has been the improvement in mill-extruded filament fibers and the shift to a vertical fiber supply chain," Shaw's Merritt said. "This led to the obsolescence of higher-cost staple nylon. This has occurred due to the improvement in the uniformity of extruded filament and changes in consumer preference that have allowed mills to move to more economical filament nylon and now polyester.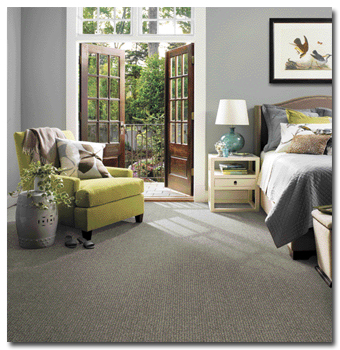 Shaw's Clearly Chic Collection of super-soft residential carpet features recycled-content ClearTouch® Platinum PET with R2X stain and soil resistance and Softbac® Platinum backing.
"The residential market is primarily made up of nylon filament and polyester filament," Merritt continued. "There will continue to be a market for some polypropylene in the low-end floorcovering market, but generally it will be extruded nylon or PET — the majority of new extrusion equipment is capable of producing either. Virtually all mill extruded nylon fiber today is type 6."
Engineered Floors' carpets are made using solution-dyed polyester, which it has branded as PureColor™ Fiber. "The only growth in residential carpet in the last ten years has been in solution-dyed and BCF polyester," Shaw said, noting that by solution-dyeing the polymer, the manufacturer eliminates one process in carpet production — that of piece-dyeing carpet at the end of the production chain — and reduces resource consumption. "In our production, we use about 20 percent of the energy and 10 percent of the water required for piece-dyed carpet," he added.
Consistent color is another advantage of solution dyeing. "You've eliminated the biggest problem you have — coloring carpet at 100 feet per minute (ft/min) in a continuous dye range," Shaw said. "It is very difficult not to have a pretty high percentage of off-quality product. We now say we match our shades in test tubes rather than trying to hit the right shade at 100 ft/min."
Lape mentioned the success of Mohawk's DuraColor® inherently stain-resistant nylon in its various commercial carpet products. ColorSpace, the company's color bank for its commercial products, offers 218 colors for its solution-dyed fiber systems.
"On the residential side of the business, consumers continue to show an increased preference for softness," Lape continued, mentioning that Mohawk offers soft fiber in its triexta (DuPont™ Sorona®), nylon and polyester carpet lines. "Mohawk's biggest initiative in 2014 is to expand triexta under the SmartStrand® and SmartStrand Silk brands. We plan to further expand this footprint with more unique styles and constructions across all categories while leveraging our next-generation soft technology," he said, adding, "For the upscale consumer market, we are launching highly styled, differentiated designs in best-of-class softness made from triexta and nylon to attack the premium price point."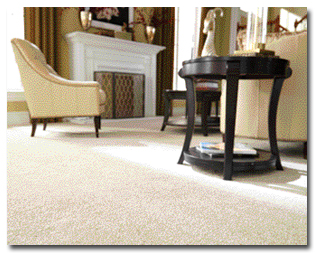 The yarn in Mohawk's Wear-Dated Embrace soft, plush nylon carpet collection is made with two times the fiber of conventional soft carpet yarns.
Merritt also mentioned the interest in soft technology. "In 2014, Shaw will continue to build on the many successful products that were introduced in 2013, including soft nylon carpet programs in Anso® Caress and Anso Soft Shades," he said.
Engineered Floors, through its Dream Weaver division, offers a soft product as well in its PureSoft™ Cashmere Carpet line, which it sells to consumers through retail outlets.
"About 65 percent of our carpet goes into bedrooms," Shaw said. "Consumers want soft carpet underfoot when they get out of bed."
Turning Old Into New
Shaw and Mohawk both have significant programs to offer recycled content and other sustainable initiatives in their products.
"From EcoWorx® [polyvinyl chloride-free recyclable carpet tile backing] and Eco Solution Q® [45-percent recycled-content and recyclable nylon 6], to Anso®Eco [recyclable nylon 6], almost all of Shaw's commercial carpet products and a some of the residential carpet products include recycled content," Merritt said. "Among residential products, PET carpet fiber is 25- to 50-percent post-consumer recycled content. In commercial, all carpet tile and a majority of broadloom products include recycled content."
Shaw has recycled more than 700 million pounds of post-consumer carpet since 2006, Merritt noted. Reclaimed nylon 6 carpet is generally sent to Shaw's Evergreen recycling facility in Augusta, Ga., where face and backing are separated, and the nylon is converted into virgin-quality caprolactam for reprocessing into nylon 6. Reclaimed carpet that cannot be recycled in that route can be reused in other product applications or as an energy source to power its operations.
Mohawk's Continuum Process, which was awarded a U.S. patent in November 2013, produces 100-percent post-consumer recycled-content PET BCF carpet — an industry first, Lape said. "Mohawk Continuum P.E.T., along with Mohawk's innovation in partnership with DuPont to bring SmartStrand to market, has allowed for nearly 50 percent of all the fiber materials used in Mohawk's residential business to come from either post-consumer or biobased materials," he added, noting also that the company repurposes some three billion pounds of assorted waste material annually. "As of December 2013, fourteen of the company's carpet and rug facilities have achieved an internal zero process waste status," he said.
Conclusion
The carpet and rug industry rebound is expected to continue over at least the next four years, in line with strong housing and other construction activity (See "
Textiles 2014: No Miracles, But Better Days Ahead
," this issue). One may expect to read about more investments and innovations in this busy sector as the year unfolds.
January/February 2014