Industry Projections
Robert S. Reichard, Economics Editor
It's that time of year again, when Textile World editors make their annual trek to the crystal ball and come up with industry projections covering not only the next 12 months, but also the following few years. And this time around, TW is pretty upbeat about the U.S. textile mill and apparel manufacturer outlook, despite lingering Washington political squabbling and a few still-simmering major international uncertainties. Put succinctly, the U.S. mill and clothing industries, having survived the recent business recession, in all probability can look forward to a healthy future, thanks to a long list of positive fundamentals.

First, there's the improving macroeconomic outlook. The new year promises to be the first since the onset of the Great Recession that gross domestic product growth will come close to the 3-percent mark. More importantly, as textile and apparel consumption are highly correlated with general business growth, some modest industry advances seem pretty much assured. Meantime, on the cost front, both fibers and labor — the two largest industry cost outlays — should remain pretty much under control. Also factor in outgoing double-digit overseas annual pay hikes and today's relatively cheap U.S. energy, and the once-impressive foreign production cost advantage should continue to dwindle. Add in such other positives as an intensifying inclination to "buy American" as well as superior U.S. quality, flexibility and innovation — and it's easy to make the case for growing optimism. All of this and more are examined in greater detail in the 2014 economic outlook (See "Textiles 2014: No Miracles, But Better Days Ahead," this issue).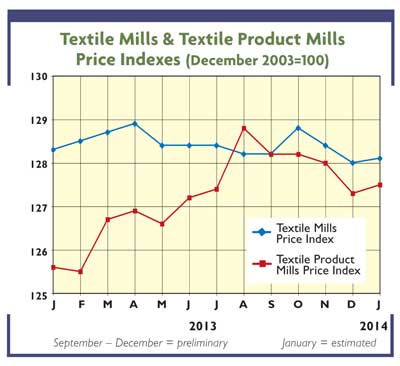 Forecast Highlights
Read the story, and two things become quite clear: First, there's been a major shift in textile and apparel demand trends. And, more importantly, there's a clear return to profitability. On the demand front, mill shipments, after hitting their low point four years ago, have jumped about 17 percent. True, gains in the downstream clothing manufacturing sector have been much more modest, with 2013 numbers running only some 4 percent above their recent recession low. Nevertheless, it's a refreshing change from the steady tattoo of losses of the past few decades. More importantly, as noted above, all signs suggest this positive pattern will continue. The resulting improvement in profits is even more encouraging, with mill margins at last report jumping to 5.5 percent — a solid one-half-percentage-point increase over a year earlier and a far cry from the negative numbers recorded at the recession's height. Comparable apparel margins are even more upbeat, running almost a full percentage point over those for 2012. And once again, the prognosis for 2014 is positive, with small further earnings advances seen for both textiles and apparel — thanks to a combination of fairly strong demand, little change in costs, somewhat diminished import competition, and steady to slightly higher selling prices.
Gauging Overall Accuracy
The big question is just how accurate these projections will turn out to be.
TW
would be the first to admit that its new numbers aren't carved in stone. The point is that there will always tend to be some variation in forecast levels — especially further out into the future. But,
TW
feels that any such deviations will be quite small. The reasons? First and foremost, there's
TW
's track record over recent years, for which use of time-tested forecasting techniques — including talks with top industry executives and the use of mathematical equations — have helped keep the margin of error exceptionally low in such key areas as demand, supply, costs, prices and profits. Also, there probably won't be as many Washington surprises to deal with over the coming months — certainly far fewer than in 2013, when the Congressional sequester alone is estimated to have knocked as much as 0.5 percent off the year's overall GDP. Then, too, chances of another fuel crisis negatively affecting the business outlook have diminished significantly — thanks to growing self-sufficiency on the part of American energy producers. Putting all the above into the computer hopper,
TW
is now 95-percent confident that final 2014 numbers will end up within 1 percent of projected levels.
January/February 2014
Related Files:
Click here to download Textile Barometers
Advertisement