More Autumn/Winter 2014-15 In New York
Yarns, surface design and small orders are focus of four trade shows.
Virginia S. Borland, New York Correspondent
At SPINEXPO®'s fifth edition in New York City, fiber companies and knitters along with top-quality spinners showed a lot of new and sustainable products in natural fibers and blends for winter. Indigo and Printsource are well-established surface design shows for apparel and the home. DG Expo has expanded - there is a demand for small yardages and fast deliveries.

SpinExpo
Mohair growers and spinners Pure American Naturals, Millerstown, Pa., were first-time exhibitors at SpinExpo. The Woolmark Company, Australia, and metallic fibers producer Meadowbrook Inventions Inc., Bernardsville, N.J., joined spinners at this show.

Pure American Naturals, an Amish group, has 230 mohair goats that are humanely treated, and spins yarns that are sustainable. The fiber is lightweight, shrink-resistant and lustrous; wicks moisture; resists odors; and is warm in winter and cool in summer. The company has been selling mohair yarns through a small network of knitters and is now looking to include weaving customers.

Woolmark showed Merino wool yarns and fabrics for Fall/Winter 2014-15. One new yarn crinkles when it is commercially washed, and there is a felted yarn that is printed and gives a vintage look. New fabrics from commercial weavers and knitters include pin and regimental stripes, herringbones, glen and houndstooth checks, twills and tweeds; plus knits with mouliné, mélange and knoppy looks. There are crepes and bouclés that are soft and hairy. A lot are Chanel-inspired.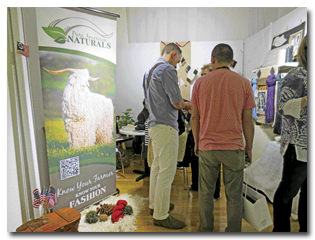 Pure American Naturals showed sustainably produced mohair yarns at SpinExpo.
Meadowbrook showed glitter fake furs from Peltex, France, and bouclé yarns from Kraemer Yarns, Nazareth, Pa., all containing Angelina®, the metallic-look fibers that feel like cashmere. There are new luminescent effects that are not possible with continuous filament metallic fibers.
New at Südwolle Group, Germany, is a line produced in Italy for the top of the market. There is a lot of cashmere and silk here. One yarn is a 94-percent cashmere/6-percent nylon blend in which the nylon gives natural stretch. Others include 120/2 cashmere/silk, 60/2 silk/cashmere and a cashmere/cotton blend. Other yarns include stock service 100-percent superfine Merino in 210 colors.
Z. Hinchcliff & Sons Ltd., United Kingdom, sells stock service cashmere and lambswool yarns to sweater markets, with next-day delivery of 70 kilos. One popular yarn at Nikko Textile, Japan, is a 60/2 cotton/silk blend. There are bulky, lightweight wools, cottons and cashmeres. Some have a nylon core wrapped with cotton.
Advertisement
Huafu Top Dyed Melange Yarn Co., China, produces heather yarns for sweaters and knits. One is Angelina blended with cotton or polyester and rayon. Other fibers are acrylic and Modal®. Yarns are raw white, dyed, semi-worsted and open-end.
At the Ningbo Consignee Group, China, fancy super kid mohair, alpaca, linen and cashmere yarns are going to quality knitters. The company is the largest exporter of cashmere.
At Miroglio Textile S.r.l., Italy, novelty and fantasy yarns are spun with extrafine Merino that is sometimes blended with no-pill acrylic or rayon. There is a huge color card, and many yarns have stock service. A slubbed viscose/extrafine Merino/nylon yarn is shrink-resistant and machine-washable. There are twisted multicolored yarns, thick yarns, irregular bouclé yarns, thick-and-thin yarns, and brushed or hairy yarns.
Indigo And Printsource
At Indigo, the surface design part of the Première Vision Pluriel group, most exhibitors show printed fabrics for apparel and the home. Karolina York, Australia, has large, allover X-ray type florals; cracked marble abstracts; houndstooth grounds with animals; and new patchwork designs in which Persia meets the Orient.
Whiston & Wright, UK, showed paisleys, some mixed with geometrics. Patchworks are more a combination of print designs. There are florals on very dark grounds, folklorics, ikats, animal skins, tonal colors, and mixed textured grounds. Bay & Brown, UK, has pretty, large Asian florals with birds; hand-painted skins; folklorics and animal conversationals including decorated cats.
Several studios have lace patterns. At New World Design Studios Inc., Fort Lauderdale, Fla., lace is over checks; at Wakefield Design Studio, Orlando, Fla., lace mixes with florals, houndstooth and scroll designs. Both studios also show Renaissance florals. At New World, there are enormous Russian florals, Fabergé-like jeweled eggs, large dimensional black-and-white geometrics, and tigers and leopards. Wakefield has patchwork paisleys, pattern mixes, large abstracts, owl feathers and snake designs.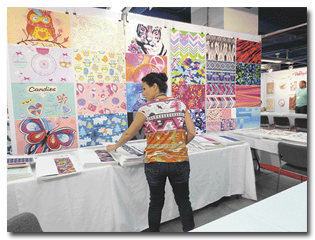 Printsource presented surface and textile design collections.
Some studios exhibit at both Indigo and Printsource, including Gather No Moss Womenswear, UK, and Tom Cody, New York City and London. At Indigo, Cody showed apparel print designs; and at Printsource, patterns for the home.
"Colorful is what people are asking for," Cody said at Indigo, where he showed decorative folkloric florals reminiscent of Eastern Europe and Turkey; and mini florals, geometrics and foulards. Animal skins are burned out or embroidered, and there are punk patterns including jazzy motorcycles. At Printsource, he showed Western looks, nauticals, conversationals and huge combinations.
At Gather No Moss, for apparel, flowers are paisley types, spaced orientals in jewel colors or all-over illustration styles. There are scarf print ideas and scenic conversationals with animals. At Printsource, there were ideas for the home, men and children. Folkloric took on a Tibetan feel, and the company showed new textural camouflage ideas, broken-up paisleys, fractured checks and a lot of owls.
At Printsource, Davina Nathan Design (DND), Canada, had romantic florals, strong simple flowers, conversationals and a lot of new paisleys. Some are combined with romantic roses, some are encrusted with jewels or flowers, and others are huge black-and-white designs. Scenics include the Eiffel Tower.
Sirilinn AB, Sweden, designs primarily for bedding and curtain manufacturers. Monotone ornamental flowers sometimes have a spot of one other color. Enormous fruits, checks, abstracts and combinations of large and small flowers are other ideas.
At Creativo Surface Design, New York City, a line called Indigo Blue, inspired by Chinese plates, had a good reaction for home fashion. Other top sellers include medallions, abstracts; patchwork graphics; birds and butterflies; and tonal, subdued graphics with a lot of green. For junior apparel, there are chevrons, camouflage mixes, animal skins and snakes, celestial patterns, and owls.
DG Expo
DG Expo specializes in small and speedy orders. Most exhibitors are American or Canadian. Best sellers at Sextet Fabrics Inc., East Rockaway, N.Y., include rayon jerseys that are available in 70 colors including some with metallic yarns, washable wool knits, double-faced tonal Modal jerseys, and French terry in rayon or rayon/cotton.
At Robert Kaufman Fabrics, Los Angeles, new basics for men include cotton doublecloths reversing from check to heather or to twill, and denim in which one side is striped. There are novelty herringbones; stripes with a denim look; and chambrays with dobby patterns, slubs, checks and stripes. A best seller is linen/cotton chambray. Brushed-cotton dyed flannel is available with large and small checks and stripes.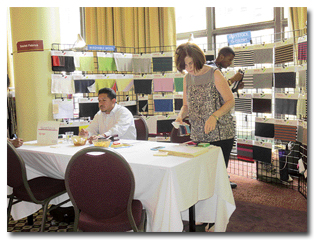 Knitter Sextet Fabrics showed its collection at DG Expo.
Carr Textile Corp., Fenton, Mo., gets a good reaction at DG Expo selling fabrics for the home, apparel and accessories. Sustainable fabrics include organic cotton twill, duck and batiste.
There are stock and made-to-order prints for the home at Premiere Prints Inc., Sherman, Miss. Most are large and bright; all are made and printed in the USA on canvas, satin and twill fabrics. There are zigzags, toile designs, stripes, checks, herringbones, splotches, abstracts and animals.
Hemp Traders, Carson, Calif., has knits and wovens of hemp and blends with organic, color-grown cotton for apparel and home furnishings. Artist canvas is selling for backpacks. Denim has a slight linen look. There are sweater knits, and stretch jersey that has a natural soft hand.
November/December 2013