Homing In On Performance
Crypton has seen the success of its innovative fabric technology spread from the contract arena into the home furnishings market.
Janet Bealer Rodie, Managing Editor
In 1993, Craig and Randy Rubin introduced a comfortable, breathable alternative to the stiff vinyl-coated and plastic fabrics that at the time were used in healthcare, restaurant and institutional settings where easy-to-clean, moisture-resistant surfaces were de rigueur. Craig Rubin had been selling vinyl-coated fabrics into those markets, but, as Randy Rubin described it, "You couldn't get decorative vinyl, and the fabrics were boring and looked like an institution. Plus, the vinyl would crack and peel, and people would complain."

An "Aha!" moment occurred when Craig came across a disposable diaper that didn't leak, and he began to think about using a breathable barrier fabric that could be printed via heat transfer. He then introduced such fabrics to the contract market under the Crypton® brand. The fledgling company's first customer was fast food giant McDonald's.

Meanwhile, Randy, whose talents include branding, marketing and legal expertise, began to search patents for technologies that would provide all the properties the company wanted to offer in its fabrics. She found them, but they had not been combined in a single treatment. She then set out to bundle those properties together and secure a patent for a complete system. More patents followed, and Crypton now holds 19 patents globally.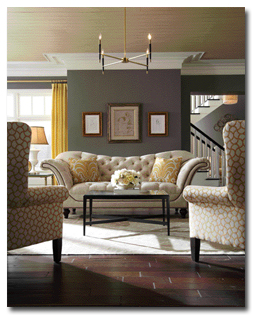 King Hickory Furniture's Alicia Sofa is upholstered with Horizon Natural, from the Crypton Home Fabric collection. Photo courtesy of King Hickory Furniture
From the first heat-transfer-printed treated fabrics offered in 1993, Crypton moved into wovens in 1996, and its collection now includes a full range from prints and very thin woven materials to jacquards, tapestries and very plush velvets and velours. The treated fabrics are sold as engineered textiles and are specified by major hotel chains, restaurants, healthcare facilities, government and educational facilities, banks, and other commercial businesses. Over the years, the company's product offerings have grown to include mattress fabrics and protectors, pet beds and related products, pillows, tabletop, and children's furnishings and car seats. More recently, it has also increased its presence in the home furnishings market with a new line of residential upholstery, and expanded its contract business to include wall coverings and carpet. Additional offerings and innovations are assuredly on the horizon as the Rubins continue to imagine new possibilities.
"Once we do something, we say, 'Great!' and then, 'What's next?'" Randy explained. "There's never anything that stays the same for very long. It's always, 'What can we do better?' We're not afraid to make mistakes or try crazy things. We're not afraid to have a failure. We learn from the failure, and then we go on. In our lab, people are encouraged and told the worst thing you could do is be afraid to fail. You should be afraid not to try. We have played with all kinds of things to try to get to the next step."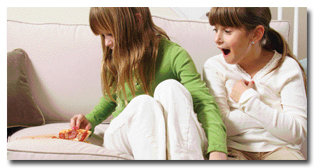 Food stains and spills on Crypton fabrics are cleaned up easily using the company's cleaning products or a solution of water and dishwashing liquid or enzyme-based laundry detergent.
Bundled Performance
The innovative fabrics featuring the original bundled technology - including the breathable moisture barrier and permanent moisture, stain and oil repellency - were a first in the contract market, and Crypton has further developed and improved its treatment over the years, adding a permanent antimicrobial component to prevent odor and bacterial and fungal growth. It also includes a non-halogenated fire-retardant (FR) that passes stringent flammability codes, such as Federal Motor Vehicle Safety Standard (FMVSS) 302 for car seat fabric. In addition, the company has developed its own line of cleaning, deodorizing and disinfecting products for use on its fabrics. Stains and spills on the fabrics also may be cleaned up easily using a solution of water and dishwashing liquid or enzyme-based laundry detergent.
The Crypton treatment is tweaked depending on the fiber content of the fabric and also on the fabric's targeted end-use. Fiber content can include cotton, solution-dyed man-made fibers, and a host of other natural or man-made fibers or fiber blends. There is also a treatment for leather, as well as a leather-cleaning product offered through Conneaut Leather.
Advertisement
From Marketer To Producer
The Rubins originally planned for Crypton to be a branding/marketing company and holder of intellectual property. They were outsourcing production for the treatment process, but they were not satisfied with the quality they were seeing from the processors. "Because the fabric is so precise, it just didn't work," Randy explained.
In 2001, Crypton opened its own processing plant in Kings Mountain, N.C., to treat fabrics that it sources from licensed textile mills - including many of the major upholstery fabric makers in the United States, but also a few from Europe and Asia.
All sourced fabrics must meet the company's stringent quality standards. From the Kings Mountain facility, the Crypton fabrics are sold through leading contract and residential fabric distributors, and also through Crypton's own website. To date, the company has sold well over 100 million yards of fabric.
The Crypton Super Fabric line, geared to the contract market, includes a moisture barrier and has been acknowledged by the Environmental Protection Agency (EPA) to be a nonporous surface that can be disinfected using EPA-approved Crypton Disinfectant & Deodorizer. The company's INCASE™ contract line, launched in 2008, is targeted to applications that do not need a moisture barrier, including cubicle curtains, draperies, top of bed, panel fabric and some upholstery.
Greening The Process
Within a year of opening its Kings Mountain facility, Crypton began improving the sustainability of its operation and processes. Improvements included installation of manufacturing processes that reduced water and energy consumption, and participation in carbon offset programs. The company also purchased a more efficient natural gas-powered boiler that produces 25-percent lower emissions compared to a boiler powered by fuel oil.
In 2006, the company implemented Crypton Green, which included installation of still newer technologies that further reduce water consumption. It also reduced formaldehyde content in the treated textiles, and the fabrics have been certified to the GREENGUARD Gold standard vis-à-vis indoor air quality. "We have achieved top third-party certification showing that our indoor air emissions meet the California 1350 standard for product emissions," noted Hardy Sullivan, vice president, research and development.
Sullivan also noted the durability of the Crypton treatment as a sustainable attribute, particularly in the case of Crypton Super Fabric. "The whole reason behind Crypton is that you extend the useful life of your furniture and keep things beautiful," he explained. "You protect the cushions by having a moisture barrier. If you aggressively clean a fabric without a barrier, moisture will get into the cushion and stay there and make a perfect environment for mold, mildew and bacteria growth - and for stains to reappear later on."
The Crypton chemistry today comprises a moisture-, stain- and oil-repellent C6 fluorochemical that replaces the original C8 chemistry; and a nonleaching silver-ion-based antimicrobial component that prevents odor caused by bacterial and fungal growth. Sullivan noted that fluorochemistry is essential for achieving oil repellency and stain release. "If you just want to repel water, then there are non-fluorinated chemistries that will work, but fluorochemistry is the only commercially viable means for repelling oil-containing liquids and foods," he said, noting that Crypton's fluorotelomerization process for C6 chemistry is free of perfluorooctanoic acid (PFOA), a bio-persistent byproduct that can be found at a low level - less than 1 part per million - in C8 chemistry.
This year, to celebrate its 20th anniversary, Crypton introduced its Crypton 2.0 platform offering even more environmentally friendly production processes and performance and a softer hand for its fabrics. Crypton Super Fabric now also features a cornstarch-derived biobased component in its moisture barrier, and Sullivan said the company wants to increase the amount of biobased content in its fabrics going forward.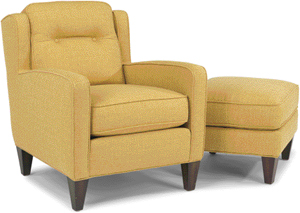 Flexsteel Industries Inc.'s Addison Chair and Ottoman are upholstered in Crypton Home's Sky-backed Antique Gold fabric. Photo courtesy of Flexsteel Industries Inc.
Moving Into Home Markets
In 2007, Crypton Super Fabric found its way into the home furnishings market for both indoor and outdoor furniture, and began to be sold through Jo-Ann Fabric and Craft Stores. As mentioned earlier, the company also developed other products for the home, such as pet beds and tarp-like blankets called Throvers, crib mattresses, and accessories such as pillows and placemats.
In 2010, the company launched its Crypton Home line of non-barrier performance fabrics and furniture. The fabrics, which offer the same stain- and oil-repellent and antimicrobial properties as Crypton Super Fabric, were developed in response to input from furniture manufacturers. Crypton Home fabrics are now used by several notable furniture makers and are available to retail customers through furniture stores nationwide, including Calico stores.
"We went into home markets with our Crypton Super Fabric with the integrated barrier, and the furniture makers felt it was overkill," Randy explained. "So we went back to the drawing board and developed another fabric that we felt would be really super-stain-resistant and also easy to clean. We went back to the furniture makers and said, 'This is a fabric we created for you. It doesn't have a barrier. There's no change in the hand or color - it's invisible protection.' They just bought it, and now it's taken off, and we have 10 major furniture makers using it. Calico has had record sales - they've never seen anything like it."
Crypton Home fabrics also are sold online at cryptonathome.com, and through upholstery shops that offer Crypton collections from various distributors.
Mattresses featuring Crypton Super Fabric are offered to both contract and home markets. The fabric is featured on mattresses in comfort sleepers marketed by American Leather. And this year, the company has partnered with Leggett & Platt Inc. to offer mattress protectors for the home market.
Randy said the company also does a thriving business online and through pet stores with its pet beds. The collection includes a program designed by artist William Wegman, and the covers can be removed for easy laundering.
A Growing Pie
Crypton's home business has grown by 45 percent over the past year, but since its launch, it has consistently represented 30 percent of the company's total business. That's because the other businesses have grown as well, and Crypton also has tapped into other new areas including Crypton Wall in 2010 and Crypton Carpet in 2011, both for the contract market.
"The whole pie has gotten bigger," Randy said. "We've really diversified and done some exciting technical developments, even in apparel. Our core business is contract seating fabrics, but the home business is growing faster than we ever expected."
November/December 2013