Fabric Sourcing On Stage At Texworld USA
Biannual expo provides textile and apparel suppliers and buyers a single sourcing destination for the North American marketplace.
TW Special Report
Textile and apparel suppliers and buyers will gather Jan. 21-23, 2014, at the Javits Convention Center, North Hall, in New York City for the 16th edition of Texworld USA. Produced by Atlanta-based Messe Frankfurt Inc. - the U.S. subsidiary of international exhibition organizer Messe Frankfurt GmbH - in partnership with Austria-based cellulosic fiber manufacturer Lenzing AG, Texworld USA integrates Lenzing's Innovation Asia fabrics trade fair, and is held biannually in January and July.

Touted by Messe Frankfurt as the largest apparel fabrics show in North America, Texworld USA presents an international business platform for apparel fabric buyers, R&D and product development specialists, designers, manufacturers, retailers, wholesalers, merchandisers, trading companies and sourcing professionals.

Product groups to be presented include cotton, denim, embroidery, fibers, functional fabrics, knits, lace, linen, prints, silk, silky aspects, wool and findings/trims. End-use groups include activewear, childrens/ infantwear, juniorwear, ladieswear, bridal/special occasion/cocktail, menswear, sportswear and swimwear/lingerie.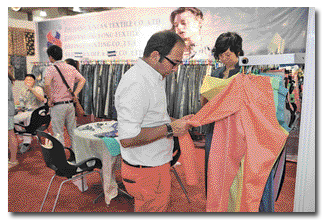 A complete range of apparel fabrics will be on display at the January edition of Texworld USA at the Javits Convention Center in New York City.
Lenzing Fibers will present a Lenzing Innovation pavilion spotlighting companies whose fabric collections feature Lenzing fibers. Lenzing also has organized Texworld's seminar program, which will comprise 12 presentations covering topics such as trends, sourcing, trade and other topics, and will be open to all attendees on a first-come, first-serve basis. Details about the educational program will be available on the Texworld USA website prior to the show.
Gregory Lamaud and Louis Gerin of 2G2L Fashion Design & Consulting, Paris, have been named the official trend partners of Texworld USA and will organize a Trend Forum featuring Spring/Summer 2015 trend stories. 2G2L also directs the trends for Texworld Paris.
Manufacture NY, a fashion incubator for emerging designers, has partnered with Texworld USA and will provide attendees with domestic textile sourcing options to help start up their brands.
Texworld will colocate with the International Apparel Sourcing Show, produced by Messe Frankfurt in partnership with The Sub-Council of Textile Industry, China Council for the Promotion of International Trade (CCPIT TEX). The event - which focuses on contract manufacturing and private label development, as well as sourcing for finished apparel - offers apparel brands, retailers, wholesalers and independent designers access to a dedicated sourcing marketplace for finding domestic and international apparel manufacturers. Product groups include childrenswear, womenswear, menswear and activewear; knits, wovens, denim/jeans, collections, suiting and contemporary; intimates/lingerie and loungewear/sleepwear.
The January 2013 edition of Texworld USA and the International Apparel Sourcing Show saw 238 exhibitors from 16 countries showing their products and services to more than 3,600 attendees from 48 countries. As of
Textile World
's press time, Messe Frankfurt was expecting the January 2014 edition to draw 220 exhibitors and approximately 3,600 attendees.
The exhibit hall for both shows will be open January 21 and 22 from 10 a.m. until 6 p.m., and on January 23 from 10 a.m. until 4 p.m.
---
For more information about Texworld USA and the International Apparel Sourcing Show, visit texworldusa.com; apparelsourcingshow.com.
---
November/December 2013
Advertisement