Medellín Works
Colombiatex de las Américas drew a number of U.S. textile manufacturers and suppliers seeking opportunities in the Colombian market.
Janet Bealer Rodie, Managing Editor
Over the last year or two, the term "nearshoring" has begun to be heard more and more as U.S. brands and retailers have seen the advantages of sourcing from suppliers relatively close to home. Benefits include speed to market and the ability to negotiate smaller, more flexible orders than might be possible when doing business with large, commodity-oriented suppliers in Asia.

Much of the advantage also stems from the elimination of duties and other favorable terms in the various free trade agreements (FTAs) the United States has negotiated with its Western Hemisphere neighbors. U.S. textile companies, particularly spinners but also knitters and weavers, have been beneficiaries of terms related to rules of origin, customs enforcement and streamlined commercial availability provisions.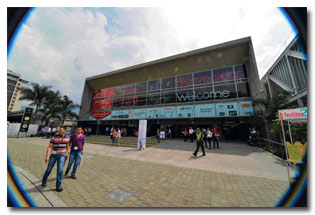 The 25th edition of Colombiatex de las Américas, held at Plaza Mayor in Medellín, Colombia, attracted 475 exhibitors and more than 32,000 visitors, including 1,699 international buyers.
Colombia: New Member Of The U.S. Free Trade Club
While Mexico, Canada and Central America have enjoyed the benefits of free trade with the United States for some years, Colombia only joined the U.S. free trade inner circle in May 2012 as the U.S.-Colombia Trade Promotion Agreement (CTPA) went into force. The two countries had been trading previously under the Andean Trade Promotion and Drug Eradication Act (ATPDEA), which tended to benefit Colombia more than the United States because it allowed qualified Colombian products to enter the U.S. duty-free, while U.S. exports into Colombia were still subject to duties.
In addition, uncertainties under ATPDEA due to a several months' lapse in 2011 between expiration and renewal of the pact made U.S. brands and retailers wary of initiating long-term relationships with Colombian suppliers. While two-way trade had been successful in ATPDEA's earlier years, later uncertainties led to trade declines while businesses waited to see how matters would resolve.
"U.S.-Colombian trade went very well especially after the Andean program went into force and we started negotiating CTPA in 2004," said Richard P. Stetson, international trade specialist, Office of Textiles and Apparel (OTEXA) with the U.S. Department of Commerce's International Trade Administration.
Stetson was manning OTEXA's booth at the 25th edition of textile trade show Colombiatex de las Américas, held recently at Plaza Mayor in Medellín — the center of Colombia's thriving textile and apparel industry. He noted that the long time between CTPA's initiation and final implementation also contributed to the trade uncertainties. "It's going to take a little time for that trade to right itself and get back to where it wants to be," he said.
Indeed, with CTPA in force barely a year, many companies looking for trading opportunities report they have yet to see significant payback from their efforts so far to seal deals with Colombian suppliers or customers. However, the general feeling is that the opportunities are real and a bit more time may need to pass before those efforts come to fruition.
"Now that we've got a permanent agreement, the vertical retailers and brand owners from the U.S. are more willing to talk long-term," noted Dave Gardner, managing director of Raleigh, N.C.-based trade association the Sewn Products Equipment & Suppliers of the Americas (SPESA), which had a pavilion at Colombiatex.
Some segments that export goods into Colombia are already seeing positive results. Washington-based Cotton Council International, which oversees the Cotton USA Sourcing program, reports that U.S. cotton yarn exports to Colombia in 2012 totaled 9.9 million pounds worth $12 million — growing by 855 percent and accounting for 10 percent of the total market share of cotton yarn in Colombia — compared with exports totaling 1 million pounds in 2011, the year before CTPA went into force.
However, some uncertainty remains, stemming in part from lack of awareness by Colombian suppliers and customers of the full duty-free advantages offered under the pact — especially with regard to duty-free U.S. exports to Colombia. In addition, most Colombian suppliers are small businesses, and not many are linked into full-package programs that can streamline production of Colombian goods destined for U.S. markets.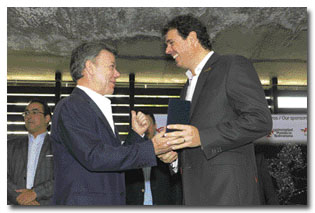 Colombia President Juan Manuel Santos Calderón (left) presented the Order of Merit in the category of Industrial Grand Officer to Inexmoda. Carlos Eduardo Botero Hoyos (right), Inexmoda's president, accepted the award on behalf of the organization.
Security Improvements
Continuing security improvements are enhancing Colombia's appeal as a country in which to do business. Indeed, at Colombiatex, representatives from several U.S. exhibiting companies remarked that they felt more secure in Colombia than in certain other Latin American countries in which there are active textile partnerships and joint ventures between U.S. and local textile enterprises.
"I've been coming here since around 2003," remarked one U.S. spinning executive. "I tell my friends and family that Colombia doesn't have a security problem — it's got a PR problem," he said, noting he'd rather be in Medellín than in certain other Latin American manufacturing centers. "Colombia's a hidden gem. It has hard-working people, and Medellín works," he added.
Colombiatex 2013
The Institute for Export and Fashion (Inexmoda), Medellín, producer and organizer of Colombiatex de las Américas, reported that the 2013 show attracted 475 exhibitors and 32,429 visitors, including 1,699 international buyers — whose numbers increased compared with Colombiatex 2012 numbers thanks to efforts by Proexport Colombia, an agency that promotes exports, foreign investment and tourism in the country. The exhibition focuses on fashion systems and apparel production, and the 2013 edition, titled "Cause and Effect," also included a program of 22 educational seminars and presentations, as well as fashion shows, demonstrations and other activities.
This year, special recognition was given to the European Union, which recently signed a FTA with Colombia. And during the exhibition's official opening ceremony, Colombian President Juan Manuel Santos Calderón presented Inexmoda with the Order of Merit in the category of Industrial Grand Officer in honor of its contributions in promoting and strengthening Colombia's fashion system, and its success in making Colombiatex and its sister show Colombiamoda — which presents finished apparel — among the most successful textile trade fairs in Latin America.
U.S. Participation
U.S. exhibitors were found in booths and pavilions sponsored by trade and governmental organizations as well as in independent booths.
In Cotton USA Sourcing's pavilion, 10 U.S. textile manufacturers set up booths to present their products: Alamac American Knits LLC, Lumberton, N.C.; American Denimatrix, Littlefield, Texas, and Guatemala; Buhler Quality Yarns Corp., Jefferson, Ga.; Carolina Cotton Works Inc., Gaffney, S.C.; Cotswold International Ltd., New York City; Frontier Spinning Mills Inc., Sanford, N.C.; Hamrick Mills Inc., Gaffney; Parkdale Mills Inc., Gastonia, N.C.; Swisstex California, Los Angeles; and Zagis USA, Lafayette, La. Exhibitors reported mixed results at the end of the show, but for some, activity in the last few hours on the last day made up for relatively humdrum activity earlier in the show.
Alamac President Mark Cabral and Ron Giacone, vice president, sales — North East, were exhibiting at Colombiatex for the first time, with hopes of tapping into the Colombian consumer market. The company, a circular knitter and commission dyer and finisher of wovens, primarily has served the uniform segment and also the automotive and military segments, and it is starting to target retail markets as well.
After a relatively slow start, Cabral and Giacone saw a flurry of leads at the end of the show. "We have had three solid leads in the last hour and a half, most for consumption in Colombia, although some end products will be sent back to the U.S.," Cabral said as the show was winding down on the last day.
David Sasso, Buhler's vice president, sales, talked about providing value to the customer: "The way to provide value is to understand the market and provide solutions for the brands and retailers. You need to lead the supply chain, not follow it.
"People are looking for alternatives, transparency and value," he said. "We need to think outside the box and not just try to sell what we make. If you're a small player like Buhler, there's always an opportunity with people who want nice things. Latinos tend to go to the U.S. to buy product because they trust that product."
SPESA offered information about its activities and shared its pavilion with the American Association of Textile Chemists and Colorists (AATCC), Research Triangle Park, N.C.; Texprocess Americas organizer Messe Frankfurt Inc., Atlanta; fitting technologies provider [TC]2, Cary, N.C.; costing solutions provider Methods Workshop, Lake Worth, Fla.; and industrial sewing machine parts distributor Superior Sewing Machine & Supply LLC, New York City.
Methods Workshop President and CEO John Stern said Colombia is an important marketplace for his company. His standard allowed minute (SAM) technology enables manufacturers to quickly and accurately gauge how much labor goes into a garment's production and then determine the actual production cost. He has sold the technology to several large textile mills in Colombia but noted it also can benefit the many small, high-fashion-oriented manufacturers.
One new Methods Workshop customer, Medellín-based Textiles Fiorita, a full-package apparel cut-and-sew business, expects to double its workforce from 12 to 24 once the SAM system is delivered. Fiorita General Manager Federico Vásquez sources fabrics from Colombia as well as from Los Angeles, Korea and China. All of his customers currently are in Colombia, but he wants to enter the U.S. market and plans to exhibit next year at Texprocess Americas in Atlanta. "Thanks to CTPA, we will be more attractive to the U.S. market," he said.
OTEXA's booth offered information from six U.S. manufacturers: Alice Manufacturing Co. Inc., Easley, S.C.; Apex Mills, Inwood, N.Y.; Burlington Worldwide, Greensboro, N.C.; King America Textile Group, Chicago; National Spinning Co. Inc., Washington, N.C.; and O'Mara Inc., Rutherford College, N.C.
CTPA And Nearshoring
First-time exhibitor DeSales Trading Co. Inc., Burlington, N.C., a buyer and seller of commodity textile yarns, has been doing business in Colombia for a number of years. In the past, co-owner Michael A. Murray has come to Colombia to call on customers at their facilities. He was very pleased with the response at Colombiatex to his products and services, noting that exhibiting there has added credibility to his business. Murray feels that CTPA has had a very strong effect on the level of interest for buying and selling, by his U.S. and Colombian customers alike, and he is particularly pleased with the business climate in Colombia. In addition, he said, "CTPA has been a motivating factor for a lot of companies to seriously look at production they have in Asia and bring it back here to the Americas."
Frederick Magner, regional director — Americas, Alvanon Inc., a New York City-based apparel fit solutions provider, said his company's body forms, which are designed to represent realistic human shapes, have been very well received in Colombia. With the increased interest among U.S. brands and retailers in nearshoring, Magner has witnessed an urgency to develop the manufacturing base to bring in the best processes and equipment in order to compete globally. "Colombia has a significant advantage because of its proximity to the U.S., in terms of both days in transit and quality control," he said.
"One of my goals is to target the fashion schools here — they are very adamant about bringing in a form that really represents a human," he added. "It's important to understand what the U.S. standards are."
---
Denim Technology
Denim was ubiquitous at Colombiatex, and eco-friendly ozone and laser finishing processes that provide vintage and patterned effects grabbed visitors' attention.
Jeanologia, Spain, showed its G2Plus 100-kilogram-capacity tumbler, which bleaches and ages denim or other fabric using ozone instead of bleach, and using no water. The GFK software-directed laser systems remove dye from the fabric and can cut holes in the fabric or create worn and torn areas. To make a pattern on the fabric, the system's software directs the laser's intensity according to the design, which can be floral, checked, plaid, or any other design. The company's E-Soft nanobubble softening and shrinkage control technology cuts water usage by up to 98 percent, chemical usage by 80 percent and energy usage by 79 percent.
Tonello S.r.l., Italy, represented in Colombia by Gavimport Ltda., showed its Laser Blaze technology for laser treating denim and other fabrics. Specially designed software allows update flexibility, and the company offers a library of drawings and projects to facilitate production.
---
---
Textiles Balalaika: Firm Projection Toward The Future
In conjunction with Colombiatex 2013, Atanasio Bersis, president; Hector Mauricio Londoño, textiles manager; Alvaro Arbelaez, apparel manager; and Alvaro Zuleta, commercial director, Textiles, of Textiles Balalaika, led a tour of the plant facilities outside of Medellín.
The company is part of Balalaika Group, which was founded in the 1960s, when business was conducted without much administrative paperwork and the individual word was a precious asset. It was not until 1980 that the group achieved double-digit growth, and it has overcome the challenges caused by the opening of world markets and globalization.
Over the years, Balalaika objectives have focused on new markets and strategies to survive competition by larger manufacturers, such as those found in the Far East.
The Textile Plant
The manufacturing process begins with warping and knitting operations using Karl Mayer equipment, including tricot and raschel machines; and Fukuhara circular knitting machines.
Fabrics are then dyed using MCS, Fong's and ATYC machinery; and finished in Krantz tenter frames. Apparel products are made available to apparel producers, among them, Balalaika itself.
In the embroidery department, the company uses Perfecta machinery.
Balalaika's high-standard quality-control laboratory houses a Rapid Smart dyer and a Datacolor spectrophotometer to simulate dyeing processes, color tones and reproducibility.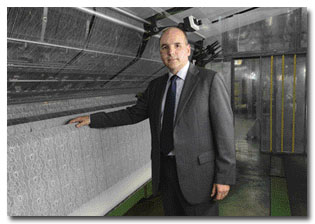 Textiles Balalaika President Atanasio Bersis points out lace being produced in the company's plant
Product Line
The product line includes swimwear, underwear, jacquards, embroidery, and sports- and casualwear. Balalaika has differentiated itself in local and world markets by being a pioneer in using innovative fibers including:
Emana®: Rhodia's polyamide 6,6-based fiber that contributes to improved thermoregulation and blood microcirculation. It has also been shown to eliminate lactic acid, reducing muscular fatigue of people engaged in sports activities. Finally, it helps reduce cellulitis as a result of the enhanced circulation.
Supplex®: Invista's polyamide 6,6-based fiber technology for fabrics that do not shrink, and also absorb sweat and help it evaporate.
TENCEL®: Lenzing's vegetal lyocell fiber that gives a soft touch to fabrics and finished goods, allows free transpiration, retards skin aging and helps cell regeneration.
Exports
Balalaika products are marketed in Colombia and also in Mexico, the U.S., Peru, Ecuador and Venezuela, among other countries. Mexico absorbs about 35 percent of these external sales. The group's success has enabled it to invest more than US$2 million in machinery upgrades.
Balalaika also differentiates itself by its service to small customers. Normally, dyeing services require fairly large capacities for an economic operation, but Balalaika has developed a strategy to efficiently serve many small customers.
Applying incentives based on creative development, achieving an interesting supply chain and speedy response to the needs of its customers, there is no doubt that the Balalaika Group will continue to survive and thrive within the Colombian textile industry.
By Virgilio L. Gonzalez, Ph.D., Correspondent, Textiles Panamericanos
---
May/June 2013
Advertisement